One of the quickest ways to make a chef or restaurant owner wince these days is by brining up the idea of their restaurant expanding. It could be the thought of lunch service, maybe brunch or even the occasional thought of staying open later. We all know we can use a few more options for later in the evening eats around here.
Years ago I asked Cotton and Rye's owner Zach Schultz if they'd been considering lunch service. Their restaurant was certainly popular enough. It was away from the crush downtown and there was a good amount of parking available. It seemed like a no-brainer.
When you think about it though, it is never as simple as it seems. Opening extra hours requires more staffing. Servers and bartenders and kitchen staff have been hard enough to find for dinner service already. The thought of adding more for longer hours of service could make a grown man cry just thinking about it.
Fast forward a handful of years and now Zach and his staff think they've found the answer to doing more with what they already have. Cotton and Rye is now offering weekend lunch service without bringing anyone inside their restaurant.
Hot Rye is C&R's new food truck. An idea that's been in the works for years is finally a reality, and it's fantastic.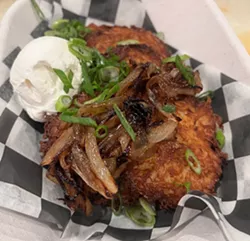 "We've been talking about it for a while, wow." Says Caleb Ayers, Cotton and Rye's Executive Chef. "I think I've made something like 10 different menus leading up to this."
"This" is a Barth custom coach. It's more camper/motor home than it is flat panel food truck. It's parked just outside the back gate at Cotton and Rye and serving lunch every weekend from 11am until 2pm.
"I wanted something different than a regular flat panel Fed-Ex looking truck." Is how Zach put it when describing it.
"If it was going to be parked outside here every day, I wanted something that at least looked cool" he says.
He got it.
"I was on a Facebook page following the sales of trucks and I found this in Waco, Texas. It was a first responder camper there. We transported it to Houston and got it totally fitted as a food truck."
He showed me the photos. The entire thing was gutted and redesigned as a food truck.
"When they were done there, we shipped it here, painted it and added some branding."
Yeah, yeah, yeah…but what about the food? Inside, Chef Caleb was tasked with trying to do something different, but also knowing what this community will want to enjoy for lunch.
The Nashville Hot Chicken sandwich –a crispy fried chicken thigh dipped in a wonderful sauce and dashed with some spice is plain and simply the best I've had in Savannah.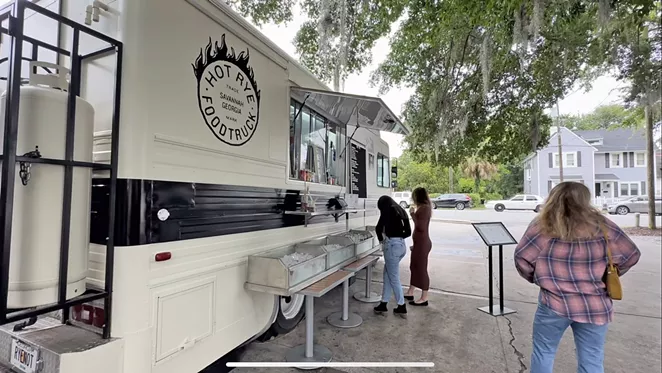 Their answer to the demand for burgers is their Chopped Cheese Sandwich. Six ounces of ground beef, onions and blackened seasoning griddled on a flat-top and topped with American cheese. Your bun (house made every day) is slathered with Pimento Cheese before the beef goes in. It's finished with a line or two of ketchup, shredded lettuce and diced tomato.
The Hot Rod sounds like a beast. House made tasso ham, bacon, provolone, lettuce, tomato, onion, avocado, potato chips, mustard and ranch spread. All of it on onion rye bread. Yes, the potato chips are in the sandwich.
"There was a place I used to go when I was in San Diego that did something like that. It was very popular." Caleb says. "I wanted to do a version of it." Sounds like it could be very popular.
There are a couple of vegetarian options, including a spicy provolone cheese sandwich with slaw and pickles and their "Loaded Latkes" (fried potato cakes) which could include Chili or Hot Chicken or Sour Cream/Caramelized Onions and scallions.
Salads, House made banana pudding and/or chocolate chip cookie round out the opening day roster. Caleb tells me once they get rolling, they are planning to roll some weekly specials through the truck.
"We've already done a couple, but we will do more." He says.
The eats I had were delicious, as I figured they would be. Cotton and Rye's following in Savannah is well deserved. It's hard to find a 'downtown' restaurant with stronger support from the locals. They know what the regulars want and they deliver, consistently.
Now you get to enjoy their creativity for lunch. Seating is available just inside the gate in the covered patio of the restaurant. They offer soft drinks, beer and wine. As we mentioned earlier, it's weekends only for now. The truck is parked outside Cotton and Rye on Habersham St.
Eventually, the truck will roll to some of the more popular spots around town for food trucks and, yes, they've already been fielding phone calls for catering opportunities.
In the meantime, options for lunch around town are always good. Now you have another one.