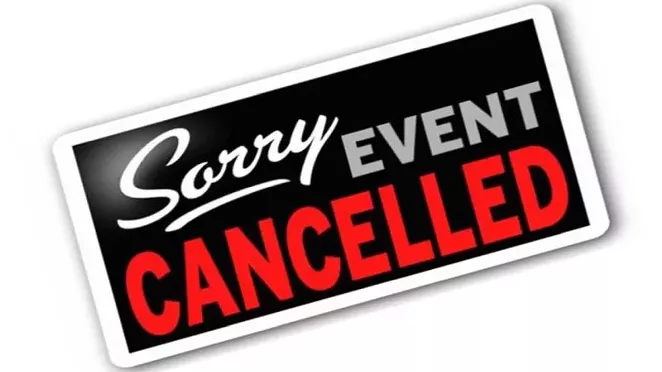 The COVID-19 outbreak that has been worsening worldwide is causing uncertainty and anxiety for people in virtually every way imaginable. Of course, health is of the utmost importance and takes precedence over everything else.
But that doesn't negate the fact that people in all industries and professions are feeling the economic effects of cancellations and closures happening everywhere.
Savannah is no different—Savannah Music Festival, St. Patrick's Day, concert calendars at local venues like Victory North and more.
These are all things that have felt the negative impacts of what's been happening with this increasingly serious crisis. Many of our local theater groups have also been cancelling productions, including Savannah Children's Theatre, Savannah Stage Company, and more.
And local concert promoters are having to drop their plans and figure out how to navigate these murky waters.
We wanted to check in with some of these valuable members of our community, so that readers could get a sense for how the arts communities in town are responding and how they can best be supported through this difficult time.
Tim Walls, founder and promoter of AURA Fest—who so far has cancelled two shows at the Sentient Bean—says it was a difficult but necessary decision to pull the plug.
"I was in the middle of booking shows for the summer and planning for my next festival when it was declared a worldwide pandemic. So at that point, understandably my March shows at The Sentient Bean had been cancelled. I'm pretty much on hold until things get better," Walls says.
"It's unfortunate but this is a developing situation with the virus, and I'm down to do my part in slowing the spread."
Michael Corbett, one half of local duo Seldom Sober, says the band was just notified of two major cancellations that were high-paying opportunities for them.
"Now we've lost 2 of our 3 best paying gigs for 2020," he says.
It's not just about the financial ramifications, according to Corbett. It's also about how gig cancellations stall the progress that bands like them make, in terms of audience building, when they book gigs.
"If the timeline had been different and everything happened two weeks sooner, we would have lost everything. We are preparing for the possibility of a lengthy shutdown once the virus does come here," he says.
"With the closing of Kevin Barry's, we were hoping to break into places like The Rail and Molly Maguire's to fill our schedule and help us build more of a local following after playing for tourists for so many years. Now it's not just about losing gigs, it's about potentially stalling Seldom Sober's progress."
Local studio owner, musician, and sound engineer Kevin Rose was supposed to be working at Savannah Music Festival this year, and was hit hard by the news that the massive event had been cancelled.
"It's roughly four months of work that went up in smoke in an instant. We're not alone; so many businesses and music foot soldiers are being impacted, it's impossible to predict the total impact. These are uncharted waters," Rose says, adding that he's still got plenty of studio work on the books that will help ease things.
In the world of theater, Savannah Stage Company's Jayme Tinti says the group was just about to leave on a regional tour that would bring their production of Charlotte's Web to schools and nursing homes.
The cancellation meant that months of rehearsal and planning was for nothing.
"We had shows booked in 5 cities over 6 days and one by one they began to cancel. We had hotels booked, airbnbs reserved, and a 15 passenger van ready to go. We're so grateful that Charlotte's Web was able to serve up 6 local performances, but our hearts were definitely broken," Tinti says.
"A lot of money was lost, not only for SSC, but for the individual artists who took a week off of work to commit to this tour. We even had an actor whose work told him he couldn't have the week and that artist left his job to go on this tour. My heart aches for him so much."
The consequences of cancelling shows also puts other activities in jeopardy for local theater companies like Savannah Stage. Programming all around gets shifted when things like this happen.
"We also had to cancel our Spring Break Camp. This one is tough because we rely on our Education Department to fuel the summer show. What we make on Spring Break Camp goes directly into funding our summer show. Again, two more artists that were scheduled to teach camp lost out on money," Tinti explains.
"This season we introduced Spring Classes. We haven't officially cancelled those as of yet and are hoping to offer some sort of virtually learning to those who have already signed up."
One thing that becomes abundantly clear in situations like this is the fact that people who work in arts and entertainment fields literally rely on these opportunities for income.
Like so many right now, their future is uncertain for the time being.
"There are definitely people losing massive income that work full time as booking agents, promoters, venue managers, bartenders, and so many bands that have had to cancel tours and festival appearances over the world," Walls says.
"Also, I think people are now seeing this hit closer to home with schools closing, and retail stores and restaurants closing early, so this is obviously impacting everyone close to home."
"Most musicians, artists, sound engineers, stage hands live gig-to-gig, with no safety net, no insurance and no unemployment benefits," Rose adds. "The hardest working folks are going to be impacted the worst, and we're racking our brains on how to help."
One thing that people are hopefully realizing through this is that artists are as legitimate, professionally-speaking, as anyone else and provide invaluable services to people in addition to contributing to an industry that relies on audience attendance to be sustained.
"Sometimes the best way to bring a community together is to protect each other. The same community responsibility that makes us want to perform in the first place is what informs all of our decisions now. It was never about us— it's about you. We put our audience first, even if it means they're not there," Tinti says.
"We have other sources of income that won't be impacted, but our music income is significant, and any losses will hurt," Corbett adds.
This begs the question: what can people do to support artists and those in the arts industry, if they're in a position to and feel so inclined?
"It's easy and not expensive to download our CD, and we sell physical copies of the CD and T-shirts through our website. There are free videos there as well. People could patronize us that way and still enjoy our music while we see what happens," Corbett says.
"Many bands that have tours cancelled are putting up their tour shirts and merch online to buy. That's one way for sure, as merch is one of the main direct ways bands earn a living. So if you have a favorite band, please go check out their facebook or website store, and buy something if you are able to," Walls adds.
"I think the easiest way to support is to donate back your refunded ticket purchases. Festivals, venues and grass roots promoters operate on slim margins and every bit can help," Rose suggests.
What will happen to the concert, event, and music industries when all is said and done, though, is something that is up in the air at the moment.
"My concern is that when this is over AEG and Live Nation will have bought our most beloved visionary venues and turn them into generic venues without a soul," Rose says with concern.
How can we help to ensure that things like this aren't the result of the current crisis? Support individual efforts from these artists and the many others in Savannah, through any means necessary, if you're able and willing.
Specifically, Walls says people interested in supporting AURA Fest through this era of cancellations can simply keep up with him on social media so they'll be informed when shows are rescheduled.
Corbett adds that people can visit Seldom Sober on their website and social media to purchase their merchandise and stay current on performance updates.
Tinti says her company is planning a live stream of their current production in lieu of a cancelled Forsyth Park performance at the end of the month.
"We're excited to share the show with a wide audience in a safe and modern way. We'll have links to our paypal and cash sharing apps in hopes to recoup some of the money lost for our artists. That's our big focus, taking care of our people who have given so much to the company in service of our audiences," she says.
Rose says that people can support his work at his studio, Elevated Basement, by supporting the artists that they work with.
"Elevated Basement Studio is a secondary part of the food chain. Supporting our artists helps support us, so donating to their kickstarters and making pre-orders on their albums is a great place to start," he says.
"We've been here a long time and try to give back as much as we can to the community, and this time we're all in it together."
cs