GEORGIA'S craft breweries and craft beer lovers have some fantastic news to celebrate. It has been many years in the making and there have been setbacks, but Georgia's breweries will soon be able to offer direct sales to their patrons.
Senate Bill 85 (SB85) overrides SB 63, a bill that passed two years ago and which was further manipulated in January 2016. You'll remember SB 63 required that all of Georgia's breweries provide a brewery tour that include limited amounts of free "souvenir" sample and take-away beer.
That law was generally considered to be an unnecessary mess of red tape. Those days are almost past, however.
SB 85 allows direct consumer sales, no tour required, in all breweries and distilleries in the state. Both on-premise and to-go sales are part of the new law bringing Georgia in line with neighboring states.
Even better, to-go sales now could now apply to brew pubs like Savannah's own Moon River Brewing.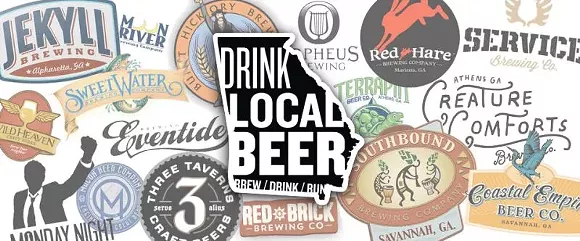 What does this mean for Georgia craft beer? Quite a lot of money for everyone involved and more craft beer for the consumer.
"The shared interest of supporting our emerging small business and creating more opportunities for Georgians is clearly reflected in this legislation" says Lt. Governor Casey Cagle via press release.
The Georgia Craft Brewers Guild suggests that more that 80 new breweries are in various stages of development across the sate. SB 85 makes their development easier and cheaper.
It may seem like a contradiction, but SB 85 will let these new breweries stay smaller. Direct sales mean there will be less of a need to brew large amounts of beer for distribution.
Smaller amounts of beer mean less equipment investment and overhead.
Don't worry about the distributors who may look like the losers in this new deal. Even if only half of those potential breweries open, that still doubles the number of breweries in Georgia. Few breweries want to stay small, and most of them will need those distributors eventually.
Larger breweries benefit from SB 85 as well. Direct sales allow existing breweries to put more money in their pockets. Several are already planning expansions that include larger seating areas to accommodate a larger number of patrons who can spend freely in these larger taprooms.
Atlanta's Wild Heaven has already announced a $5 million investment in a second brewery that will include a kitchen, 50-barrel brewing system and taproom that will be three times the size of their current brewery.
All these new breweries, taprooms and pubs need employees, so craft beer employment is expected to rise with passing of this law.
The consumer benefits too. There are limits to the amount of beer that can be purchased in the brewery, but the numbers are pretty large and will not affect the average drinker.
The per person sales limit for take away beer is 288 oz per day that is the equivalent of twenty four 12oz cans – yes, a case a day — but can also apply to bombers, growlers or any mix of the three. No limit for on-premise sales though you should all be responsible drinkers.
Breweries are limited to combined on-premise and to-go annual sales of 3000 barrels or about 165,000 six-packs. Brewpubs can now offer to-go beer as well but there is the caveat that those sales are subject to local approval.
SB 85 passed in the Georgia House March 13 with a vote of 142-41 and the Senate on March 21 with a vote of 52-1. As I write this SB 85 is sitting on Governor Deal's desk awaiting a final signature, but even if he chooses not to sign it, the bill will become law 40 days after the close of the legislative session.
So on September 1, on-premise sales in our local breweries will begin. Cheers!
cs