THIS FALL, the SCAD Museum of Art has an exciting, unique exhibition on view.
"Frederick Douglass: Embers of Freedom," on view Oct. 3, explores Douglass' life and legacy through archival material as well as modern work by renowned artists.
The resulting experience is a long-ranging look at the life of a historic figure.
We spoke with curator Humberto Moro ahead of the exhibition's installation.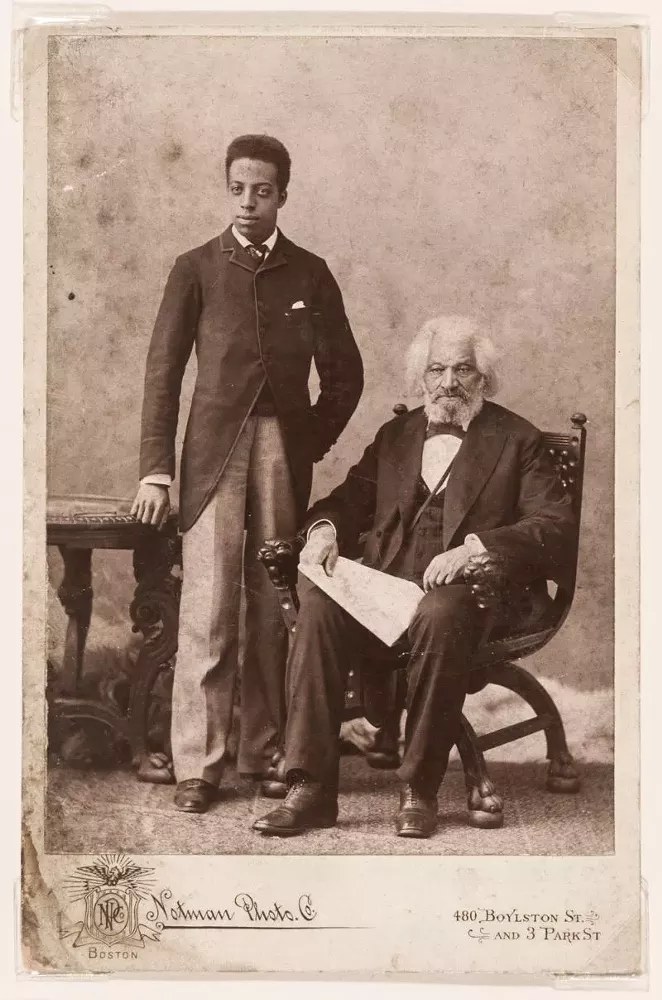 What was the impetus for this exhibition?
SCAD is committed to show how art not only can be inspiring, but also powerful. Art has the power to build bridges between places which appear to be disconnected, and make us explore with new ideas and possibilities. In 2018, we celebrated the bicentennial of Douglass' birth and that propelled us to evaluate the differences and similarities between Douglass' time and ours. Specifically, to think about the power of speech, and the values at the core of the Douglass family's struggle for freedom.
Since the SCAD Museum of Art opened in 2011 and under the guidance of SCAD president and founder Paula Wallace, we have had the opportunity to provide audiences exposure to established and emerging African American artists and their diverse practices. This fall marked the perfect time to contextualize many of these artists' practices in relation to one of the most important figures in American history, Frederick Douglass.
The exhibition presents three bodies of work: outstanding archival materials from the Walter and Linda Evans collection, modern works part of the SCAD Museum of Art permanent collection, and special commissions with contemporary artists which have created works in response to the archival material.
Why is it timely to examine Frederick Douglass' life and legacy?
We are offering a very particular reading of Douglass as a historical character, as a man of family, as a champion of women's suffrage, and, perhaps more surprisingly for the public, as a pioneering intellectual on photography, self-image, and representation. The exhibition highlights Douglass' network of family and other partners who have helped establish the importance of his legacy and as a true innovator of his time.
Also, we are tracing the resonances of his magnificent work as a writer and orator with a younger generation of artists. This exhibition is a celebration of his life, the life of the people around him, and also a celebration of African American culture at large.
How did you choose the artists you wanted to involve in this exhibition?
This is an exhibition that has been in the making for a couple of years, and it has been a slow, deep research process. It is curated by Celeste-Marie Bernier, perhaps one of the most important academic authorities in the world about Douglass, and locally led by our SCAD MOA team, Ariella Wolens, assistant curator; as well as Ben Tollefson, assistant curator, Storm Janse van Rensburg, former head curator, and myself.
It has been a very open conversation in which we have analyzed the work of many artists which address primarily the legacy of slavery, integrate questions about archival practices, or speak directly about family bonds in their works. This research was paired with our ongoing mission to provide SCAD students a wide range of practices that will guide them to explore and prepare for their own creative careers, and simultaneously showcase important conversations for our community through art.
Concurrently, we are presenting two solo exhibitions that are thematically related but for all intents and purposes, individual exhibitions of their own. Isaac Julien is a London-based, Turner Prize-nominated artist who is internationally recognized as the master of the video installation. Julien has been recently working on projects that highlight Douglass' legacy. We will premiere a new iteration of "Lessons of the Hour," a 5-channel video installation which takes its name from one of Douglass' most famous speeches, and it is one of the most striking video presentations of recent years.
Raphaël Barontini is a French artist of Caribbean descent who works primarily in fibers around notions of historical iconography and representation. Barontini will present "The Golden March," a solo exhibition at the museum Jewel Boxes. This marks the artist's first institutional exhibition in the US, and has been specially commissioned as a tribute to the life and work of Frederick Douglass. Barontini is collaborating with the Savannah High School marching band and we will have a performance as part of the opening.
Why is it necessary for Savannah residents to see this exhibition?
It brings a unique opportunity to perceive a historical figure through art. The exhibition speaks to diverse age groups in terms of how you can learn about Douglass's life through documents, but also through other objects, like drawings, paintings and sculptures. Due to preservation directives, this will be the last time these documents will ever be exhibited in such a comprehensive way; therefore, this exhibition becomes even more relevant.
Also, I think the exhibition really creates a space for visitors to see how artists are using everyday experiences, and domestic situations to speak about their worlds. There seems to be a common belief that art is something that should be confined to museums, and historical or even current issues should be discussed somewhere else. This exhibition proves that wrong. Through art we can access spaces for kinship, for mourning and celebration. And at SCAD we believe that art can and should be all around us, that creativity can transform the everyday life.
CS