Candace Brodmann never dreamed she would have a successful homegrown business. Now, the Athens native and Savannah resident is launching her new summer collection full of functional products that make life easier and more beautiful geared toward coastal living.
"We're excited to feature these innovative, high-tech fabrics combined with my original coastal and ocean-inspired watercolors," said Brodmann, Owner and Creative Director of the Savannah-based Moss + Marsh.
Her company offers towels, ponchos, UV shirts, dry bags, and can coolers, to name a few of the products. Some of her designs showcase whimsical octopi, playful flamingos, and majestic sea turtles, which are all hand-drawn and painted by Brodmann.
"I've always been an artist. Always done art," Brodmann explained. "I went to [the University of Georgia] UGA starting as a painting major and then I switched to textiles. There was something very satisfying about making functional goods."
Even though Brodmann racked up experience working for a major bedding supplier where she got to see her designs in stores such as Macy's and Target, in 2013, she and her husband, Harry, came to Savannah (his home) to start their family.
Brodmann chuckled and said, "The business started when parenting started. I began thinking about these products that we, as a family, needed. We started exclusively as a baby company, but we've transitioned and pivoted into so much more."
"Since the beginning, my mission/goal of the company was to make multifunctional products that make life easier and more beautiful. So, that's been the root of it," she said. "In college, I hated watercolor. But then, someone gave me a watercolor kit as a Secret Santa or something. I started dabbling and it just took off."
As with the rest of the world undergoing the changes of 2020, Brodmann found herself at a crossroads, as well.
"I was thinking, 'Where am I going with this business?' and 'What am I doing?'" she noted. "With all that happened [in 2020], I had a chance to follow my heart as to what I wanted. The coolest part is my customers and followers are receptive to that. It's the best feeling ever… putting yourself out there, being vulnerable, and having people want more of it."
"We started printing UV shirts in 2020 and then we've added – I don't know how many products. When I look at my art, it's not wall art. It's art that people live with and enjoy throughout their day and life. I learned how to manipulate it [watercolor] in the way I can control acrylic paint. I'm being realistic with a bit of whimsy."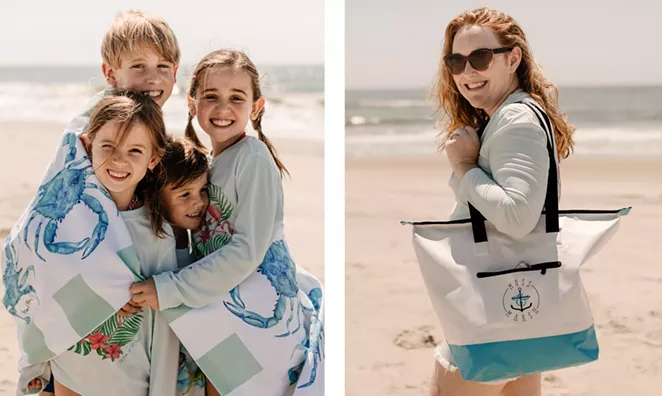 Not just that, she stressed, "What's so fun is the instant gratification. I can do a painting in the morning and within the same day, I can literally put it on a product."
Brodmann uses a unique technique to place her original watercolor paintings on fabrics and products.
"After I began watercolor, I fell into sublimation as a recommendation from a friend who does it. I asked her if she could print it for me and she said I should do it myself. So, I did," Brodmann said with a laugh.
Sublimation is a newly popular method of printing that transfers a design from sublimation paper to a piece of fabric or product material with pressure and heat to change the solid ink particles into a gas.
"We used to screen print fabric," Brodmann said. "It was, as you can imagine, a very labor-intensive process. With sublimation… it's a chemistry process. It's turning a solid into a gas.
Unlike screen printing, the dye is absorbed by the fabric for a natural, soft-to-the-touch feel.
Brodmann explained she has a special printer and paper she uses. "I take my images, print them out, and then put the paper on the fabric or whatever product we're imprinting on and put it under heat. The heat turns the solid ink into a gas and dyes the product."
And, because of such innovation and creativity, Moss + Marsh keeps Brodmann quite busy.
"It's crazy to think I have two full-time workers and a part-time person, as well," she said. What's cool about this summer collection is now that I have this team, it's not all on me. We have design meetings and share the process together. I have a SCAD grad and a fashion student at Georgia Southern, so it's great for me to share these skills and teach them."
"We've been doing the UV shirts, but wanted to brand a bit more with our beach towels and beach ponchos. The microfiber material is resistant to sand—just wipes off—and it's really soft and quick to dry," she said.
One product she's excited about is the dry bag. "It's designed to keep your personal and waterproof items safe and dry. These bags have no seams or zippers or any place where water can seep in," she explained. We've seen so many beach bags out there so we wanted to do something different, but super beneficial. When we go out on the boat, having things secure and where they won't get wet is crucial."
Brodmann said the main source of their sales is their website. However, she proudly states they are also in over 100 different stores throughout the country.
"We're in Locally Made in downtown Savannah, as well as Polka Dots on the island," the artist added.
Brodmann feels she has gotten to this place due to several factors. "Being true to your own art, but knowing when to pivot. If you put something out there and it's not loved, don't take it personally. That's the hard thing with artists and business. Sometimes they don't go together, you know, the whole right brain, left brain. I wished my art school had taught business. I've learned a lot along the way through trial and error, but it's so important to be true to your brand and your mission and people will find you."
It isn't simply Brodmann's business that grew as she and her husband welcomed two daughters. Ettalee and Violet. Violet's arrival coincided with the company's record orders.
"We were at the end of 2021—our biggest quarter ever—and I was 8 months pregnant," Brodmann said, a bit winded at the memory. "Fortunately, things slowed down in January and I was able to step back and train and prepare the team before [she] arrived. It's really special to have this team—God truly sent me this perfect team. I had to interview the perfect people to be involved in this very personal family business."
Ettalee colors in the shop and Violet has her own seat so both can be part of mom's world and part of the team.
"This is the first busy season where I've been able to step back, focus on the art and the bigger picture things, and my team is doing all of the production."
Brodmann stressed how grateful she is for her husband, Harry, an operations manager by trade. "Last year, I knew we had to have a serious talk about the growth we were having. I had a part-time job from home in 2021 and I wanted to quit. Harry told me I needed to show him on paper where I could make a certain amount of money. I laughed at first, but two months later, I looked at the track record and we were going to hit the goal and exceed it! We both had this teary-eyed moment where we were both… 'Wow… we're doing this.'"
And, now, with her new summer items available online and in stores, Brodmann takes great satisfaction in knowing her efforts are appreciated.
"One of the first times I realized the joy of this business was the end of 2020 when we were slammed for our first extremely busy season. In just retail alone, we were getting out 100 orders a week and couldn't clear the cue! It was intense, but Christmas came and I thought about how many people were opening a present that I made. That was like…wow…surreal."
"One of the reasons I wanted to start this business was not just to create functional things, but because I love gifting. When I was testing out items, I was gifting everything to my friends. So, realizing that was sort of a full-circle moment."
Brodmann said she has a neon sign in her shop that reads: "Dream. Hustle. Pray."
"I feel like that sums up where we started to now…and what it's taken to get here," she said. "I've had dreams that may have been long term or short term, but I hustled to make them happen… and there were a lot of prayers."
The Moss + Marsh Summer Collection can be found online at mossandmarsh.co