Georgia Bulldogs fandom "runs thick" in the words of Corde Wilson.
It's arguable that few surpass him in dedication to the cause, and as college football season edges closer, super fans across the nation prepare for the long and often emotional season.
Sometimes the payoff is heartbreaking, but occasionally, as is the case for Corde, a season like last year can be worth decades of waiting.
He explains that he was raised to cheer for the Bulldogs before he knew much else about the world.
"When I was a kid, before I knew anything else, my parents used to say that, if I got lost, I should just stand on the side of the road and yell 'Georgia Bulldogs'," he jokes,"They used it as a party trick!"
Ultimately for Corde, there was only one college destination that would have fit.
He attended the University of Georgia in the 1990s and is proud of the full circle relationship he has with the program.
"I went to school with Kirby (Smart, the UGA head coach), and I, generally, agree with everything he has done with the program."
During that era, the Bulldogs were a decade and a half removed from their 1980 National Title win.
The drought, at the time, seemed long but, paled in comparison to the 41 years that it ended up being.
That being said, those decades of struggle fueled an even more satisfying victory in last year's National Championship Game for Corde and Bulldog fans around the country.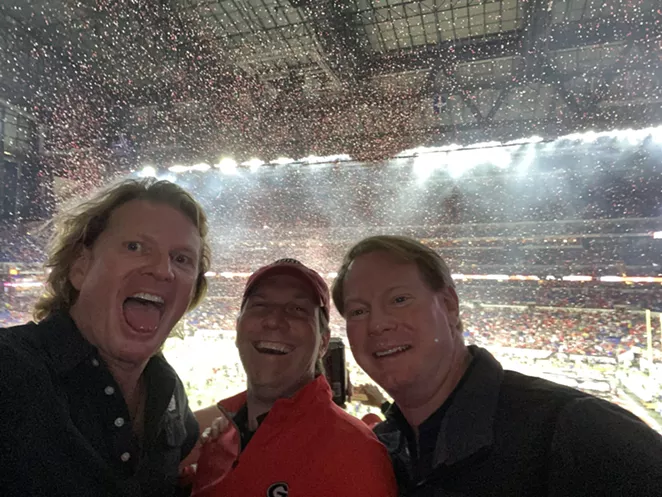 When asked if he attended that historic game, Corde proudly confirms. That night is a memory which will not fade as the season ticket holder watched his childhood team, in person, finally "climb the mountain" that took decades to accomplish.
An ensuing celebration was in order as he admits "that he stayed up all night too" and failed to fall asleep as the sun rose the next morning. For Georgia fans, this was a party half a lifetime in the making.
But that doesn't mean a party is out of the norm for the eccentric UGA alumnus.
When asked about some of his most memorable tailgating experiences he is not short on stories. He states that he started out following the team in an RV, but saved the biggest party of the year for the annual Georgia vs Florida game in Jacksonville.
"Back in the late 90s and early 2000s there were times when we had over 50 people on a 30 foot RV," he laughs, "I think, at one point, even a few wheels got off the ground." After too many people moved to the back, he says it "popped a wheelie."
He chuckles and explains, "We are past those days now. We still try to find creative ways to attend games, though."
He explains that some of his favorite ways are to rent limos and huge party buses.
Corde jokes that being a superfan isn't always the most comfortable.
"I pick out my gameday outfit for the first week and wear that until a loss. You don't want to pick something that only works for the summer because if you get stuck wearing shorts and a T-shirt in Indianapolis in January, it can be pretty chilly."
He explains that there is a bit of levity to being a UGA fan these days, as the four decade long wait for a Championship has faded into memory.
That doesn't mean the hunger for more isn't there, though.
I think he speaks for Georgia fans across the state when he says, "Going into this season, I don't know what to think. We had been chasing that same rabbit for forty years. I don't know what to expect, but I'm excited about it."
He explains that while having kids has somewhat lowered his ability to attend games compared to the past, he still plans to attend Florida vs Georgia and a number of others.
He finishes off the conversation by hinting at his expectations for the season.
"Hopefully, we will be out to California in January."
In his eyes, UGA could bring home another Championship this year.
RELATED:
Starland Yard is the OFFICIAL UGA Savannah Alumni Chapter Game Watching location! Put on your spirited red and black and head to the Savannah chapter's game watching party to watch the Bulldogs play. These events are free, fun and attended by passionate graduates and fans of the University of Georgia. Parties begin one hour before kick-off. 2411 De Soto Ave. Visit starlandyard.com to see specials and food truck availability.