Football season is squarely underway, and we recently caught up with Gus, the fun, friendly mascot for Georgia Southern Athletics to get a better read on who he is and how his gamedays usually go. Enjoy!
Hey, Gus! Can you tell the fans a little about your back story?
I hatched out of a massive egg in Hanner Fieldhouse January 30,1982. Originally a gift to the university from Delta Chi, I was born/given to the community officially. Now yes I looked a little different… We all have our glow ups. I feel as if my name speaks for itself. GUS…GSU… yeah we're on the same page.
Do you have a pre-game ritual? If so, what is it?
My game days usually all start the same way. I wake up to Free Bird by Lynyrd Skynyrd. I get to the stadium fairly early (time depending of kickoff) and scout out the energy. I drive past our tailgate areas and scout out who is here early and who is already partaking in tailgate festivities. After I walk in the gates, i'm locked in. Some stretching takes place, a little pregame run, slam down a couple of electrolytes while blasting a good game day playlist. If im not 1000% fired up, i've started my gameday wrong.
Do you like music? What is your favorite song? What gets you pumped up for games?
My music taste varies from week to week. Some days i'll listen to nothing but Cole Swindell and it will get me in the right mindset. Other days my playlist will jump from every genre under the sun and back.
How would you describe your personality and how does it align with the team's spirit?
Menace. 100%. After gaining sentience it was Georgia Southern vs the World. Came here with a chip on my shoulder and wanted to make a name for myself. Sometimes I believe mascots are too nice, we had to throw a little spice in there. Although I have a sarcastic approach to life, when it comes down to it I try to be a nice guy overall. Greeting visiting fans (and sending them off with a loss), interacting with all my lovely GS fans, etc.
When you are not attending the games, what do you like to do for fun?
Eating.
Do you have a nemesis in the mascot world? Or another mascot you consider to be a friendly foe? Tell us about interactions with them.
All the other Sunbelt mascots are the main foes in my world. In typical fashion there's a good rivalry between Yosef from App State and I. I wouldn't call Pounce from Georgia State a rival, he's barely a mascot.
About how many appearances do you make a year? Do you make any appearances outside of athletic functions? Tell us about some of those.
Easily 200+. I'm at as many athletic events as possible. Every single football game (home and away), every home basketball game for both men's and women's, most home baseball games, and I visit soccer, softball, swimming, and rifle a few times a season. Outside of athletic events, I visit Greek Row a good bit to stay involved with sorority life when they need me for events. I head over to all major campus events to see the lovely GS students on campus. Off campus, I am involved with many school visits, marketing shoots for sponsors, and weddings. I love weddings. So if you're reading this and need a professional wedding guest, call me.
Do you have a favorite fan interaction or memory if so, what is it?
All of them. I try to treat each fan interaction as important as the next one.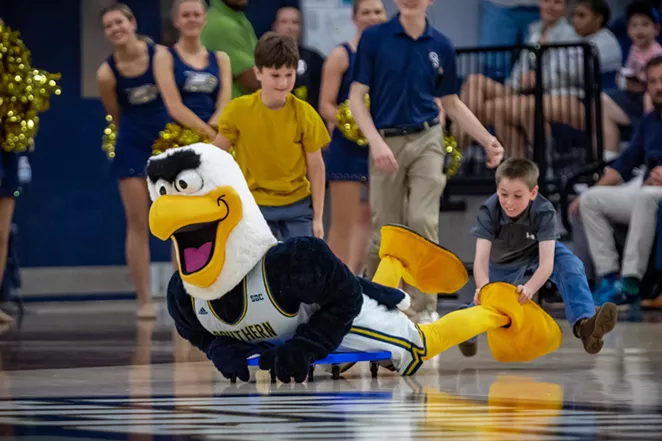 Every mascot has signature moves or gestures. What are some of yours, and how did you come up with them?
I just do whatever dances my brain tells me to do.
Finally, what is the best thing about being the Georgia Southern Eagles' mascot?
All of it. I have the honor of being the face of this amazing university. I lead the spirit for all these amazing athletic teams. I meet so many people each and every day whether thats on campus, on the golf course, at events, or even on Twitter. (follow me @gustheeaglegs thx).