WITH A career spanning more than fifty years and informed by an extensive education, Everett Mayo's show at the Butcher Tattoo Studio is a must-see.
"Gates Maybe" is a collection of abstract watercolor and oil paintings that represent iron gates. The work is inspired by Mayo and his girlfriend Pamela's 2015 visit to Savannah.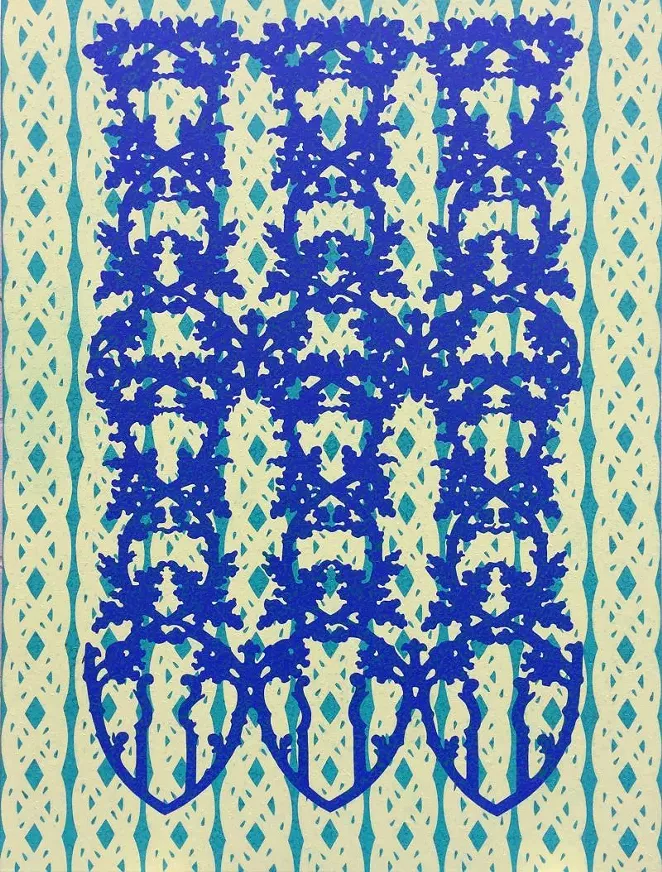 Fascinated by patterns for much of his life, Mayo saw beauty in the wrought-iron fences and gates around downtown.
"It was the perfect place," Mayo enthuses. "There were a lot of wrought-iron motifs that spoke to the history, the old-fashioned design. I've always been interested in Irish design, but maybe that's just because I'm Irish. I just gravitated towards the step railings."
During a walk around the city, Mayo found the Butcher and was instantly interested in showing his art there.
"Savannah has a huge art school, so we were looking to see some terrific art," he recalls. "We looked around and saw some very good realist art and traditional art, but not the kind that interested us. So we found the Butcher and met Jenny [Hawkes, curator at the Butcher] and that was where we saw Axelle Kieffer's work. It was the best we saw. That was under Jenny's purview."
Mayo studied architecture at Pratt Institute and Cooper Union before falling in love with painting and transferring to Syracuse. His extensive knowledge of art history and theory is impressive and sets his art apart.
"Since the eighties, my interest as an abstract painter has been pattern, in one form or another, occasionally leaning to representational but grounded in abstraction," Mayo says.
"In particular, Hiberno-Saxon patterns, its complexity, playfulness, subterfuge. Not to overlook Rube Goldberg's Post-Cartesian anti-logic, not to forget every painting tests the formalist underpinnings of the modernist surface."
However, Mayo doesn't feel his education has benefited him artistically—in fact, the opposite.
"I'm a longtime academic, and if I'm being honest, it's been a handicap," he confesses. "As an artist, it interferes with doing art. One of the things I'm real proud about [in this show] is the motifs are what they are. There's no deeper meaning except of the history of Savannah."
Mayo follows minimalist painter Ad Reinhardt's philosophy that artwork shouldn't be imposing.
"He said paintings should have inert quality; they shouldn't be disturbing," he says. "I hope the motifs are decorative so somebody can ignore them. That's exactly what I want to have happen."
Though his art isn't imposing, it is complicated. "I've always been involved in complicated designs," says Mayo. "I started out painting cubistically when I was a kid, and I've always gravitated towards pattern. Even when I was painting landscape in the studio, there was always an underlying pattern I was aware of."
The act of painting itself for Mayo is important.
"Having paint on the canvas is important to me," Mayo says. "With all the brush strokes you'll see on the canvases, it's kind of like timekeeping. I've always been very much involved in the labor [intensive quality] of painting. Brush strokes represent timekeeping; they're there to modulate. There are two pointillists in this [body of] work. I don't know what the hell I was thinking."
Mayo doesn't have an intended takeaway for the show or in general.
"If someone engages with the art, starts to see the little playful things that go on, that's okay, but it's there to exist," Mayo explains.
"I'm 71. I don't have any crusades. Just to make something beautiful is crusade enough."
CS