GAIL LUMET BUCKLEY is the daughter of the great jazz singer Lena Horne, and the former wife of film director Sidney Lumet.
She is also an acclaimed author in her own right, and will talk about her excellent new memoir, The Black Calhouns: From Civil War to Civil Rights with One African American Family.
The book takes a unique and enlightening approach, mixing the interweaving stories of her extended family with detailed and compelling insight into lesser-known aspects of black history, such as segregation in the military, profound regional differences in the treatment of African Americans, the Harlem Renaissance, and the existence of a thriving black middle and upper class in many areas outside the South in the early part of the 20th Century.
The book begins with the story of Moses Calhoun, a former house slave who was allowed by his then-owner to learn how to read and write – an extremely rare occurrence – and used his education to attain great success in the business world after attaining his emancipation.
Later, as the generations progress, we get to the story of Lena Horne, a stunningly beautiful and equally stunningly talented singer who, as Buckley relates, first came to fame being used as wartime propaganda to lift the morale of segregated black troops during WWII but who later became one of the first "crossover" superstar entertainers in the country.
Your book is so strong on history as well as the more personal stories. I get the sense that it started out as a memoir and along the way you decided the history was too important not to delve into.
I love American history! It's so exciting. I always wanted to put the memoir into history and the history into memoir. So in a sense it was planned. But it did start as a memoir.
I'm not a historian. I do not have graduate degrees. Real historians would sneer.
It's Book Festival time, but also Black History Month. Some say the concept is offensive, because why put Black History into just the coldest, shortest month? What are your feelings about it?
I have mixed feelings about it. The great Dick Gregory also has mixed feelings, and I think he was one of those who said, "Why do we get the coldest month?"
I think black history is American history, and I think it's so important. When I was researching my book about blacks in the military, I did it because I thought people need to know there were black military heroes. There was incredible injustice going on, and I think it's important.
I was brought up in an era of no hyphenated Americans. I was always told if anyone asks what you are, you say I'm an American. Then we got into all these things when I was a child – we were called Colored, then Negro, then Black – which is what I like best – and now African American.
I was stunned to find out there were blacks in the Revolutionary War. I learned about the 54th Massachusetts Infantry in the Civil War.
You say something so striking in your book, that that U.S. military is a Southern institution.
Let's go back. West Point integrated in the 1870s after the Civil War. There were four black regiments -- two cavalry, two infantry. Annapolis, the Naval Academy, was not integrated until the 1950s!
The Southern tradition goes back even before the Civil War. The way it was in the South, rich Southerners went into politics, poor Southerners went into the military. But the military always was a Southern institution – in a good way and a bad way.
It's not all bad. It was bad in World War I, for example, because the racism came from the top. Woodrow Wilson was a total racist. By then the racism in the military was so entrenched. But by the time of Colin Powell though, it became the most integrated institution in the country, and a happy place for blacks.
Vietnam, for example, was the first integrated American army that began a war since 1812! So you see how entrenched the racism was.
You have to remember both the Nazi and Apartheid systems learned everything from Jim Crow. In a way things were worse after Reconstruction. After Reconstuction failed, black life was worthless in the South. There are some stories one doesn't want to hear. About lynchings, things like that. But it's important to know that went on.
You wrote a book about black U.S. military history, American Patriots.
My great uncle was a Second Lieutenant in the First World War. He was one of the Buffalo Soldiers. He instantly rose to the rank of sergeant, the highest rank he could reach.
He served on the hunt for Pancho Villa, under General "Black Jack" Pershing – who got that nickname because he commanded so many black troops.
That's why it's so important we tell these stories. That was a book I couldn't have written today because of email. Back then people would save letters, documents, newspapers. It was all about tangible things you can save.
There is a real surge in movies about slavery. Do you worry that there isn't enough attention being paid to the stories of African Americans after slavery, in the 20th Century?
But there have been so few movies about us at all. All we had for so long was Gone With The Wind. There were few movies about black slavery. Twelve years A Slave of course is true history.
Hollywood was the worst in terms of portraying the image of all minorities. Everyone was a stereotype. In a nation of immigrants, many of whom couldn't read, how do you explain who is who? They decided to do that through the use of simple stereotypes.
Now, it's important to note that the great waves of immigration to America happened just at the same time movies were starting. The Great Migration of blacks out of the South happened at the same time.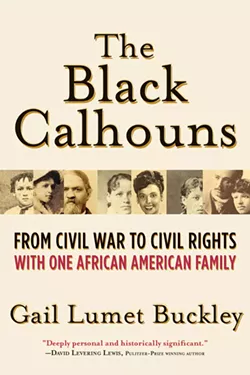 Your mother Lena Horne was so talented and charismatic – do you get the sense she was born a few decades too early, that she would be a massive mega-star today?
She would have been even more successful had no doors been closed to her. It was difficult for black women in theater and movies.
You say directly that she owed her fame to the government's use of her for propaganda purposes in WWII, as the only "allowed" pinup girl for African American GIs.
She wouldn't have been a star if not for WWII. She was already a success at café society, in New York City. But she wouldn't have been known around the country if not for WWII.
She told me why she cultivated that aloofness. She said, "In many of the places I go, I'm the first black person they've seen." She had no idea what audience response would be. So she always kept very cool.
cs