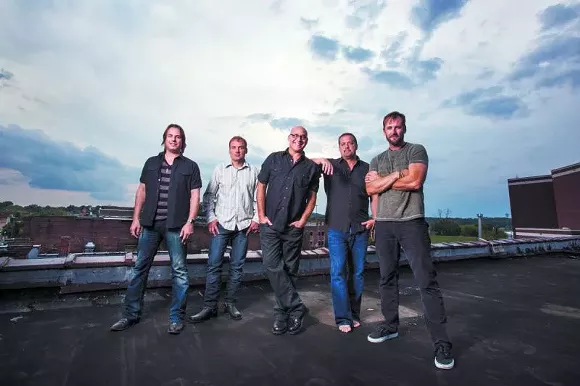 IN THE early nineties, two University of Florida students hauled their acoustic guitars between local coffee shops, melting harmonies and summery guitar picking into an affable toe-tapper of a song. Ken Block and Andrew Copeland thought they had it all planned out: graduate, get jobs, get married, start families.
Little did they know that "All For You," the song they were playing for cappuccino-sipping North Floridians, would be pouring out of stereos for years to come.
Sister Hazel may be synonymous with 1990s adult contemporary and alternative rock, nestled among Tonic, Dave Matthews Band, and Hootie & The Blowfish on nostalgic playlists, but the Gainesville group has maintained a kind of immortality that's rarely granted to bands of the era: they're still playing, releasing new music, and offering unique concert experiences for their loyal fans, the self-proclaimed "Hazelnuts."
"It's crazy," says vocalist/guitarist Copeland, looking back at the early days. "I've been doing this over half my life. I've spent more time being in a band with these guys than anything else."
The band's shelf life is strongly aided by their ease between genres. Alt-rock is an umbrella term for their melodic sound that fuses acoustic rock, Southern Rock, country, and folk. Throughout their discography, the easy melding of Block, Copeland, bassist Jeff Beres, and lead/slide guitar Ryan Newell's vocal harmonies has defined the Sister Hazel brand. It's the friendly ease of it—more campfire than church choir—that makes the sound so welcoming.
"I called Darius and told him, 'The band loves it and wants to do it—would you sing on it?' He said, 'Man, I'd love to.'"

tweet this
Block and Copeland's blend has always been a standout for listeners.
"We've been singing together for 26 years now, and our voices just blended really well," says Copeland. "It's going to sound funny, but it's like The Gatlin Brothers—there's something about siblings where sometimes it sounds like such a natural blend. People said from the get-go, 'Are y'all brothers? It seems like you've been singing together your whole lives!'"
For Copeland, who grew up singing around a piano with his family, finding harmonies without professional training is natural.
Named after Sister Hazel Williams, a local missionary who ran a homeless shelter, Sister Hazel made its full-band debut in 1994. Their second album, ...Somewhere More Familiar, released in 1997, boasted their chart-topper "All For You," which hit No. 11 on the Billboard Hot 100. The record sold 30,000 copies. Their followup, Fortress, featured favorites like "Champagne High," "Change Your Mind," and "Your Winter," which was featured prominently in the film 10 Things I Hate About You.
Most recently, the band surprised audiences with a country record, 2016's Lighter in the Dark. Though the production stood out from their previous releases, Copeland says the homegrown sound was a natural progression.
"The funny thing is, people say we went and made a country record, but we were making another Sister Hazel record," he says. "It was heading that way with how the songs were written, thinking about how this treatment would help that song...we just focused on, 'What's best for the song?' and landed in that genre."
The album allowed for a reunion with another '90s alt-rock hero and friend of the band: Darius Rucker of Hootie & The Blowfish. Rucker has enjoyed phenomenal success in his solo country career and teamed up with the band to write the single "Karaoke Song," an ode to the art of barroom singalongs.
"That was a lot of fun, doing that," says Copeland. "We stay in touch all the time. Especially with basketball—him being South Carolina Gamecocks and us being Gators—there's a lot of raisin' going on with that! I went up to Charleston to and wrote with Darius, brought a friend, Barry Dean, and we spent time writing. We walked out of the house after writing 'Karaoke Song''—Barry and I were like, 'That one's pretty good'—and I heard Darius singing it, walking up the steps to his house. Barry and I stopped and turned around and said, 'That's got something.' When the band heard it, the very first thing they said was, 'We gotta have this song.' I called Darius and told him, 'The band loves it and wants to do it—would you sing on it?' He said, 'Man, I'd love to.' It was killer, a lot of fun to do, and hopefully you hear that through the music."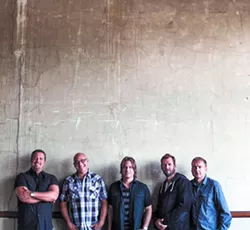 After all their time together, Sister Hazel doesn't have one set way of writing songs. Copeland will often collaborate with writers outside of the band, as he did with "Karaoke Song," and heads to Nashville to work with some of the top songwriters in the country. He made a writing deal of his own and has learned a lot from the experience.
"It was such a huge benefit for me," he shares. "I learned different techniques and picked up things and bring those back into the band. Having played together as long as we have, no matter where the songs come from, once the five of us flesh it out, it's a Sister Hazel song."
In addition to releasing fresh songs, the band loves to find creative ways to entertain their devoted fans. Sister Hazel is the force behind The Rock Boat, a "floating music festival at sea," the Hazelnut Hang in Charleston, and Rock Slope, in which the band and their fans take over a ski resort in Colorado, go skiing, and enjoy music.
"This band has made an absolute habit of finding things we love to do and finding out how to make it work," laughs Copeland. "That's why the job isn't so bad."
They've learned a lot since their early days and still has all its original members. Copeland thinks the secret to their success is managing to make it through their wild beginnings, fresh out of college.
"We had a number one song, doing late night television...we were on the road over 300 days a year for three years in a row," he reflects. "Back then when we were younger, we partied a lot harder than we should have, and things got pretty rocky and scary for a little while. Luckily, all of us have really grounded people around us that kept our feet firmly planted. We came through the other side of that whirlwind, looked around, and we all have the same goals. After so many years of being together, you settle into your role in the band, and you start realizing some of the things you fought about didn't matter six days later, six hours later, six minutes later.
"20-something years down the road, we're all family. Those aren't my bandmates or coworkers. Those are my brothers."
CS