AS SOMEONE who has spent more than 15 years as an advocate for people who walk and ride bikes, this is a difficult statement for me to make:
Motorists, please show less courtesy to pedestrians trying to cross Whitaker and Drayton streets.
As I've written before, well-meaning drivers who stop or slow in an attempt to anticipate people entering the crosswalks on these streets are placing them in peril.
That's because for every thoughtful person there are 10 more who will not slow or stop, even as required by law when people are already in a crosswalk.
Drayton and Whitaker, as currently configured, encourage all sorts of bad behavior including speeding and abrupt lane changes. The results are predictable.
Between 2011 and 2015, eight pedestrians have been hit on Whitaker Street. Seven sustained injuries.
Drayton Street was even more dangerous during that same time period, with 13 people hit and nine injured.
People on bikes were not spared either, with 12 crashes on Drayton and five on Whitaker during those five years.
This does not include collisions between cars, nor between cars and buildings, both of which are common according to residents who live along these streets.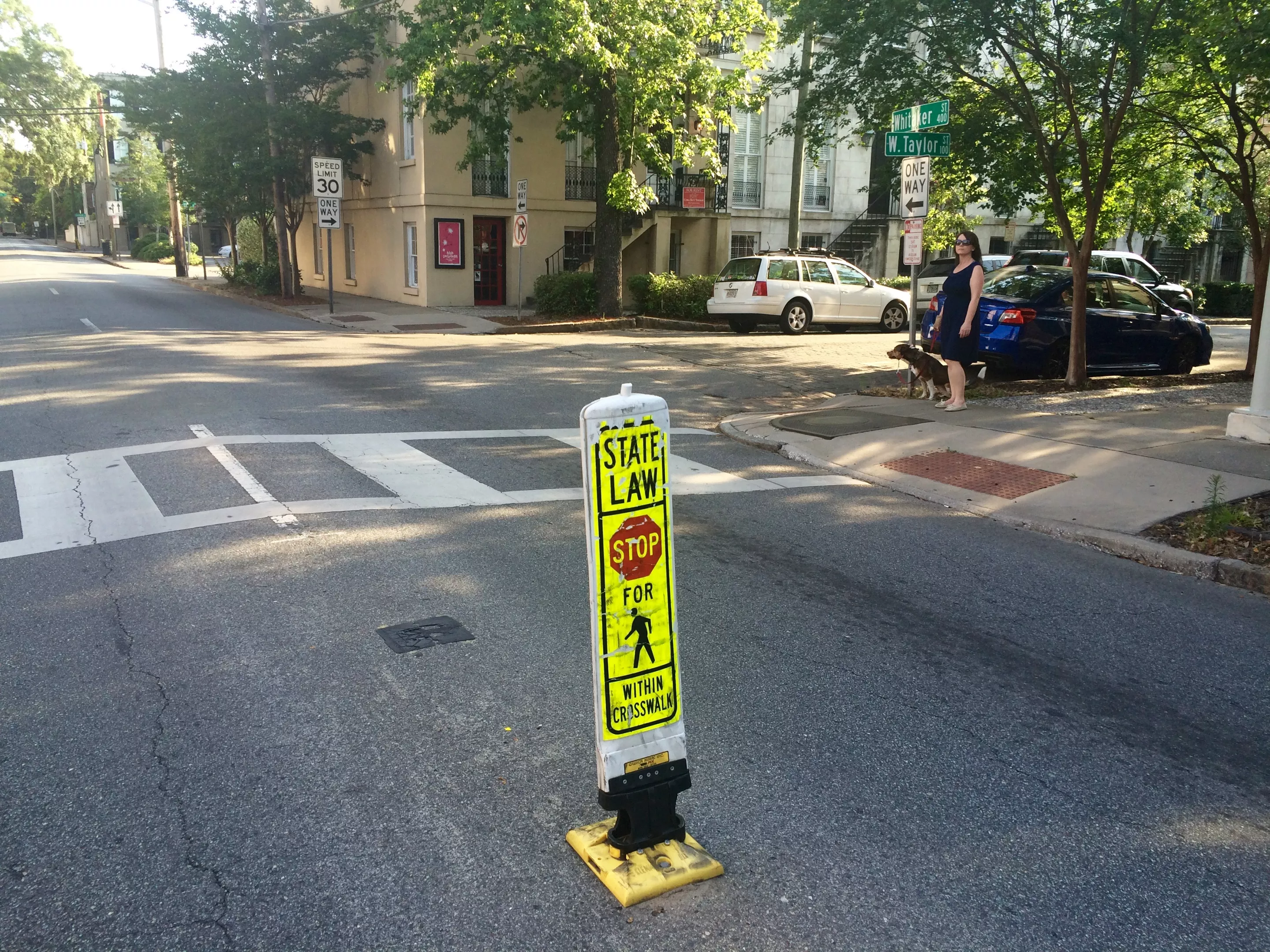 Last week when District 2 Alderman Bill Durrence proposed exploring methods to make Drayton and Whitaker safer, the need was grounded firmly in traffic crash data. The numbers don't lie.
What's more, the effectiveness of a Complete Streets design, which he suggested might merit consideration, is also well documented. Studies of streets configured to safely accommodate all travel modes have found reductions in crashes varying from 19 to 47 percent for all users — pedestrians, bicyclists and drivers.
The mere suggestion that Whitaker and Drayton streets could be made safer by eliminating a car travel lane and adding on-street parking and a bike lane — an approach that has been employed with success all over the country and here in Savannah on Price Street — generated a May 16 letter to the editor in Savannah's daily newspaper calling it a "terrible idea" and recommending adjusting signal timing to increase motor vehicle speeds.
What's more, even considering a Complete Streets approach, much less implementing it, has been branded "the stupidest idea I've heard in a while," "insane," and "ridiculous and useless" by people on Facebook, who obviously consider themselves experts on the subject.
A real expert, however, says the opposite is true.
"Whitaker and Drayton are some of the worst examples of street design and traffic engineering I have ever seen," says Dr. Dan Piatkowski, formerly a professor of urban planning at Savannah State and now a faculty member at the University of Nebraska-Lincoln. "In their current state they are potentially deadly for everyone, including drivers. They effectively punish residents and visitors by preventing them from safely accessing some of Savannah's most beautiful locations, like Forsyth Park," says Dr. Piatkowski.
The good news is plenty of smart people agree with him.
Still, critics allege that reducing lanes on Drayton and Whitaker would cause traffic congestion. Is this necessarily so?
In "Evaluating Complete Streets: The Value of Designing Roads for Diverse Modes, Users and Activities," Todd Litman of the Victoria Transport Policy Institute, explains that reducing motor vehicle speeds from 40 (many cars on Drayton and Whitaker are going at least this fast) to 30 miles per hour (the current posted speed limit within the National Landmark Historic District) "tends to increase roadway capacity" because lower speeds reduce the space required between vehicles, "so traffic is smoother and less congested."
Reducing speeds, which removing car travel lanes would likely accomplish, and reducing congestion are not the same thing, it turns out.
In essence, those arguing to maintain the status quo are fighting to preserve their prerogative to speed. They want a quick way to reach their jobs in the city and to escape from downtown just as quickly when the five o'clock whistle blows. It's understandable.
But how much punishment, as Piatkowski accurately describes it, should be inflicted on people to enable speeding? Should people of all ages and abilities be forced to literally run for their lives across Drayton Street for the benefit of those who are late for work (or who are just plain impatient)?
Is avoiding even minor inconveniences for drivers in a hurry more important than the safety of everyone else with whom they share the streets (including other motorists)?
Driving 10-15 mph above the posted speed limit (again, this is common) may indeed shave off a minute or two from morning and evening commutes. But at what price?
The cost is clear. People hit by cars travelling 30 mph have a 50 percent chance of surviving. Of those hit by cars going 40, nine out of ten will die.
cs