The Savannah College of Art and Design is gearing up to host BAM!, a commemorative concert featuring riveting tributes to Black musicians, particularly those from Georgia. Celebrating Black History Month and Georgia Day, the concert is a collaborative effort of SCAD students, alumni and faculty who have united to acknowledge and honor Black music through a spirited evening performance.
"It's a celebration of Black artists in music, but even bigger than that, celebrating producers, songwriters, anybody in entertainment. The focus on this year is celebrating Black artists from the state of Georgia. It's an exciting concert. We feature song, dance, poetry, drumming, really everything," said Mike Evariste, SCAD's artistic director.
Evariste is a Tony-nominated producer and Broadway actor who is joined by a talented roster of acclaimed performers — including Candice Glover, who won "American Idol" season 12 and Isaiah Johnson, who is also a Broadway veteran — who have come together to put forth BAM! The show also features guest stars like "Showtime at the Apollo" winner George Lovett and Kiandra Richardson, who is currently starring opposite gospel legend Yolanda Adams in BET's "Kingdom Business." Performers also include SCAD's new executive ensemble the Bee Sharps and the school's iconic Honeybees. The vocalists will be accompanied by a live band complete with strings, horns and percussion.
BAM! is now in its second year, and Evariste declared that it will be even bigger and better than it was before. So far, he has enjoyed the process of producing the show.
"The students are just so excited about it. We didn't really know what we were getting into last year when we first did it. . . So we just did it, and the response was so overwhelming," said Evariste.
He encourages the students "to bring their creative ideas, their thoughts, their dances, their choreography, their poetry, their words" to the performance, resulting in a compelling concert that is unique to SCAD. It's a team effort of a lot of talented people.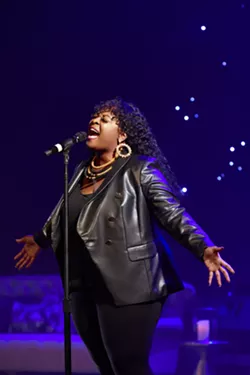 Glover, an international performer who is both a SCAD alumnus and faculty member, has lent her wide-ranging talents to the show, and she's excited about what they're producing.
"It's sort of like a 'for us, by us' type of concert. It's Black artists in music put on by the Black professionals at SCAD, and my role is to arrange all the music," said Glover.
She has enjoyed working with the students, especially after having been in their shoes.
"My favorite thing about being with the students is that I know what the SCAD experience is. I love SCAD so much, and I've been in that position where I was a student. So I think that they respect me in that regard and also based on the career that I've had. . . It just inspires me to see them be so excited about this show. . . It's been a great experience," Glover expressed.
From teaching harmonies to ensuring proper enunciation and diction, Glover is thoroughly involved in the production. But her involvement isn't only behind the scenes. She will also grace the stage with her powerhouse vocals. The singers will perform popular tunes from Georgia artists like Gladys Knight, Ray Charles, James Brown and Otis Redding among others. Contemporary artists will be featured as well.
"We are honoring Tricky Stewart, who's from Atlanta. He received an honorary degree from SCAD last year. He just recently won a Grammy, and he's the monster beast producer behind Beyonce's latest album 'Renaissance'," Evariste said.
He encourages everyone to come out and enjoy all of the great music that will be celebrate at the show.
"It's going to be a good time. . . People are going to have fun. They're going to be singing along. They're going to know the tunes. They're going to be dancing along. They're going to be clapping. They're probably going to be on their feet. I encourage them to come down and rush the stage. It's going to be that energy," he expressed.
BAM! will take the audience on a journey through time, making the concert as educational as it is entertaining.
"It's going to be a learning experience too. We're going through chronological order from the beginning of slavery all the way through to present-day music. Hitting the blues, hitting soul. So, it's really going to be a hodge-podge of everything that the community would know and also things that they wouldn't know. So, not only is it fun, but it's going to be a good learning experience as well," he added.
The educational aspect of the show is something that Glover is also excited about.
"I'm from . . . right across the bridge maybe an hour away in Beaufort County, and I was born and raised in Gullah culture. That's how I grew up. . . There are going to be some elements of that in the show. I'm just really happy that SCAD wanted to highlight that part of my culture because it's another side to Black culture that a lot of people don't really know about. . . It's something that I take around with me everyday, and I travel the world and tell everyone about it. . . So it's exciting to me that people are going to learn a bit more about it. It's a great concert, but it's also educational and I think that's really important," she shared.
Evariste and Glover are proud to put forth a concert that speaks to the impact that Georgia's Black music has had on American culture.
"Going back to the beginning of slavery, a lot of the spirituals at that time, the writers of these spirituals are unknown. But a lot of that roamed the streets. Those spirituals roamed the streets and the grounds of Savannah and Georgia and all through the South. So that's really where the music of Blues, of R&B, Soul, Jazz — it all came back from when we were slaves in Georgia in the South. . . That's the power and influence that artists, not only artists, but the ancestors of Georgians have on music. It started here. It started in Georgia and was infused in the music of artists we know and love today," Evariste recounted.
He and Glover are also proud of the production and everyone involved.
"They've been working hard. We jumped right into it, and it takes a lot of hard work in a short amount of time. Just to see the dedication from all the students and even the faculty, I couldn't be more excited to show everyone what we've been working on. . . it's been a really good time, and I also want to say thank you to the City of Savannah and SCAD, President Wallace for giving us the space and opportunity to to put on something like this. It really means a lot," Glover expressed.
Evariste added, "I'm very proud to introduce this show to this market. It's bigger than last year. Our band, the lighting, the stage, the production quality is a step up from what it was last year. It's a direction of growth. And honestly, that's our story too. We're always growing and learning."
BAM! will take place on Monday, Feb. 20 at 7 p.m. at the Lucas Theatre for the Arts, with a second performance in Atlanta on Feb. 28 at 7 p.m. at Buckhead Theatre. For more information and tickets, click HERE.