The prep basketball season has come and gone for Savannah high school teams. That's a bittersweet fact. First, the bitter … no more high school hoops. That's a bummer. Ahh but the sweet side is that you get to see my All-Savannah teams. It is my attempt at grouping the city's 18 best players during the 2022-23 season into first, second and third-teams, and then releasing them to you for critique and debate. And that's pretty sweet, I think.
This season was especially successful were a pair of the so-called 'little guys' in Savannah. A pair of Georgia Independent Athletic Association (GIAA) squads won state championships in Class 1A and Class 3A.
St. Andrew's (28-1) won its second straight GIAA 3A title while Memorial Day (21-4) won the program's third state championship with its GIAA 1A title this season.
State championships are rare regardless of association. And, since the city's last Georgia High School Association (GHSA) boys state basketball championship came eight years ago now – in 2015 and courtesy of the Jenkins Warriors – it's only thanks to Memorial and St. Andrew's that there is any hardwood hardware in Savannah at all of late.
With that being said, here are my All-City picks (three teams of six players each) as well as honorable mentions for GHSA and Non-GHSA schools.
FIRST TEAM
ANTONIO BAKER – JOHNSON – SENIOR
Baker is the type of program-sustaining player that doesn't come around too often. In his time at Johnson, the Atom Smashers have won three region titles while advancing to at least the quarterfinals stage three times.
This year, he was named the Region 3-3A Player of the Year after averaging 20.5 points, 6.6 rebounds, 3.9 assists and 2.8 steals per game. He has college scholarship offers from Kennesaw State and Voorhees University.
ZYERE EDWARDS – ST. ANDREW'S – SENIOR
Speaking of program-changing players, Zyere Edwards certainly qualifies. He won the GIAA 3A State Player of the Year award for a second straight season while leading SAS to a second straight GIAA Class 3A State Championship.
Edwards might well be the best boys basketball player to have ever played at St. Andrew's. This season, he averaged 22.6 points, 4.6 assists, 4.1 steals and 2.8 rebounds per game.
ALFONZO ROSS – WOODVILLE-TOMPKINS – SENIOR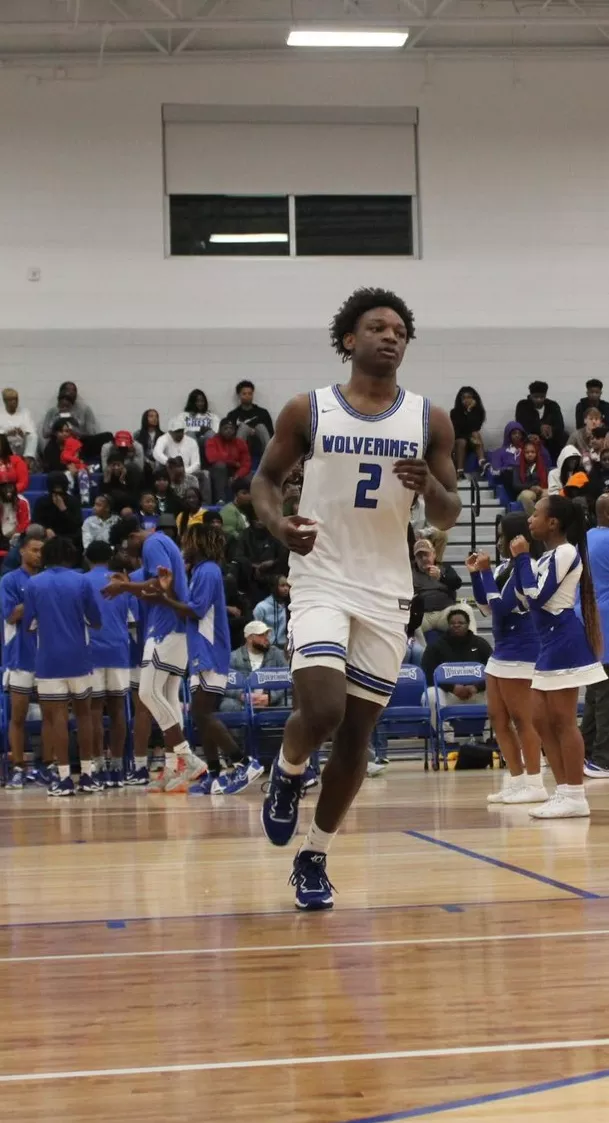 The physical guard improved more than any other player in the city from last season to this one. He was rewarded with a giant statistical campaign and a trip to the Class 1A DI Elite 8, as well as being named the Region 3-1A DI Player of the Year.
Ross is playing at the next level for USC-Beaufort. He averaged (approximately) 26 points, five rebounds and three assists per game while scoring 30+ points 10 different times in 30 total games, including a 42 point outburst in Woodville's Sweet 16 victory.
SHAMARRIE HUGIE – BEACH – SENIOR
Injuries derailed Hugie's season late in his senior campaign, forcing him to miss the last week of the regular season as well as the entirety of the region 3-3A playoffs in mid-February. Beach (22-6) was forced to play on the road in the first round of the 3A state playoffs because of losses sustained while Hugie was out. He returned for the state playoffs, but was noticeably not fully healthy and the Bulldogs lost in the final seconds. Still, Hugie was one of the top players in Savannah this year, no matter how you look at it.
The lanky wing averaged 20.4 points per game for Simon Heyward's team while also logging more than seven rebounds and four assists per contest. He was named to the region's first team for a second straight season.
CALEB JONES – BENEDICTINE – SOPHOMORE
Advanced beyond his age, Jones could wind up being one of the top scorers in Benedictine's program history at his current pace. The free-flowing shooting guard was a first team All-Region 3-4A selection for a second consecutive year and Jones showed off his smooth shooting stroke during BC's improbable run to the Class 4A Final Four.
He averaged more than 21 points per game for the region champion Cadets (18-6) and should be considered a front-runner for City Player of the Year honors for each of the next two seasons.
QURAHN ANDERSON – WINDSOR FOREST – SENIOR
Injured late in his junior campaign, Anderson was the Region 3-2A Player of the Year as a senior while averaging 17.3 points per game. He was able to lead Aaron Clark's scrappy Windsor Forest Knights (23-7) into the Class 2A Elite 8 after they arrived in the state championship game for the first time ever last year.
A midrange, slasher with a throwback game, Anderson made 199 shots (501 points) and only seven of those shots were from three-point range. He has a college scholarship offer from USC-Beaufort and several other smaller schools.
SECOND TEAM
STEPHON FRAZIER – BENEDICTINE – SENIOR
The spark plug point guard was named the region 3-4A Player of the Year while helping to lead Frank Williams' Cadets to the 4A Final Four. He averaged more than 10 points per game and was an excellent perimeter defender.
JOSH QUARTERMAN – JOHNSON – JUNIOR
Quarterman had a breakout season after transferring into the Johnson program last year. He averaged roughly 16.5 points and 5.2 rebounds per game while being named first team All-Region 3-3A.
MAKI JOYNER – SAVANNAH HIGH – SOPHOMORE
The first team All-Region 3-A DI selection got better as the season went along, and he'll be a staple on Tim Jordan's team for the next two seasons after the Bluejackets (21-8) made it to the A-DI Sweet 16 this year.
MALACHI ROBINSON – JOHNSON – SENIOR
Robinson was a first-teamer in the region while forming the third part of Chuck Campbell's terrific trio of playmakers. He scored more than 11 points per game and averaged more than nine rebounds along the way.
JAMES LEACH – BEACH – SENIOR
The forward was the only GHSA boys player in the city to average a double-double for the 2022-23 season. He scored 10.3 points and grabbed 11.5 rebounds on average. A first team All-Region 3-3A pick, Leach also averaged 2.6 blocks per game.
JA'QUAWN SINGLETON – GROVES – SENIOR
Singleton was probably the best scorer and the best rebounder on a solid Groves team. He was rewarded with first team All-Region 3-3A honors after the Rebels posted a 15-14 season under head coach Kevin Evans.
THIRD TEAM
LARRY POUNDS – WINDSOR FOREST – SENIOR
A first team All-Region 3-2A selection who averaged 14.2 points per game with more than five rebounds and two assists per contest. He also made a game-winning, half court shot as time expired during a home region game in January.
JORDAN CAVE – ISLANDS – JUNIOR
Also a first team 3-4A member as the top scorer leading a thin backcourt rotation for the Sharks this season, Cave averaged 14.9 points per game in his junior campaign.
FAVION KIRKWOOD – JOHNSON – SOPHOMORE
Second-teamer in region 3-3A while playing crucial minutes as a sophomore in a season where SCJ spent a majority of time as the No. 1 ranked team in Class 3A.
JAKE MERKLINGER – CALVARY DAY – JUNIOR
Merklinger was the most consistent player on a Calvary roster which saw plenty of changes throughout the season. The All-Region 3-3A selection averaged 10.2 points, 6.3 rebounds and four assists per game.
JONATHON PICKERING – WOODVILLE-TOMPKINS – SOPHOMORE
A first team All-Region 3-A DI selection who played the role of sidekick to Woodville's star senior Alfonzo Ross. Pickering is the "next man up" for Lenny Williams' Wolverines moving forward.
JERMAINE EDWARDS – SAVANNAH HIGH – JUNIOR
Consistent production over 25+ games for the first team All-Region 3-A DI member. Averaged more than 10 points per game.
HONORABLE MENTION
GHSA
Beach: Tyrese Bellamy, Chandler Reid, Demetrius Holloway, Jamire Webb
Benedictine: Ladon Bryant, Luke Kromenhoeck
Calvary Day: CJ Gaines, Sean Stoddard, Chol Kiir
Groves: Khari Manning, Ty Chisolm, Kenya Williams
New Hampstead: Jonah Coppock, Toland Daughtry
Savannah Christian: Blake Hall, Jamari McIvory
Savannah Country Day: Rob Spaulding IV (injured mid-season), Stone Wells
Savannah High: Amarion Watson, Shone Ruth, Deshaun Davis, Chance Hendricks
Windsor Forest: Ahmad Grovener, Landon Page
Woodville-Tompkins: Wes Walker, Tyler Grant, Terrence Bush
NON-GHSA
TYLER TIFT — THE HABERSHAM SCHOOL — SENIOR
Tift was one of the state's highest scorers this season, pouring in 25.3 points per game on average for the Patriots, who advanced to the GAAPS quarterfinals before being eliminated. It's not the same level of competition as the GHSA or GIAA, but 25+ points per game in any league warrants a "walking bucket" designation and a spot in my prestigious Hall of Honorable Mention.
ZSOLT BOROS — MEMORIAL DAY SCHOOL — SENIOR
Scored 20 points in the GIAA 1A state championship game and was an all-region selection as the leader of Dale Mock's Matadors.
ZAYDEN EDWARDS – ST. ANDREW'S – SOPHOMORE
Another season of drastic steps forward for the younger of the Edwards brothers. He did a little bit of everything as a key player in Mel Abrams' rotation on the island.
ASHTON WRIGHT – BETHESDA ACADEMY – JUNIOR
Wright had a really nice junior season for the Blazers (12-17) playing in the South Carolina Independent School Association (SCISA). He averaged 17.1 points, 5.8 rebounds and 5.1 assists per game.
SPORTS (GOLF) NOTES
Late last month in a prestigious two-day, 36-hole golf event, Savannah Country Day junior William Whitfield won the individual medalist trophy as the low boy's golfer in the Lowcountry Invitational played at Berkeley Hall Golf Club (Bluffton, S.C.) in round one and at the Savannah Harbor for the final round. Whitfield began his final round 1-over par and four strokes behind the tourney's leader. Through five holes at the Harbor on Day 2, he was 3-over through five holes after a double-bogey on the par-four fifth. Whitfield turned it on after that, however. He climbed the leaderboard rapidly with a back-nine 3-under (33) to finish the tournament at 143 overall (73-70). Rowan Sullivan of Porter Gaud also finished with a 143, but Whitfield won in a scorecard regression to the Harbor's par three 15th. Benedictine and SCDS were the only two Savannah teams in the loaded 12-team field. The Cadets (451) finished fourth while the Hornets, coached by Tommy Crenshaw, finished seventh (458).




The sixth annual Club Car Championship at The Landings Golf & Athletic Club is scheduled for the week of March 20-26. It is Savannah's only professional golf event (Korn Ferry Tour) and is played at the Deer Creek Course in The Landings. First round play begins Thursday, March 23 with final round play concluding on Sunday, March 26. For more information, including ticket options, event sponsorship and volunteer opportunities, visit the tournament's official website at ClubCarChampionshipAtTLC.com. Follow the Club Car Championship at The Landings Golf & Athletic Club on Twitter, Instagram and Facebook, @clubcarchamp. A full preview of the tournament will be available on ConnectSavannah.com next week.