Before the Atlanta Braves began playing the Philadelphia Phillies this week in the National League Division Series, the club announced another long-term contract extension for one of the team's young superstars.
On Monday, the team announced that Spencer Strider had agreed to a six-year, $75 million deal that includes a $22 million option with a $5 million buyout for 2029. The 23-year-old starting pitcher was injured late in the regular season and Atlanta was unsure about his status for the NLDS best-of-five series earlier this week. A rookie who has pitched just two seasons above the collegiate level (Clemson), Strider had a remarkable campaign in 2022. He posted a 2.67 ERA with 202 strikeouts over 31 appearances and 20 starts and he is likely the National League's Rookie of the Year.
Perhaps the only player in the senior circuit who could challenge Strider for ROTY honors is Atlanta centerfielder Michael Harris. Harris, like Strider, signed a lengthy contract extension with the Braves earlier this season. The rookies are two of many Braves players who are now signed with the team for the foreseeable future.
Austin Riley inked a 10-year, $212 million contract earlier this season, Harris signed an eight-year, $72 million deal over the summer and Matt Olson an eight-year, $168 million deal in March. So, the Braves core moving forward looks to be set. The team has control over the following players: Riley (signed until 2032), Harris (2032), Olson (2030), Ronald Acuna Jr. (2028), Vaughn Grissom (2028), Strider (2028), Ozzie Albies (2027), William Contreras (2027), Kyle Wright (2026) and Max Fried (2024).
Looks solid. But there's a hole in that list and he goes by the name of Dansby Swanson. Swanson just put together the best season of his career in his final year under contract with Atlanta. The former No. 1 overall pick needs to be priority No. 1 for the Braves moving forward. I don't expect any Swanson contract talks to happen before the end of the playoffs, but the shortstop has proven he is worthy of one of these big-time contracts from the team he grew up rooting for.
Swanson, 28, slashed .277/.329/.447 in 162 games this year. He was the only player in Major League Baseball to have started all 162 games during the regular season. Beyond his play on the field, Swanson has become the de facto face of the franchise in the wake of Freddie Freeman's departure to the Dodgers. Not to mention he's also a favorite for most of the female Braves fans out there.
He will inevitably test the free agent market this winter, but that won't prevent the Braves from signing him. Problem is, there are several big-name shortstops expected to be free agents after the 2022 playoffs wrap up. Those shortstops include Swanson, Xander Bogaerts, Carlos Correa and Trea Turner.
It isn't hard to imagine that a bigger market team like the Red Sox or Dodgers could come knocking on Swanson's door, but if the Braves can at least get close to other contract offers for his services, Swanson would likely sign on with Atlanta. What is difficult for many Braves fans to consider is to imagine watching both Freeman and Swanson walk from Atlanta within 12 months of each other.
And yes, Fried is approaching free agency after next season and it would be great to get him signed up long-term as well. No shame in Maximus' game, but having a shortstop who shows up to work every single day while doing and saying everything right is tough to find.
Without Swanson, who is the leader of the Atlanta Braves? The answer would be anyone's guess.
Let's hope we never have to guess.
SPORTS NOTES
College Football updates from around the state …


The University of Georgia (6-0, 3-0 SEC) throttled Auburn, 42-10, last week in Athens. The Bulldogs moved back into the No. 1 spot in this week's Associated Press Top 25 poll. They'll host Vanderbilt on Saturday at 3:30 p.m. for Homecoming.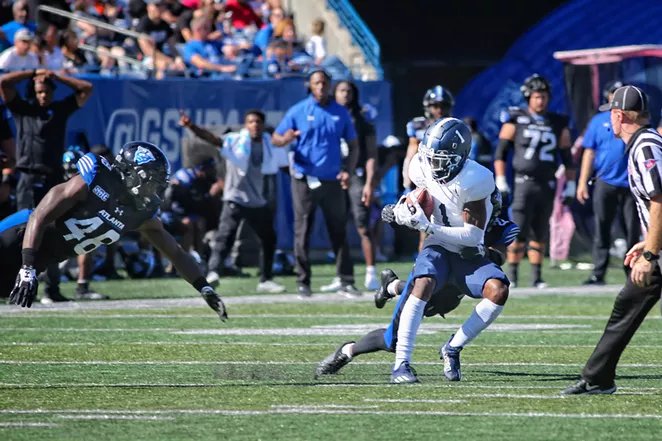 Georgia Southern (3-3, 0-2 Sun Belt) has dropped two straight games in conference after falling to rival Georgia State last week in Atlanta. The Eagles have lost three straight years to the Panthers and the road won't get any easier. GS plays host to No. 25 James Madison this Saturday in Statesboro. Kickoff is set for 4 p.m.
Follow Travis Jaudon on Twitter/Instagram
@JaudonSports. Email him at travisLjaudon@gmail.com