Finally! The 2022 high school football season has arrived. Savannah area schools and teams from around the state begin their seasons this week, as most teams kick off Week 1 games on Friday, August 19.
On Thursday, New Hampstead plays host to May River (SC) at Pooler Stadium. It'll be the first game of the season for this area and it'll mark the beginning of a campaign that has a lot of questions and storylines to monitor. Let's take a look at some of the key storylines heading into this season.
How will the private school trio of Calvary Day, Savannah Christian and Savannah Country Day adapt to moving up two classifications from Class A-Private to Class 3A?
Calvary (12-1 in 2021) would have been one of the favorites to win Class A-Private if not for reclassification to Class 3A. With four preseason all-state players (Georgia High School Football Daily), head coach Mark Stroud has plenty of talent on the roster to still make a deep playoff run again this season. Quarterback Jake Merklinger and tight end Michael Smith are highly touted juniors and linebacker Troy Ford (UCF commit) and nose tackle Terry Simmons (Duke) are seniors. Jalin Scott is one of the best offensive lineman in the area. The Calvary offense has just one senior starter, but they are in a much better position than SCPS and SCDS to make the jump in classes.
Savannah Christian (5-6) has over 55 players on its roster this season, a much better number than the 35-man roster it had in 2018. Head coach Baker Woodward has kept SCPS as one of the more consistent programs in the area, but the move up to Class 3A is asking a lot. A senior quarterback in Paulus Zittrauer should pair with sophomore Zo Smalls to make the Raider offense at least serviceable. The rock-solid defense is led by future Power 5 defensive end – and a MaxPreps preseason All-American – Elijah Griffin. As he did in 2021, senior linebacker David Bucey should eclipse the 100-tackle mark once again this season.
Country Day (4-7) has sophomore Barton Mixon stepping in at quarterback after the graduation of four-year starter Barry Kleinpeter. Mixon will rely on his senior running back Michael Grandy (739 yards, nine rushing touchdowns in 2021) and the Hornets have a big-time rising talent in freshman Josh Washington. Still, head coach John Mohring's team may have to settle for a proverbial rebuilding year this season in Class 3A. It was going to be tough in Class A Private, it'll be even tougher for the Hornets playing two classes higher in 2022.
How good will Benedictine be after winning the 2021 Class 4A state championship?
Death. Taxes. Benedictine being a state championship threat on the football field. These are the absolutes of life as far as I'm concerned. Danny Britt has built one of the best prep football programs in south Georgia as he has won three state championships (2014, 2016, 2021) as the head coach of the Cadets. His team is once again a title contender this season despite losing a pair of top-tier players from last year's team in quarterback Holden Geriner and running back/defensive back Justin Thomas.
No problem for these guys.
The Cadets (47.5 points per game last season) have junior quarterback Luke Kromenhoek calling the shots behind center and the future Florida State Seminole has one of the best receivers in the state (regardless of classification) at his disposal in Za'Quan Bryan. Bryan is headed to Minnesota to play his college ball next year, but he'll be looking to add to his already impressive career numbers beginning August 19 versus Jenkins in the season opener. He has 140 catches, 2,086 yards and 20 touchdowns in his prep career thus far.
A pair of road games at Columbus-Miami (Aug. 26) and in Jacksonville at The Bolles School (Sept. 23) are the stiffest regular season tests for Britt's bunch.
Which Savannah Chatham County Public School System team is the best?
With reclassification came a major shift in the SCCPSS outlook for the 2022 football season in this area. While region 3-3A still includes public schools like Johnson, Beach and Groves, others like Jenkins (1-5A), Windsor Forest Knights (3-2A) and Savannah High Bluejackets (3-A) are playing in regions without any other Savannah public schools.
So the mythical Savannah Public School City Championship will be much more difficult to determine this season, but we'll still try to figure out which of the teams are best.
At the top of the public school pecking order (as they are most every year) are the Jenkins Warriors (6-5 in 2021) and the New Hampstead Phoenix (6-4). The Warriors enter year two under head coach Tony Welch and they'll have a difficult schedule after moving up one class (from 4A to 5A). Jenkins has Florida State commit Tavion Gadson (60 tackles) anchoring the defensive line and his younger brother, junior Lorenzo Cowan at linebacker. Jeremiah James is back for his junior season at quarterback and Joshua Pridgen (1,087 yards, 12 rushing touchdowns) is a senior running back poised for a big year despite a young Jenkins offensive line.
New Hampstead has the best quarterback of any Savannah public school in senior Pauly Seeley. A Wofford commit, Seeley threw for 1,925 yards and 22 touchdowns last season under head coach Kyle Hockman. NHHS began last season at 5-0 and entered the Atlanta Journal Constitution's Class 4A Top-10 poll for the first time in program history. If Benedictine is the likely 1-seed out of region 3-4A, expect New Hampstead to battle with Burke County for the region's No. 2 seed this year.
Johnson (5-6) could be the team that surprises most this year. The Atomsmashers were 4-2 in region play last year before falling in the state playoffs. But head coach Kenderrick Bonner has the city's best one-two running back punch in seniors Amarion Scott (739 yards, eight rushing touchdowns) and Samari Dowdy (661, six) and with those two leading the way, I expect the 'smashers to have one of their best seasons in recent program history.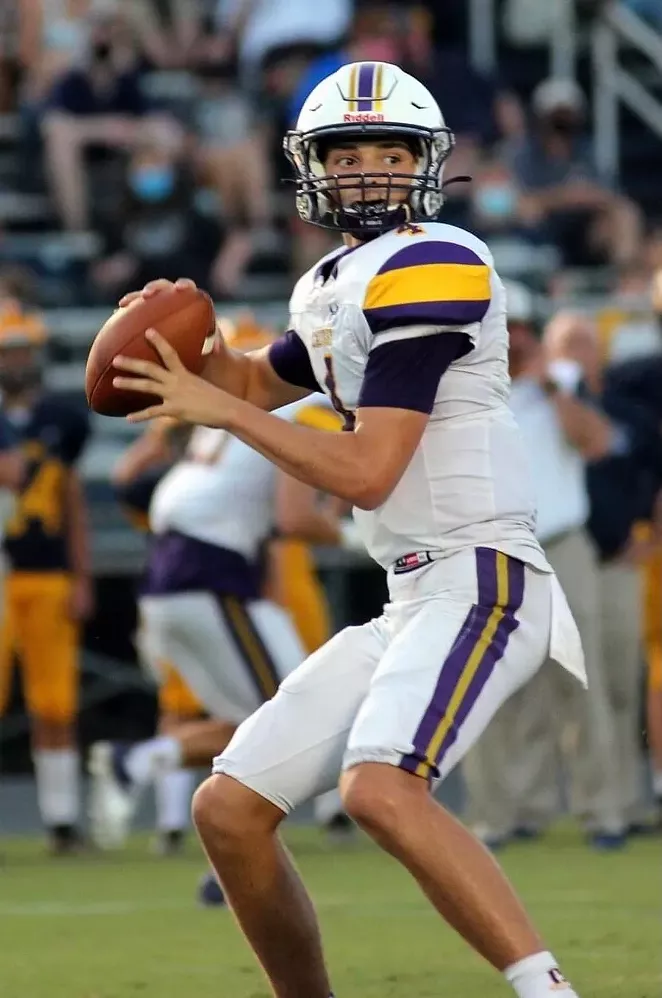 Of the "Big 3" quarterbacks in Savannah this year, which is best?
There is plenty of quarterback talent in and around Savannah this year, but there is an undeniable top-tier of three signal-callers who are a notch above the rest. But which is best?
Kromenhoek, Merklinger (4,620 yards, 43 passing touchdowns, 21-5 record through two high school seasons) and Seeley will each play different roles for their respective teams this fall and each has the ability to put the team on their shoulders for large stretches. Seeley is the lone senior of the bunch (Merklinger and Kromenhoek are juniors) and he'll likely be asked to do the most as New Hampstead doesn't have multiple offensive weapons like Calvary and Benedictine do.
Keep an eye on these three QB's this season. They are worth the price of admission for any football fan.
Will Savannah High's new stadium lead to a new era of Bluejacket football?
Savannah High and its head coach Michael Moore will have the area's newest (and perhaps nicest) stadium at their disposal this season.
The $5.2 million venue on the campus of Savannah High has a synthetic-turf surface, a press box, an HD scoreboard and excellent field lighting (84 LED lights on four, 80-foot concrete polls). It also includes a full 8-lane track around the field as well as locker rooms for each team. The Bluejackets (2-8 in 2021) will host Josey High School at the new stadium for the season's opening game on August 19.
FOLLOW Travis Jaudon on Twitter/Instagram @JaudonSports. Email him at travisLjaudon@gmail.com. Listen to him on Hot Grits Podcast, Savannah's No. 1 sports podcast. New episodes are released each Tuesday.