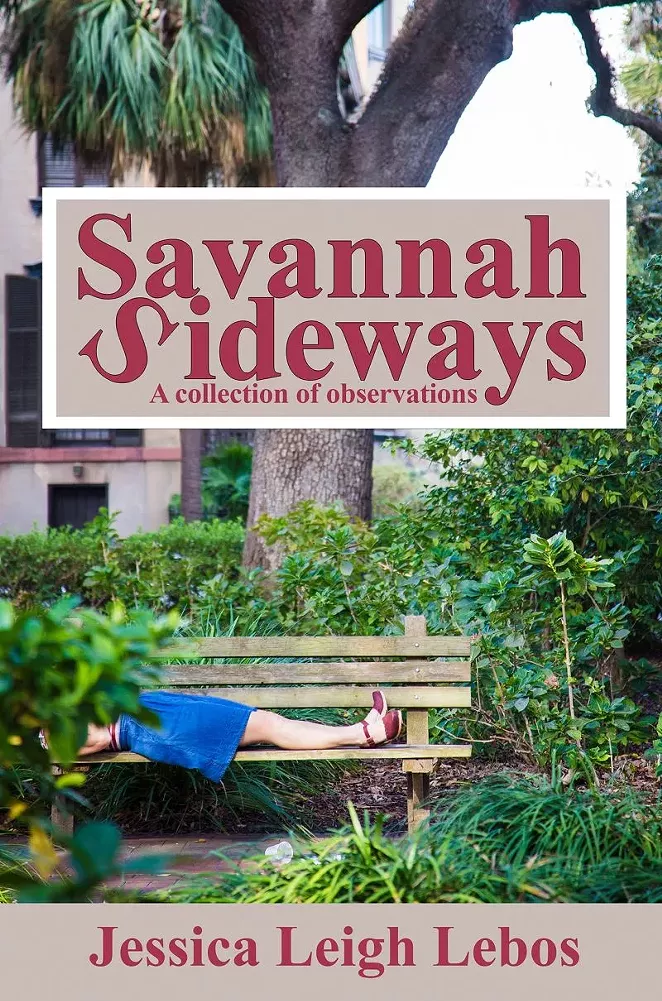 FOR YEARS, locals flipped open Connect Savannah in search of the wisecracking words of Jessica Leigh Lebos. Though she filed her last Civil Society Column in February, the wit and wisdom of the former Community Editor can now be held in paperback form. Lebos will read from fresh copies of Savannah Sideways: A Collection of Observations this Thursday at The Book Lady Bookstore.
Savannah Sideways: A Collection of Observations is a project years in the making. Lebos's fans and regular readers have requested a bound book of her writing for some time, but it took the writer a few years to come around to the idea. When she made her way to National Society of Newspaper Columnists 2017 conference (she won First Prize for Humor) and met legendary and up-and-coming voices from across the nation, all with books of their own, Lebos decided to start culling her columns. (Shes also credits local columnist Jane Fishman, who continues to delight readers with her collection Everyone's Gotta Be Somewhere, as a direct source of inspiration.)
"Southern by marriage" after falling for a son of Savannah, Lebos first brought her years of California-cool alt-weekly experience to The Hostess City in 2006.
"I was struck by the regal architecture and slapped hard in the face by the humidity, which felt like a well-meaning old aunt trying to smother me with a crocheted blanket," she recalls of her initial visit to Savannah.
As she began making Savannah a home, the ever-curious community advocate grew fascinated by the deep, strange roots of Savannah's many histories, by the movers and shakers working hard to enrich their town, and by our overlooked and neglected communities.
Lebos's very first Civil Society Column declared: "It's high time the rest of the proletariat got some ink."
As her final column recalls: "Instead of focusing on debutants and fancy fêtes, I thought it would be hilarious—maybe even helpful—to spotlight regular folks making Savannah better and the issues that affect us, as well as poke a stick at the ironies that make living here an endless, absurdist adventure."
And what an adventure it was. From 2011 to 2018, Lebos learned the South, winding her way through galas and gallery shows, dive bars and decadent restaurants, and capturing hjinks, hypocrisies and hilarities.
Savannah Sideways is a collection of those observations and conversations, peppered with love letters and luminous looks at The Hostess City. With the help of Amy Paige Condon, the twinkling editorial eye behind The Refinery Writing Studio, Lebos welcomes readers along on her journey as a sandfly-swatting California hippie rearing two creative kids, pedaling around town with an elderly pug in her basket, and donning her most recent thift store sequins for Ardsley Park cocktail parties and Planned Parenthood benefits.
Devoted readers of Lebos's column will be pleased to find some "greatest hits" in Savannah Sideways, as well as gems that may have been updated, or first appeared in other publications and online. From her most challenging times—walking the Fifth Ward, battling seasickness while taking a boat to Gray's Reef, that damn pollen—to documenting those tender, "give you hope in humanity" moments, the 203-page volume is a must-have for longtime readers and folks who, like Lebos herself, may have just found their way to Savannah on life's long, strange trip.
CS