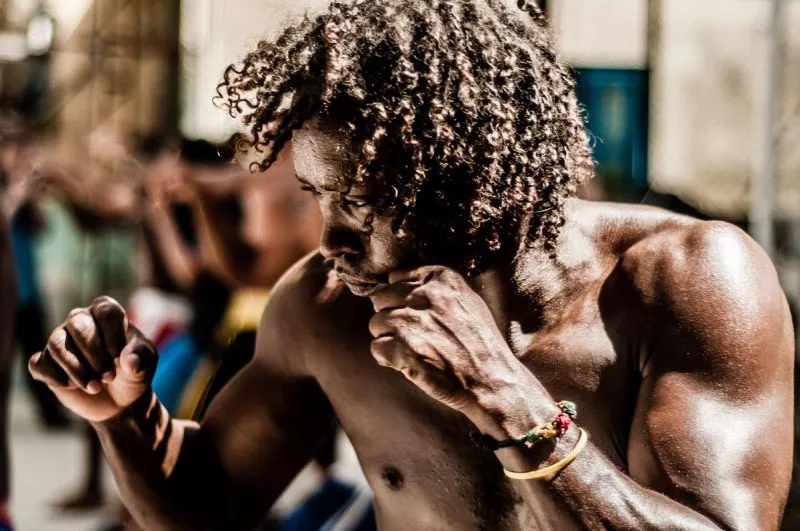 THERE'S something tantalizing about looking in on an unknown world. What will we find? What do we expect to find?
It's no secret that Cuba has always had a complicated relationship with the United States, but it's that complication that attracted Kim Huffman to the country.
"I've always had a fascination with Cuba since it seemed so close yet so far away from what we as Americans think of as a country," he muses.
Huffman's solo photography show, "Me imagino Cuba," opened at Gallery Espresso last week and will continue to hang through April 3. The work comes from a two-week trip to Cuba Huffman took last year.
Before President Obama repealed the "wet foot, dry foot" policy in January, Cuba was largely closed off to Americans. Diplomatic relations were restored between the nations nearly two years ago, but Obama's repeal saw an uptick in American tourism to Cuba.
The country is often depicted as looking frozen in the 1960s, a stereotype famously jumped upon by the Kardashian family on their trip to Cuba last year when they toured the city in a fleet of vintage, brightly-colored Cadillacs. The antiquated vibe is all thanks to the embargo the United States placed on Cuba in 1958.
"Really nothing has happened in the country since the revolution in the early '60s, in terms of infrastructure," Huffman explains. "It's frozen in time. And of course, the embargo we imposed on them kept cars from coming in."
However, Huffman chose not to focus on the cigars-and-cars aesthetic many photographers use when visiting the country. Instead, he photographed real people in their everyday habitat.
"They're very open to being photographed if you're respectful and show them what you're doing and that they're interesting to you," he explains.
One of the photographs, "Malecón Man," shows a man lying on a ledge at the Malecón esplanade in Havana. Another, "School Friends," shows a big group of school kids in uniform sitting outside waiting on their bus.
Shots like these play a big part in humanizing the Cuban people and culture, since a country under communist regime is puzzling to people who haven't seen it before.
Huffman's personal favorites of the collection, though, are of the boxers and ballerinas.
"The shots of the boxers that I took were very interesting for the mere fact that these guys are out there really working hard, determined to endeavor in their athletic ability the best they can," Huffman says, "as well as the ballerinas who are absolutely stunningly gorgeous and beautiful in their art and sophistication. You realize how much skill it takes and how much dedication to that particular craft it takes. It's a very studied thing they do. You develop a great appreciation for the human body and its ability to do things, whether it's punch or dance or twist or turn."
"Cedro" shows a boxer mid-stance, focused completely on training. The background is blurry, but Cedro is completely in focus, creating an intense and powerful shot.
In "Bebe and Dayma - Hold," the lead ballerina sustains a pose as the ballerina in back holds her up.
While it's not obvious from Huffman's photos that the people live under a communist regime, he says it is definitely not the "Disney World experience" some people might expect.
"Poverty is a common theme," he explains. "I think the thing I learned from older Cubans is that before the revolution, they were unhealthy, uneducated and poor. After the revolution, they were healthy, educated, and poor. Consequently I think a lot of Cubans don't necessarily see the American way as a good way of life for them. They're not consumed by technology; they have the time to enjoy their culture. That impressed me."
Above all, Huffman hopes that the takeaway from "Me imagino Cuba" is that we are all humans and deserve respect.
"People are people, no matter where you're from or what the government opposes," he says. "It's a politics thing that divides us, not the people."
cs