THE WORD "change" gets tossed around a lot these days. So much so that people mock it.
Does anybody remember "How's that hopey, changey stuff working out for you?"
For singer Kim Michael Pelote, "change" isn't just a slogan or the name of her new CD, her third since she captured our hearts at the 2001 American Traditions Competition.
It's something very personal. And "Change," her album of inspirational music, reflects her belief that change isn't just something we should seek externally. It's also internal.
"So much attention is on how other people can change," she says. "It's imperative that we look within and see how might we, on an individual basis, change."
Polote rose to acclaim when she became the only Savannah singer ever to win the coveted Gold Medal at the rigorous ATC, a national juried contest each spring.
"It made me more aware of all of the music that is being celebrated and shared," she says of her ATC win. "It gave me an opportunity for people to see that 'Oh, she's serious.'"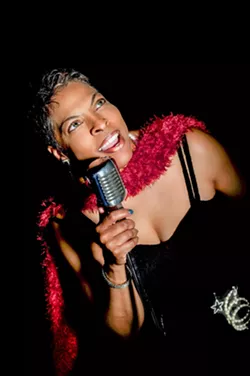 The medal certainly changed her career for the better. She sang at Paula Deen's wedding, part of a long, friendly and professional relationship she has had with the Savannah icon.
She has sung with legendary figures like Harry Connick, Jr. and Al Green. In fact, she just got back from New York City where she performed for Connick's talk show.
In short, Polote is one of our area's best vocalists. And if she were only a voice, I think that might be good enough for some people. But Polote is a positive force in the world.
"My life is my ministry" she says. "How am I touching my fellow man? It's not just about change. It's about change for the better. There is no in between."
And with that, she riffs on a Johnny Mercer tune, "Ac-Cent-Tu-Ate the Positive." She actually recorded a Johnny Mercer album. She also has recorded a Christmas album.
But this one is about giving people strength to endure and enact. Songs like "A Change Is Gonna Come," "Let There Be Peace on Earth" and "Amazing Grace" speak to deep faith.
"These were songs that had a profound effect on me and my response to things that were going on in my life," she says. "Specifically, divorce. When I married, I married forever."
Well, it wasn't forever. And out of that heartbreak, Polote found power in gospel-tinged songs that reaffirm the eternal in the temporary, songs like "Everything Must Change."
"When you wake up in the morning, you have changed," she says. "Getting older now, I found it imperative that that song be on this CD. I have friends. We're getting gray hair."
I found my own first gray hair recently. I find my own job scares and health scares all the time, to say nothing of firing up the scare box each morning and taking in the day's news.
But Polote remains upbeat about the future – mine, hers and ours. That's why she decided to end the album by combining "You Are So Beautiful" and "America the Beautiful."
"Things are not lost in America. We're a great country," she says. "We just must realize that we're here together and need each other. We need to accept our part of the solution."
That would be "Man in the Mirror" time. She doesn't sing Michael Jackson. But I know the two would agree on that song's message.
Or maybe Reinhold Niebuhr. I think if anyone put the theologian's "Serenity Prayer" into a CD, it's Savannah's very own, Kim Michael Polote.
cs