One of the more interesting phenomena I have witnessed in Savannah is the fact that we have a ton of Thai restaurants. Have you ever noticed that? I mean, before we got Flock to the Wok and more recently E-Tang, it felt like all we had in Savannah for Asian flavors was Thai. I've not done the math, but I can recall a time when Broughton Street alone was home to three possibly four Thai restaurants. I could never figure out why.
The good news about having several Thai food locations is the fact that everyone seemingly had a 'go-to' spot. They were sprinkled all over town.
For a long time in the Savannah, the gold standard for Thai was King and I out on Hodgson Memorial Drive. It remains an excellent choice to this day. Personally, it is one of my favorites for a solid business lunch around Midtown Savannah.
Now, we have another Thai spot on the Midtown scene that should get some of your attention. It is called Klom Klom and it's brought to you by the same folks behind the very popular PJ's Thai in the heart of downtown Savannah.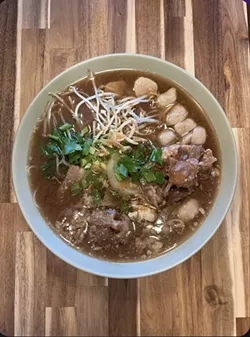 Ann Healy and her husband PJ are the owners at PJs Thai. They've been on the corner of Abercorn and Oglethorpe for over a decade. How they ended up with a second location across town was something of a convenient accident. My words, of course, not theirs.
Ann tells me the building their restaurant is in was sold. A new landlord came in and was initially not very interested in renewing their lease. If they did, it was going to be at a significant increase. So the Healys began making plans to move and the search began for a new space.
They found that space at 7201 Hodgson Memorial Drive, a couple of doors down from the Original Pancake House near Mall Blvd. The job, however, required a complete build out. It was going to take months to open their doors at the new space. Maybe as long as a year.
In that interim, Ann says, their landlord decided to let them stay, which put them in a bit of a bind. They had a new space they had to build out and they also had a space they'd done very well for themselves within downtown Savannah. What would you do?
Would you keep them both? They did. That led to what is now essentially a second location of PJ's Thai in Savannah.
"Klom Klom" is a Thai term that loosely translates to tasty. Judging by all of the reviews, the name fits perfectly.
On the menu, you will find some of the greatest hits that originated downtown, like Pad Thai and/or papaya salads and their very popular curries, plus a few other dishes.
My personal favorite is the basil chicken topped with a fried egg. Absolutely wonderful, with just enough heat to be tasty but not overpowering. You wouldn't think so, but PJ's Thai chicken wings are also some of the best I've had in Savannah. Delicious.
The space is on the small side, but there are seats - maybe 20 - for dine-in customers and a large counter to handle carry out orders. It's a beautiful, if not small, restaurant that still gives you that mom and pop feel you get downtown, even though it is not in a historic building or courtyard. Which, incidentally, they've expanded their seating downtown into the courtyard next door. This time of the year, that is perfect to enjoy.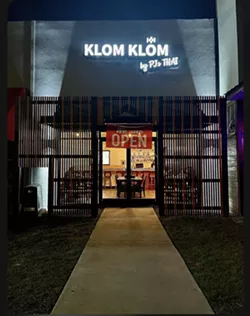 I'm a big fan of what the Healy's do with their food. Every time I visit, Ann is very proud to tell me about the new dishes she's added, inspired by her childhood in Thailand. She's a stickler for authenticity and will always point out (to me at least) if something I am eating is served this way in Thailand or if it is an Americanized version. If you are are dining with them, don't be afraid to ask her. Ms. Ann is not shy, she's an exceptional hostess who will stop at nothing to make sure her guests are happy. If you know her already, then you know.
Klom Klom will now offer their good eats to a different audience far away from the heart of downtown, which can only mean good news for them. It gives further credence to the fact that sometimes, the best things in life happen by accident.
Klom Klom has no website yet. You can follow them on their instagram page for now.