THE Tony Thomas story, frankly, bores me with its repetitive adolescence, debauchery and nastiness. Do you want to read something else about the 6th District Alderman? Go ahead.
When I met Kurtis Purtee, the man hoping to oust Thomas in December's runoff election for City Council, at a Savannah Mall coffee shop, it was supposed to be his day off.
But he had walked that morning in the city's Veterans Day parade. He was in between late day meetings with residents. And he seemed to be enjoying his caffeinated beverage.
"I'm getting very little sleep and doing lots of running around," he said. "I've been going at this pace since March." His calmness and easy laughter didn't seem coffee-addled.
Because he and Antonio Hunter split the anti-Thomas vote, the majority of 6th District ballots in November, he'll have to wait a few more weeks before his eventual win or loss.
But Purtee is no stranger to staying up late and extra effort. In his 19-year career as a police officer, both in the Savannah area and in Michigan, he recalls many long nights.
Purtee currently holds the rank of Captain in the Georgia Southern University Police, serving the Armstrong Campus. He previously served in Garden City and in Flint, Mich.
What he likes most about policing — meeting people — well suits campaigning.
And judging by the number of his signs in his district, he's met and impressed lots of people.
"When I'm not at community meetings, I'm at block parties," he said. "The reaction has been, 'Thank you so much for stepping up and doing this, we need somebody like you.'"
Since he's running to serve the Southside district, basically everything in the city limits south of Tibet Avenue, his issues are hyperlocal and homely — or homeless, in one case.
"That's where they camp," he said after we drove over to Bell's Landing, a City-owned property next to an empty lot where once a restaurant stood and now the homeless reside.
"Police go back there but we don't provide resources for these people," he said. "In other cities, innovative programs are paying homeless people above minimum wage to work."
Purtee promotes the "broken windows" policing theory, saying that the district's criminal activity — yes, there's a Southside red light district — comes partly from poor appearances.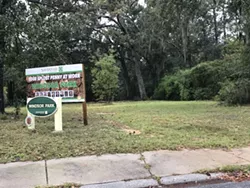 He'd like to see less focus on new photo-op worthy parks that the City can't maintain — or even finish in the sad case of Windsor so-called Park, little more than a sign with weeds.
Instead, he'd like to focus on less-sexy improvements, like curbing, traffic calming and business and institutional development along busy corridors, especially Abercorn Street.
"The old Kroger is one of those places that I've looked at," he said. "Georgia Southern and St. Joe's/Candler are resources that we can lean on."
It's hard for me to see how the City incentivizes private-institutional development in failing boxes like Kroger and Savannah Mall unless all parties have something in it.
If anything, Purtee suggests, several City and County service locations on the Southside are in a state of movement right now, leading to the possibility of municipal relocations.
It's all about creating activity. Shades of "It's Ama$ing?" on Waters Avenue? I hope not.
And that brings me to the last of several issues Purtee brought up. Financial transparency and responsibility.
A theme across all city elections this year, the budget is a wreck. Purtee joins many other candidates— who have already been elected — in calling for an independent forensic audit of the budget.
"It just seems more like a power struggle among City Council members rather than a team working together to solve a problem," he said. "I would work well with the new council."
Indeed, if Purtee in the 6th District and Van Johnson for Mayor win their run-offs, it would complete the rejection letter that voters started to write on November 5.
A rejection of the status quo under Republican Eddie DeLoach. And in Purtee's case, a rejection of a particular Republican, Thomas, our own loathed and loved "mini-Trump."
And I'm sorry if this story's not as scandalous as the opening words implied it would be.
But you can write the next 6th District story when the city votes on December 3.
cs