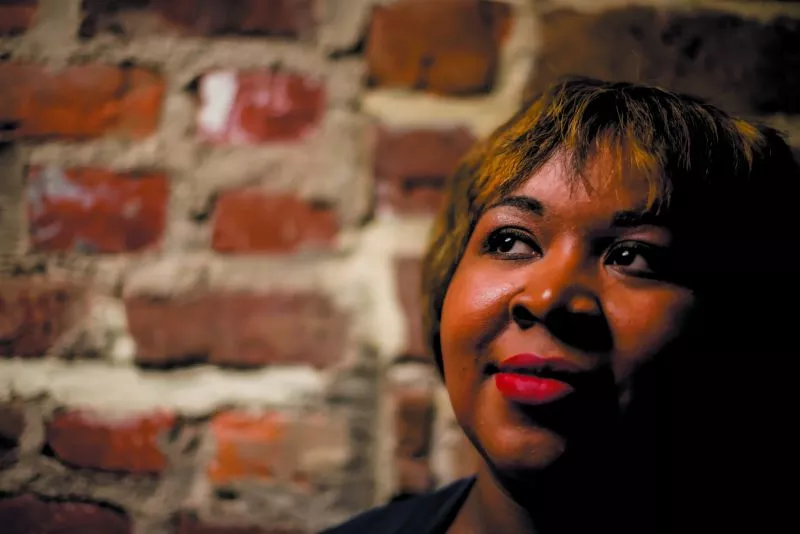 HAS ANY Savannah singer come as far, and as fast, as Laiken Love? Barely five years after taking voice lessons and starting her own band and two years after she says she "turned a corner," she's one of our city's most in-demand female vocalists.
Jazz, funk, blues, classical, pop, you name it, her style and talent emerged in a short time through karaoke bars, open mics and choirs. It didn't have to turn out this way. She wanted to forge a legal career. And her early performances were rough.
"It definitely didn't come naturally," Love says. "I knew that I possessed a talent. It was just like buffing out silver."
Born and raised in a rural Coffee County town that she describes as mostly "gas stations and churches," Love (a.k.a. Williams), arrived in Savannah as an Armstrong political science student in 2004. There, she joined the Armstrong University Chorale.
Somewhere between books, she discovered karaoke, a dangerous weapon. I do it most Friday nights at Jerry's Lounge.
But my voice is only good for radio announcing. Love thought otherwise of her voice. She tried out for the Philharmonic choir in 2009.
"I had to audition with Peter," she says of Peter Shannon, the Philharmonic's exacting artistic director. "And he was like, 'You wouldn't win a sight reading competition!'"
Thankfully, he wasn't auditioning her on her ability to read notes.
Shannon liked her voice. And the first set of notes he put in front of her was that of Brahm's "Requiem," a difficult German piece. Love says that first orchestral piece was overwhelming but she eventually fit in and found a community of friends in the choir.
She ventured out of the safety of choirs into solo work, both with the Philharmonic and others. And in 2012, she started taking voice lessons with local voice coach Paul Fisher to polish her technique and learn correct breathing.
It was voice boot camp.
"A year later, my range went from being a contralto to being more of a mezzo with some lyric features," she says. "And [Fisher] was like, 'I'll tell you now because you've come a long way and take things in stride that when you first came in, you were a train wreck."
She laughs now, especially since 2015 marked a point in her career when she started noticing more calls coming in than going out. She's in demand now. When she's not singing with her own band, Fellowship of Love, she sings for weddings and corporate events.
Her collaborators include some of our city's finest musicians, including Velvet Caravan, Eric Jones and the Lucas Cabaret players. With The Garage Savannah's Matt Collett, she co-wrote "Promise," with her lyrics, a song that buzzed through her head after she buzzed her hair.
"Every time a female goes through something, they cut their hair off," she says. "I was going through my 'musician crossover' and I wanted a new look! But there's a breakup, a heartache, a life change, you cut your hair off. You're shedding the dead for re-growth."
"Promise" is about female empowerment and overcoming obstacles. And I didn't dwell on it, but it goes without saying that Love's being "the new kid" for a while wasn't easy.
With inspirations like Etta James, Stevie Wonder, Michael McDonald, Amy Winehouse, Alabama Shakes and Michael Jackson, you'll find something to love in her music.
For my radio show, she also sang Backstreet Boys, a certain fancy that I can appreciate.
You might say that Love is on the rise in Savannah. I'm tempted to go with her boy band song, "I Want It That Way."
CS