One of my favorite art shows of the year is the Isle of Hope Art and Music Festival coming up on October 21, and I made a note to interview a couple of the artists who will be showing. I introduced you to folk artist Chris Roberts in my September 19 column, and recently sat down with Lane Huerta of Lovelane Designs. I'm glad I did. Our interview felt like documenting the end of an era…
We met in Huerta's Starland District, pastel striped, Victorian home, which many of us pass as we whiz down Drayton and cross over 40th Street. Named the Rainbow House, she and her husband Patrick and daughter Clementine live upstairs, and Huerta's business is housed downstairs. For almost 15 years, this has been the primary workspace in which she designs, screen prints, sews, packages, and ships her Lovelane Designs products.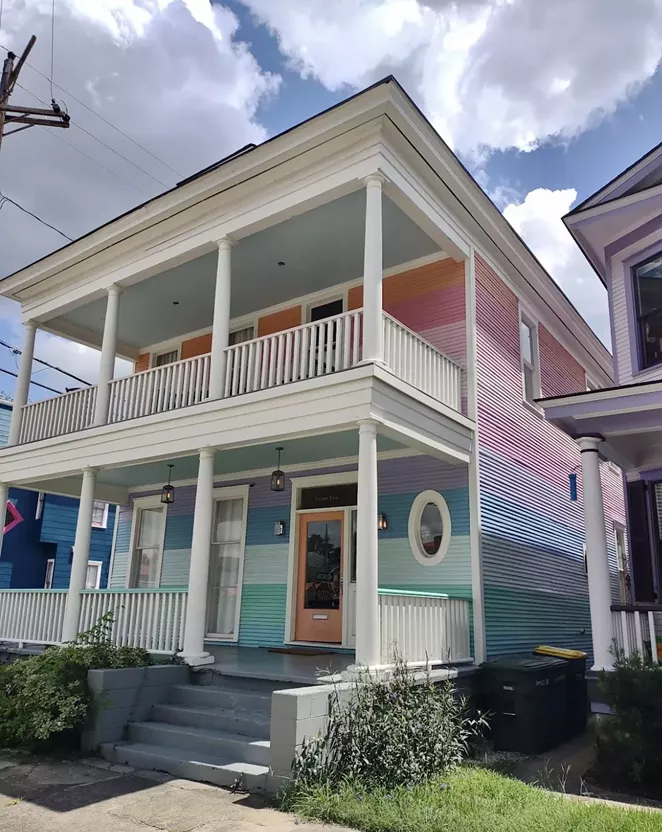 Originally selling pillows, tea towels and other home décor items, today it's the self-taught seamstress's imaginative children's designs that have captured the world's attention….Think pastel hued mermaid tails… unicorn belt bags…crowns and scepters…knights' helmets and shields…superhero capes, cuffs and helmets…pirate costumes…butterfly and fairy wings…dragon wings and crested dragon hoods…All the outfits needed for a creative toddler or young child to escape into a fantasy world of their own making, or for a baby (or fur baby) to look downright adorable for his or her first Halloween.
Huerta has been featured in The Huffington Post, has been a speaker multiple times at conferences on behalf of the e-commerce site Etsy, has spoken at Greenville, SC's Makers Collective's Makers Summit, has appeared on ABC World News Tonight, and her business has garnered such prestigious wholesale accounts as Nordstrom and Anthropologie. Interestingly, the Pandemic further boosted sales as so many children were at home in need of outlets for creative play.
Huerta has always been a maker and a creative. She was an imaginative only child whose parents and grandparents encouraged her desire to leave her North Carolina home to board at Boston's Walnut Hill School for the Arts as a young teen. From there, she attended high school at the UNC School of the Arts, and after a short stint at the Atlanta College of Art, moved to San Francisco in 1996. In the City by the Bay, she tended bar at the iconic Fillmore and Warfield Theaters and learned to screenprint with renowned 80's and 90's alternative-rock poster designer Frank Kozik. She also worked with international purse designer Mary Frances, who remains a business mentor and friend to today.
In 2006, Huerta and her husband moved from the San Francisco Bay area at the urging of her longtime friend Susan Laney (of Laney Contemporary) who had found them a Baldwin Park home two doors down from her own. Laney and Huerta met at a North Carolina church camp as 12-year-olds and visited in Savannah every New Year's as young adults. Huerta tells me, "Living in the city is fun in your 20's but we wanted something more than a small apartment our whole lives, so when Susan sent a videotape of the Baldwin Park home, we made an offer, and moved here five weeks later."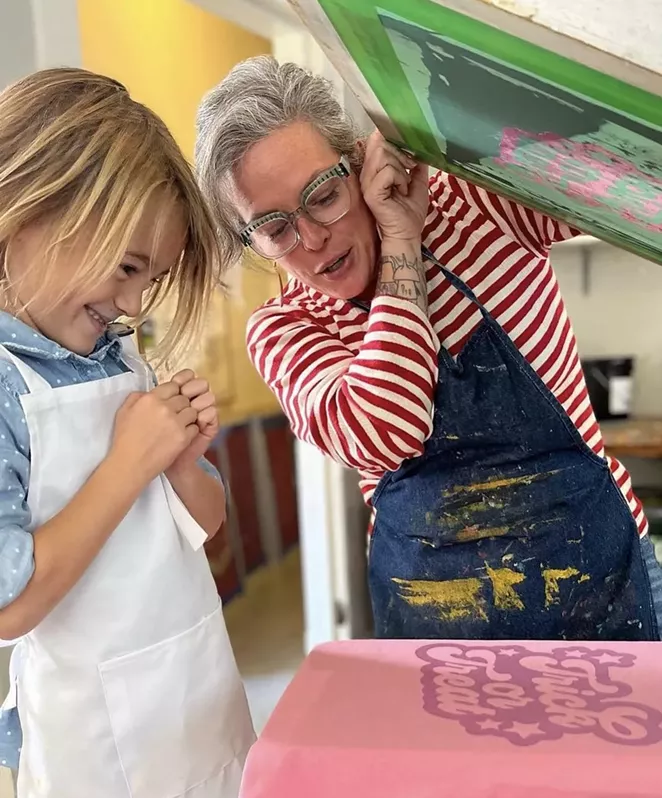 Huerta tells me that it was her daughter Clementine who initially inspired her best-selling and empowering #PlayHard line of handmade superhero capes, hats, and wrist cuffs. Raised, as her mother was, with limited screentime, the toddler was running through the house with a sheet flapping behind her as a makeshift cape when she unwittingly inspired the first cape on her mom's Etsy page, and "the business just took off." Clementine became Huerta's endearing model for advertising on her website, her Etsy store, and her social media business pages. Today, she is an inquisitive, artistic, soon-to-be teenager who seems to have inherited her mom's business acumen and entrepreneurial spirit. (She and several of her friends are curating their own art fair and music event at the Rainbow House on Sunday, December 3.)
Indeed, it is Clementine's budding as a teenage creative that has inspired Huerta to reevaluate her life and the future of her business. As many of us did, she pondered her life's direction during Covid, wondering if there is a way to step off the treadmill of mass production, and bring the business down to a more manageable scale. Ultimately, she aspires to buy a home and live a simpler life "quilting on Daufuskie with my rescue dogs," but first, she and husband Patrick have plans to scale back, outsource, license, or possibly sell Lovelane Designs, and to transform the downstairs of the Rainbow House into an event and classroom space.
"We have just stopped production printing here," Huerta tells me. She still has some contract seamstresses who sew from their homes, but her largest piece of screen-printing equipment has been sold and she has made the decision to end wholesale production. "We are celebrating the tenth anniversary of making children's products, but to be honest, the past couple of summers I've had soo much fun teaching the children's summer camps. And I'm getting a lot of joy out of helping Clementine and her friends develop their interests." It is truly a time of transition for this strikingly beautiful woman who will shortly be turning 50.
"This space is so wonderful for workshops, for art experiences, for art-themed birthday parties for little ones, and I feel like I can do that here and have time for my own creativity. It will allow me time to quilt, or time to produce in a different way. I want to try something new, have time to breathe, to go walk in the morning, and to enjoy my daughter." Husband Patrick and she are remodeling the space so, for example, "children can create their own superhero experience." They have already built a mirror into the paneled foyer, behind which is a secret door (which will, of course, require a secret password to pass through).
"At the Isle of Hope Art fair, we'll have two booths," she continues. "One for the products, and one to start promoting the Rainbow House. We'll have promotional materials and art projects and fun dress-up for little kids. I still have enough product to do fairs and pop-ups for a while. I've built so many connections and there are so many options. For example, I want to take Clementine to New York to see Broadway shows and maybe we'll do a little pop-up while we're there."
The PR and the hustle of Lovelane Designs may be nearing an end, but it's been a great ride and Huerta is excited to step bravely into the future. I wish her a creative, joyful, and less hectic ride!
Find Lane Huerta and her possibly soon-to-be-gone Lovelane Designs at the Isle of Hope Music and Art Festival on October 21, at Cohen's Retreat's Pop-Up Party on November 10 and 11, and at Service Brewery's Holiday Makers Market on December 2. Her website is lovelanedesigns.com, her Instagram handle is @lovelanedesigns, and she sells via Etsy and Pinterest. Be sure to sign up on her website to find out about upcoming events, summer camps, parties, and class offerings at the Rainbow House.