Artist, entrepreneur, and designer Larissa Miller graduated with a bachelor's in consumer apparel and retail studies from the University of North Carolina at Greensboro in 2015. In 2019 she founded RissaLaRue Co., a home décor brand which received a Spoonflower's Small Business Grant this year. The recipient of numerous awards including Fiber Art Now's Excellence in Fibers, Arrowmont School of Arts and Crafts' Appalachian Visions Scholarship, and the Penland School of Crafts' Cynthia Bringle and Edwina Bringle Scholarship, Miller is finishing up her master's in fibers at SCAD and exhibits her work this Saturday evening at Cedar House Gallery.
Applying for college, Miller had thought she wanted to be a fashion stylist — enduring a dress code in high school, she always had to find a way to stand out: "It was the sneakers for me!" she laughs. But she found herself more drawn to the business side of fashion, and it was not until her study year abroad at Manchester Metropolitan University in England that she learned about fashion design, pattern making, digital design and construction.


"I really came to appreciate the centimeter system(!) and being able to trust my own sense of design. It pushed me to explore and ask questions. We had field trips to London Design Week and Graduate Fashion Week. We toured a textile fabric mill where we passed the design office, and I saw people working on Illustrator to create designs, and I thought, 'This is the type of environment I need to be in!'"
True to that aspiration, Miller's first job was as a textile designer with Global Textile Alliance, a mattress, bed, upholstery, and curtain fabric manufacturer in North Carolina.
"I had total creative freedom and enjoyed using NedGraphics to design something on screen and follow it through to production. It was a great introduction to commercial design."
Traveling to furniture production markets in Las Vegas and High Point, and to the Interzum Trade Fair in Germany, she designed for major brands such as Sealy, Serta, and Tempur-Pedic.
During COVID, the designers worked from home, and production shut down for a while. Miller did not feel comfortable returning to the office as quickly as they wanted and, as is the case for many of us, the pandemic afforded the opportunity to reevaluate her life's direction.
After working for five years, "I was feeling like I needed more. And it also made me look at the values of the company. I wanted to be aligned with a different path."
That was the impetus to enroll in the graduate fibers program at SCAD.
I meet the warm, outgoing and wide-smiled artist in SCAD's Pepe Hall, her workspace for the last two years, to talk about her upcoming masters' show. Entitled "Presence," it seeks to insert the Black presence into traditional western art and classical mythology, reimagining inclusive imagery of underrepresented bodies.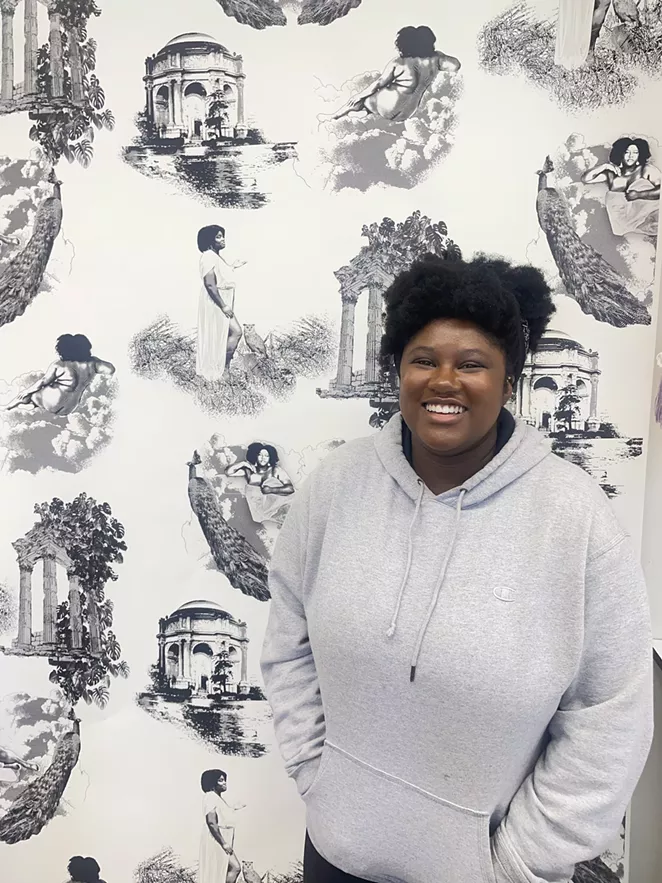 She says, "As Black women, we all have a shared experience of trying to find a way of making peace with our upbringing and our lack of visibility. A lot of artwork is us trying to fill that absence with presence."
(Interestingly, Miller interned with Jennifer Mack-Watkins, the subject of my May 2 column, who fiercely deals with these same issues in her printmaking.)
Miller says that relocating from Georgia to North Carolina to enter third grade in a predominantly white school was a big culture shift for her.
"I became very aware of my differences. The reflection of us wasn't in the curriculum. My mom is a portrait artist, and I was exposed to Afrocentric artwork growing up at home, but not at school. After a certain point, you have to get used to it."
By using mythic and tarot-inspired self-portraiture, her show is a way of talking to and healing her own inner child, while being accessible to other Black women who will "find reflection in the curvy body."
I am particularly intrigued by her wallpaper of goddess imagery as a "reimagining of Mount Olympus." Her thought process seems akin to Sheila Bridges, the creator of Harlem Toile, which features beautiful drawings of African Americans in historical settings that rarely featured them – tableaux of possibility and of belonging that have been shown in the Musee De La Toile De Jouey in France and the Museum of Art and Design in New York. Just as Bridges introduced African Americans into traditionally Caucasian pastoral and classical vignettes, Miller's wallpaper is a visual response to the absence of empowering images of Black women in classical myth and traditional Western art.
Other work in the show includes cyanotype portraits of her parents printed on linen and cotton sateen, and incorporating words of advice they would give to their younger selves and objects like her dad's military dog tags and her mom's wedding ring. (Cyanotype is a photographic process that uses a mixture of iron compounds which when exposed to sunlight and washed in water, oxidize to create Prussian Blue images.) Other processes she has explored and includes are flatbed printing and screen printing and says that "If printmaking were a major I would probably have double majored. I learned how to do repeat yardage here."
A large tapestry entitled "Foundation" is an affirmational piece to remind herself that she is guided by her birth chart and by her ancestors; it includes positive quotes and lyrics and is grounded by her maternal family tree that stretches back to the 1860's. We look at a wall sculpture constructed of cording called "Vulnerable" inspired by Gustav Klimt's 1907 painting of "Danae," a woman enraptured by divine love. Miller wanted to explore Black women's distrust of love, and how women are "in service" in patriarchal religions. In the classic child's pose, "you have to have your head down, but in my piece, her head is turned to the side because she is cautious and vulnerable."
Always, there is a level of mysticism in Miller's work.
"I'm channeling the Tarot to talk about the inner journey. I used Tarot during COVID to find solutions for that feeling of the unknown, to be able to guide myself through self-reflection."
She incorporates images from the classical Rider-Waite-Smith tarot deck created in 1909 by the British artist Pamela Colman Smith, who may, or may not, have been of Jamaican descent. Meditation and reflection gave Miller a feeling of safety during COVID, and she says that her impending graduation feels like a circular moment – she is returning to those thoughts of insecurity she had during the pandemic:
"I need to trust my intuition and know that I am divinely guided."
After this Saturday's graduation and show, Miller will continue with her own design work through her business and will be open to freelance work, but her dream is "to be involved in a museum or gallery space. I love community, learning, and engaging with different artists and their work."
And, not surprisingly, "I want to create my own, very intentional, Tarot deck."
See Larissa Miller's SCAD MFA show "Presence" at Cedar House Gallery, 122 East 36th Street on Saturday, June 3 from 5-8pm. Follow her @larissam_studio and follow her home décor business @rissalarue_co or visit RissaLaRueCo.com.