WHETHER you're pulling an all-night study session or closing down the dance floor, there's never a reason to go to bed on an empty stomach around here. Here's a round-up of hotspots that keep the kitchen cookin' far past the dinner hour.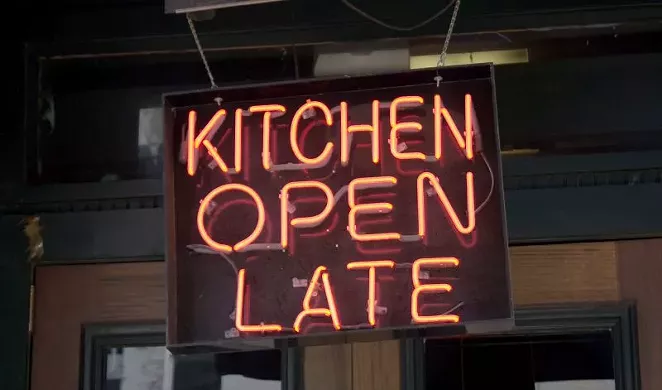 Bayou Café
14 River Street @Abercorn
Cajun-inspired eats like fried catfish and alligator tail spice up the night—and the wee hours of the morning.
Betty Bombers All-American Eatery
1108 Bull St.
Salute the Greatest Generation by ordering from a traditional menu of burgers, nachos, and milkshakes. Open until 11pm weekdays and 1am weekends—and if you ask nicely, Betty's delivers!
Boomy's
409 W. Congress St.
Don't be fooled by the shamrock in the window; this is where you'll find some of the city's best pho, curry bowls and other Thai cuisine until 2am.
B&D Burgers
208 W. Congress
The other locations of this milkshake-and-onion ring Mecca will serve as late as midnight on weekends, but only the Congress Street restaurant has the epic wall-sized big screen and is open until 2am.
Chromatic Dragon
514 MLK Blvd.
Get your game on until 11pm weekdays and 2am on weekends while enjoying geek-themed dishes such as Fries Against Humanity and The Lannister Burger. May we suggest starting with the Zucchini Joysticks?
Churchill's Pub
13 W. Bay St.
Perfectly-prepared pub food comes from Chef Michael DeMarco's kitchen until 1am daily. How can you beat mac-n-cheese with the option of add-ons like carmelized onions and chorizo?
Congress Street Market
111 W. Congress St.
Not to be confused with Congress Street Social Club down the street, this little bodega between the Tervis Store and Club 51 Degrees serves hot biscuits, "krispy krunchy" fried chicken and individual packes of Alka Seltzer until 3am.
Congress Street Social Club
411 W. Congress St.
Find your grind with beef, turkey, chicken and veggie burgers served inside or out until 3am. For those who like their late night snacks on the sweet side, we have two words: Skillet Cookie.
The Diplomat Luncheonette
314 Drayton St.
This brand new sandwich shop sensation next door to the Original Pinkie Masters comes from Chef James Levens, who bakes his own breads. The Beet Banh Mi is not to be missed—but even if you do miss the Diplomat's 11am-6pm service window, it opens again from 10pm to 2am Thursday through Saturday.
The Diner on Abercorn
7202 Abercorn St.
Up on the southside, the retro restauraant of your dreams awaits with an old school menu of patty melts, sausage and gravy, and slices of pie as big as your head. It's open 24 hours a day, which means pie for breakfast, lunch or dinner.
FULL@Barrelhouse South
125 W. Congress St.
The team voted 2016's "Best Late Night Food" is back with their awesome burgers, wings and those addictive spicy mac-n-cheese balls! Delivery until midnight and open weekends until 3am inside Barrelhouse South.
IHOP
1800 E. Victory Dr.
The menu isn't exactly international and it doesn't really look like a house, but nobody serves up a stack of fluffy pancakes like these guys. It's open 24 hours a day, seven days a week.
Kevin Barry's
117 W. River St.
If you find yourself hungry on River Street, you've got the luck of the Irish on your side: The kitchen serves the whole menu until midnight and apps and snacks until 2am. If you've never had an order of Irish nachos, the friendly folks here will gladly fill you in on the craic.
McDonough's
21 E. McDonough St.
All that karaoke makes a person ravenous! Fill your belly with crispy hot wings, steaks, bacon-wrapped scallops and other delights, along with stuffed omelets and other breakfast fixings until 3am.
Parker's Market Urban Gourmet
222 Drayton St.
Like most convenience stores, this one is always open. But the one known as the "fancy Parker's" goes above and beyond a rack of sad hot dogs rotating under a heat lamp: Egg bowls, homemade soups, baked chicken and other hot meals will satisfy your post-bar hankering and nourish you like your mama.
The Rail Pub
405 W. Congress St.
From pigs' feet to peanuts, there's no question that the Rail serves happy drunk food. Grab yourself a $1 dawg on a slice of white bread 'til the bar closes at 3am.
Savannah Smiles
314 Williamson St.
Locals with ID don't pay a cover at Savannah's only dueling piano bar, so sing along to your favorite tunes while enjoying a personal pizza, egg rolls or cheeseburger until the clock chimes twice.
Spudnik
416 W. Broughton St.
Nothing like a loaded baked potato to assuage the appetite! Go traditional with sour cream and bacon or try a sweet potato topped with toasted almonds and melty marshmallow. Open until 3:30am Thursday through Saturday.
Sushi Zen
30 MLK Blvd.
Sometimes after swank night on the town only an order of nigiri will do: The sushi chefs will plate your unagi and roll up your favorite roll until 2am weekends.
Sweet Melissa's
35 Whitaker St.
The Holy Mother of downtown eateries, this corner spot has been cranking out delicious slices of pizza since your parents were in college. Weekends until 4am.
Treylor Park
115 E. Bay St.
Southern comfort food meets hipster swagger with PB&J chicken wings, grilled apple pie sandwiches and Hawaiian tacos. Open 'til midnight seven nights a week.
Waffle House
1940 E. President St.
If you're already feeling smothered, covered and diced, why not order some hash browns to go along? There's a 24-hour temple to the griddle gods close by on President Street, plus two more uptown.
The Warehouse
18 E. River St.
The kitchen offers a full menu of crispy hot seafood baskets and grilled sammies until midnight, with snack, sides and more until 3am. Are you gutsy enough for the Deep Fried Bacon Wrapped Cheese Stuffed Chili Onion Bacon Cheese Covered Dog?
Wet Willie's
20 Jefferson St.(City Market) and 101 E. River St.
Counteract that brain freeze with a surprisingly diverse menu of steaks, seafood, salad and a full-on breakfast spread (The Eggs Benedict goes great with the Bahama Mama slushie!) Open until 2am on weekends.
Wild Wing Café
27 Barnard St. (City Market)
You'd best keep your behavior under control, but it's OK to get saucy as long as you're talking wings: Over a dozen flavors are available until 1am, along with a selection of delicious dips, snacks and starters.
The Wormhole
2307 Bull St.
Inch your way up Bull Street for tasty sliders, hot paninis, crunchy tacos, fresh fruit plates and more until 2am or until the transdimensional gateway closes, whichever comes first.
cs