I SHOULD admit my bias here: collage is one of my favorite media of art.
I'm fascinated by the materials artists use to create a brand new image. I could stare at collages for hours, getting lost in each small piece, wondering why they chose to put that cutout there. Every single piece is important to the collage as a whole; one placement swap can affect the composition of the piece.
And as a writer, I'm always interested in what story the collage tells. Blame it on my English degree and my constant search for metaphor and symbolism, but collage carries a story that's easy to read if you just look closely enough.
Collaborative collage, then, is even more exciting to me. Each artist comes to the piece with their own story to tell, their own set of materials that can change how that story is told, and their own interpretation of the work that precedes them.
Suffice it to say that I'm very excited for "Paper Trail," a collaborative collage exhibition opening Friday at Sulfur Studios.
The show, put together by local collage artist Axelle Kieffer, is comprised of a whopping 109 collage pieces created by artists from all over the world, as well as ephemera from their correspondence to show how the pieces have moved through the world.
Kieffer hasn't always collaborated on collages in this way. She received messages from fellow collage artists on Instagram asking her if she'd be interested in participating in group projects, and she jumped at the chance.
In collaborative collage, one artist begins the piece and sends it on to another artist. There's no limit to how much one artist can contribute or what they can add—it's all up to their interpretation of the story that the collage is trying to tell.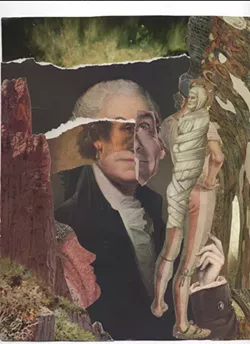 "When you receive a start collage from another artist, it's very challenging because it's not my usual practice," explains Kieffer. "It's a nice change. It's made me question my own practice as an artist. I learned so many other things—technique, imagination, to communicate with people from other countries. It's very informal and fun to do."
For Kieffer, the process of collaboration took some getting used to, but now she loves the aspect of telling a story with other artists.
"At the beginning, I was scared to tiptoe on the work of the other artists; I don't want to destroy the other artists' work," says Kieffer. "It's very humbling because you send a piece you started that you really like and the others just glue on top of it, and it's totally fine. The result is, in general, very surprising. When I start a collage, I'm telling myself a little story, and the other artists bring a story to a total other place."
Because of distance, the real star of the show is the post office, which the artists rely on to send the collages back and forth.
Kieffer included the envelopes to show the process of correspondence—and to support the post office, which she knows is more important now than ever.
"The goal of the show is to show the process," she says. "It's a good way to connect, especially now with the social distance. Everybody loves mail!"
The 25 artists in the show represent ten different countries and include three local artists: Kieffer, Lisa D. Watson, and Melanie Mills. You may also recognize Sabine Remy; the German artist was part of Sulfur's ON::VIEW residency a few years back.
For Kieffer, who lists both the US and France on the show card, her collage practice seeks to blend her identities.
"I use a lot of magazines from here and fragment them in tiny pieces. It's really through this that I'm trying to incorporate my French identity with my American identity," she explains. "This is what I'm trying to work on now."
Kieffer is passionate about amplifying each artist in the project. "I feel pressure because I have all those voices behind me," she confides.
With the exception of a few large pieces and a book project that took years to complete, the pieces in the show are small enough to travel safely through the mail.
An exciting point of the show is the exquisite corpse, which is derived from a Dadaist drawing game where each participant creates a different part of the body. The end result is an odd-looking form with wildly varying styles of body parts. Kieffer calls those pieces in the show "neo exquisite corpses."
Interestingly, none of the pieces will be for sale. Kieffer explains that in collaborative collage, the artist to complete the piece keeps the piece. But the exhibition is hosted purely to show the work, not to reap any financial benefit.
The exhibition will be on display through Oct. 25, allowing for ample time to see and interact with the work. An opening reception will be held Oct. 2 from 6-9 p.m., with safety measures solidly in place and a requirement to pre-register to attend. The work can also be viewed during Sulfur's normal gallery hours, noon to 5 p.m. Thursday through Saturday.
Kieffer is excited to showcase the work of her fellow collage artists and to inspire others as well.
"In the end we all have a piece of art," she says. "I hope it will give ideas to other people, too. 'Oh, I can totally do this!'"
CS