Immediately attracted to the clean modern lines of her functional ceramics, I first met Lesley Anton at her booth at the Isle of Hope Art & Music Festival in October. Learning that we both live in Sandfly, I knew I wanted to find out more about her beautiful work. In preparation for the interview I began Googling, and what I found is impressive, to say the least.
Anton's handsomely designed website (lesleyanton.com) links to write-ups in such prestigious publications as California Home & Design, California Homes, and the L.A. Times Magazine, and reveals that her work was nationally represented by interior design showrooms for almost 15 years. Her ceramic lamp collection, embracing "the spirit of Mid-century and Scandinavian design while giving a nod to Japanese minimalism," adorns countless residential and commercial spaces.
We meet again in the open kitchen of her art-filled ranch style home. Amongst the Mid-century modern furnishings, I spy works by such local artists as Marcus Kenney, Betsy Cain, and Angela Burson. As she stands at her kitchen island, Anton tells me she "played around with clay and design in high school but did not go to art school," instead graduating from the University of Nebraska in illustration and graphic design. A first job with a graphic design firm in Dallas was cut short by the oil industry bust, and following a short stint in an art supply store, she was hired by American Airlines as a flight attendant based out of New York.
Working three-days-on and four-days-off, Anton had time to explore the creative offerings of the Upper East Side's 92nd Street Y. "It's a Y with a terrific lecture series, classes, and concerts - a real cultural center. They had a great ceramics program. I tried it and got hooked. I'd take three and four-day workshops with all these incredible ceramic artists and then I started loading the kilns and mixing the glazes."
Anton married husband Craig, today a professor of Performing Arts at SCAD, in 1995. The couple had attended high school together but "didn't really know each other until we ended up in New York and mutual friends reconnected us. When we started dating he was performing at Stand-Up New York. His manager told him he needed to move to LA."
In LA Craig went on to have a full writing, directing, and acting career for 25 years. Best known for his roles as Mr. Pettus in Lizzie McGuire and Lloyd Diffy in Phil of the Future, he has performed on Late Night with Conan O'Brien, Curb Your Enthusiasm, Mad Men, and many other notable shows. (Today Savannahians can catch him playing with the local garage/surfer rock band Donna Savage.)
Meanwhile, Anton continued as a flight attendant and took ceramic classes at Santa Monica Community College until she became pregnant with twin daughters. Leaving her career and ceramic classes behind, it was not until her girls were in a part-time nursery that she could revisit her passion. "There was a potters' studio around the corner from the little nursery where I'd go for a few hours a few days a week. Eventually I got my own kiln in our garage and that's how I started."
Anton began making vases and was commissioned by a florist to make a large number for an upcoming event. The florist disappeared and she was left with a series of vases which a friend, who ran a furniture showroom in LA, serendipitously suggested she stack, thread a rod through, and transform into floor lamps.
Thus began her career as a maker of beautifully glazed lamps which she heightened by adding turned-wood bases and topped with custom-made shades. Represented in the Pacific Design Center and other interior design showrooms, "I used to make anywhere from 10 to 250 lamps for various Four Seasons, the MGM Grand in Las Vegas, and other boutique hotels."
When the recession hit in 2008, the lucrative multiple orders dried up. After nine years in her garage, Anton had just signed a five-year lease on a studio, and upon losing the windfall of large hotel orders she had to quickly rebrand as Leslie Anton Utility, creating tableware for 12 – 15 wholesale accounts.
Six years ago, the girls graduated high school and the family moved to Savannah for Craig's job at SCAD. They lived on 50th Street in Parkside where neighbors Carmella Aliffi and her late wife Jane Fishman took them under their wings, "dragging us around to openings and First Fridays and introducing us to all their friends." Through Fishman's connections, Anton interviewed and was hired full-time at the Beehive Foundation founded by Mills Bee Lane IV.
The quietly spoken Anton makes it clear that "I don't want to come across as being a big deal, but I do have a history, and have been making ceramics for a long time." After moving into their Sandfly home two years ago, she installed an electric kiln and finally started over. "One of the most trying things working with large ceramic pieces is shipping. You end up with cracked lamps and smashed shades. There isn't really anyone here to make custom boxes. I had a tough time finding a reliable woodturner, and there's no shade maker in Savannah," she says.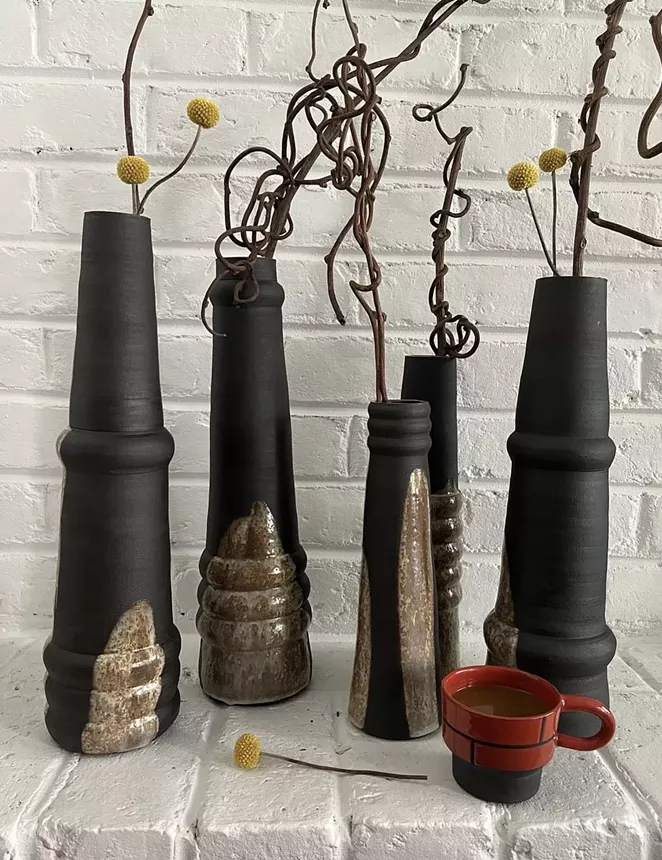 Currently, Anton makes vases, smaller vessels with a 26-inch height limit, bowls, cups, and other dishware. "I'm just really loving being in control of everything and not relying on others to finish a project." She seems content to work on this scale and to sell directly to the customer, not having to go through a wholesaler or retail store. It turns out that October's Isle of Hope Art Festival was her first art show in Savannah. "I still have friends and customers who buy from California. I built up a lot of clients through the showrooms."
Anton says, "I love handling something that I know someone has made. I want my pieces to feel good when they are held. I don't want them to be too light, then they feel precarious. And I don't want them to feel too clunky because then they feel too crafty." We agree that she has found the sweet spot between precious and solid…"The biggest challenge is to elevate ceramics out of 'craft land'. I want to be design-minded, but I don't want my pieces to be too contrived, or to be hippy."
Anton creates her organic, modern forms in her home-based studio. She shows me a row of vessels painstakingly created in a three-step process: throwing the base, letting it sit overnight, maneuvering and sculpting 'bumps' into the clay, throwing the middle section, letting it sit overnight, and then repeating the process with a top piece in which she sculpts more 'bumps.' "You learn to make things similar from having large orders. I always tried very hard to make the sizes uniform, and my clients were great at understanding that the glazes would often be irregular."
Finally, she shows me the multitude of glaze tests she has performed in her electric kiln. "I'm really excited that they look like they were fired in a reduction environment." Nostalgic for the luscious glazes serendipitously created in her gas kiln, she says, "That's what was exciting: the fire and the carbon. In Savannah, it feels like I'm starting out all over again."
And I, for one, am glad.
See more of Anton's beautiful ceramics at lesleyanton.com and follow her on Instagram @lestleyanton_utility.