In 1997, Todd Schroeder, M.F.A., painting and sculpture, Kent State University, B.F.A., painting, Ohio University, started with his first solo exhibition at White Columns in New York City and has been exhibiting ever since all over the world. "The solo show at White Columns was a big deal for me, and it still is," Schroeder said. Today, Schroeder works out of his sunlit, window-walled home studio in Savannah, also teaching painting at SCAD since 2005. Creating works with an inseparable synergy of painting as meditation in his at home-studio, a recent transition from his pre-pandemic studio at Southern Pine, and before that his space in Starland. "I used to have my studio was right there [Starland]," Schoeder said. "There's a little road called De Soto Row; there is a little brewery across the street. From where that brewery is, the building to the east of it is an old dairy, Starland Dairy; that's where the Starland District gets its name. In the back area, there are little storefronts that used to be big refrigerators, they were like big refrigerator rooms, and I had one of those for my studio for four or five years, I shared it with my father-in-law, Patrick Kelly who was also a painter." In the studio, he practices his meditative wizardry of gestural painting and returns to playing around with his prominent and iconic X motifs.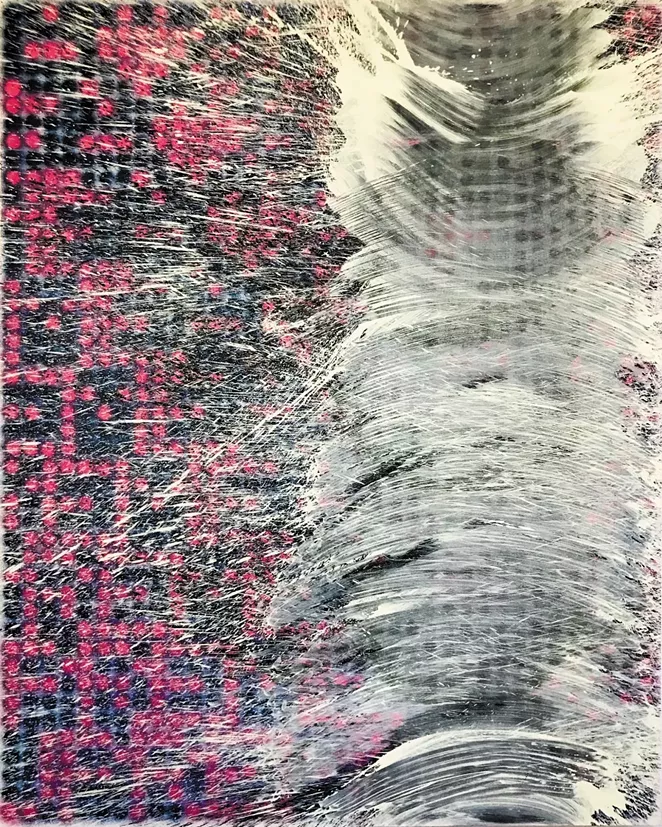 In
No Fun
, "The Strikethrough functions as a negation and as a plea, and a reminder to let go of control, all of it," Schroeder said. "Control being the root of all problems and strife. But, there is a paradoxical acknowledgment that control fosters passion and tension — something that we all strive for, a sensation that gives our lives meaning." "Schroeder's smaller works on paper are incredible gestural recordings of moments in time," Director Susan Laney said. In his series of 42
WOSP
paintings on paper over screen prints, only one is framed and installed in the show, the remaining 41 are in the flat files upstairs in the open office space. "They [
WOSP
Series] were really a big part of the process of getting to the larger work in the show," Schroeder said. "Not really knowing what I would be doing ultimately, I had a lot of screen prints – that didn't make it into editions I made – around in the studio. I started working on those freely. Some of the work developed around ideas of protest and some took a turn toward a more esoteric resolve."
From these exploratory paintings on screen prints, Schroeder drew inspiration for his large-scale paintings. Upon entering the gallery,
Yellow X
,
2020
,
Purple X
and
Silver X
are displayed consecutively to form a not-so-subtle triple-X iteration. "There are several paintings that have the words ego tomb in them," Schroeder said. During his painting process, he saw the emergence of a mark that he kept repeating alluding to whirling dervishes. This ultimately led to his use of the title Ego tomb—the literal translation of Sikke, hats worn by whirling dervishes of Turkish and Persian origin. This inspired the subject matter and title of "Ego Tomb,"
Pinks
, 2019.
"There's a painting called
No Fun
which comes from an Iggy Pop and Stooges song," Schroeder said. "It's another musical reference, and I make them a lot in my work." Schroeder also connects to John Coltrane's anti-codified deep improvisation. "Akin to music in so many ways, Schroeder's work explores practice and process, time, structure, and improvisation," Laney said. "In all reality, my being a professor keeps me engaged in what is going on in the contemporary global art world," Schroeder said. "For me, I've always been interested, but I've pushed myself to stay engaged in all of that, due to my role as a teacher."
For information about the artist visit toddschroederartist.com or laneycontemporary.com/artist/todd-schroeder. Follow the artist on Instagram @toddschroeder0.