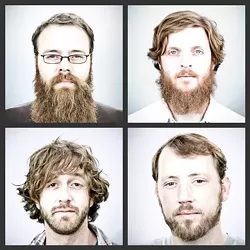 IT'S BACK! After the great success of last year's ode to The Band, featuring a myriad of familiar faces on the Savannah music scene, it's all happening again with some new guests and surprises.
The Train Wrecks and Accomplices acted as the "house bands" in last year's collaboration. Charlotte, North Carolina's The New Familiars, longtime friends of Savannah, are at the helm this year, with Paxton Willis (Kota Mundi), Patrick Caroll (Les Racquet), Velvet Caravan's Eric Dunn, Jared Hall, and Sasha Strunjas, Kevin Rose (GAM, Superhorse, Elevated Basement Studios), Ray Lundy (Bottles & Cans), and Stan Ray and Matt Eckstine of The Accomplices all taking the stage throughout the evening.
If you missed out last year, get this one on the calendar: it's a night of fun, camaraderie, singalongs, and community that's sure to warm your spirit.
Wednesday, November 25, 7:30 p.m., $20, all-ages