Lisa D. Watson's little bungalow on DeRenne Avenue is filled to overflowing with three cats, her late mother's Shih Tzu, and various elements needed for her upcoming series of shows.
Speakers, boxes crafted by husband Donny to conceal said speakers, church pews, seed packets, educational pamphlets, and artwork fill her living room, while in her office, boxes of wrapped art are ready for transport.
Avant Gardener: A Creative Exploration of Imperiled Species hangs Sept. 2 - Oct. 22 at Savannah's Sulfur Studios before moving on to the Coastal Discovery Museum on Hilton Head in November, and to the Averitt Center For The Arts in Statesboro next March.
The multi-sensory show is two years in the making, and Watson has worked hard to ensure a longer-than-usual stay at Sulfur and to arrange other venues.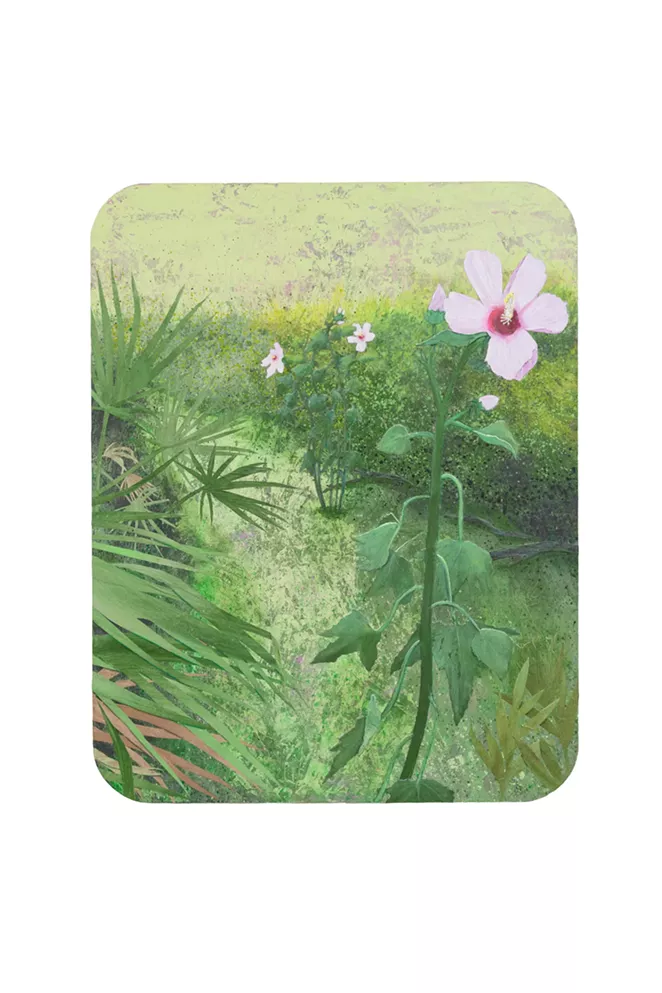 Originally from Ohio, she graduated with a BFA from the Columbus College of Art and Design in 1991, spent many years as a muralist for film sets, and now is an acclaimed ecological artist who uses almost 100% repurposed materials to create and express her environmental concerns. Media include salvaged wood, papers, produce netting, thrift store finds, and reclaimed paints from Starlandia Art Supply.
The goal of the upcoming Avant Gardener show, Watson explains, "is to inform and show people the native plants that we don't normally see surrounding us. It's also to talk about loss of habitat – which comes down to herbicide spraying, development, urban sprawl, exotic plant species, and hurricane damage."
These goals, of course, tie back to her career (and primary source of income) as a consultant on native plants and drought-resistant garden design. Her company, Plan It Green, LLC, currently has a waiting list of eight clients who want native gardens installed.
Watson says her landscaping and her artwork were separate for many years, "but I realize they are one and the same now."
Her 2017 solo exhibition at the Jepson highlighted concerns about loss of natural habitat when bridges, interstates and overpasses are constructed, and her 2020 Deer Humans show at The Studios of Key West focused on the Key deer's fragile natural habitat and on Georgia and Florida's endangered plants.
After collaborating with the Key Deer Wildlife Refuge on Deer Humans, she realized that working with the US Fish and Wildlife Service and other conservation groups would be the most effective way to amplify her advocacy efforts.
Watson returned to the Studios of Key West to study and educate others about the decline of the Semaphore cactus.
"In 2020, there were only about 100 left in the Keys, but since then, the Key West Garden Club has put in soo many native plants and a few Semaphore cacti."
This outcome is just one of many directly attributable to the influence of Watson's ecology-focused art…
Recently hired by the City of Savannah to help implement native landscaping, she has provided them with a native plant list, an invasive plant list, "and a list of rare plants that we need to start thinking about incorporating."
Walking with the City's Director of Municipal Archives, Luciana Spracher, Watson told her, "It's really hard for me to walk in these squares. Besides the live oaks, we could be in Asia! As much as this is an historical town, are we telling the history of the ports – that we can bring in all these exotic species - or do we want to tell what was here, and what we should bring back?"
"I started my company in 2008 and in reading Doug Tallamy's books I realized so many landscaping species are not doing anything for our insects," Watson continues. Old enough to notice declines in both bird and butterfly populations, she says, "If you have a Chinese tallow tree, for example, there are no caterpillars working on it, but if you have a live oak, you have 500 different caterpillars, which are the primary food source for birds."
"When we moved into this house," she goes on, "I inherited azaleas, gardenias, oleanders, crape myrtle. They are not hurting other species, but if we must replace one, I'm going to go native. Nandina is my nemesis. The berries kill birds, but big nurseries will sell it if people keep buying it. So, it hit me that I need to educate the consumer. Because most nurseries don't care."
Locally, Watson says Victory Gardens does care, and, because of her advocacy, Hester & Zipperer carries more natives, and no longer sells nandina.
Preparing for this show, Watson participated in research trips with the US Fish and Wildlife Service and the Georgia Plant Conservation Alliance, although she will not reveal the exact locations because of endangered plant poachers (yes, that is a thing). A trip with the Longleaf Pine Alliance inspired a 36-foot-long art piece called "Field of Vision", while a monarch caterpillar survey with Darien naturalist Christa Hayes ultimately became the inspiration for the central 'altarpiece' of the show, "Kingdom of a Roadside Ditch."
Hayes, an advocate for ending roadside herbicide spraying in McIntosh County, showed Watson a ditch that was supporting 11 native plants, four of which are endangered. And, of course, the plants are hosts for many kinds of butterflies and other pollinators.
"As soon as I heard that, I knew what my altar was going to be!" Watson says. Befitting an altar, she is installing church pews and speakers in the gallery because, "I want people to know that they can relax, be contemplative, and think about gardening while they absorb the sound art piece."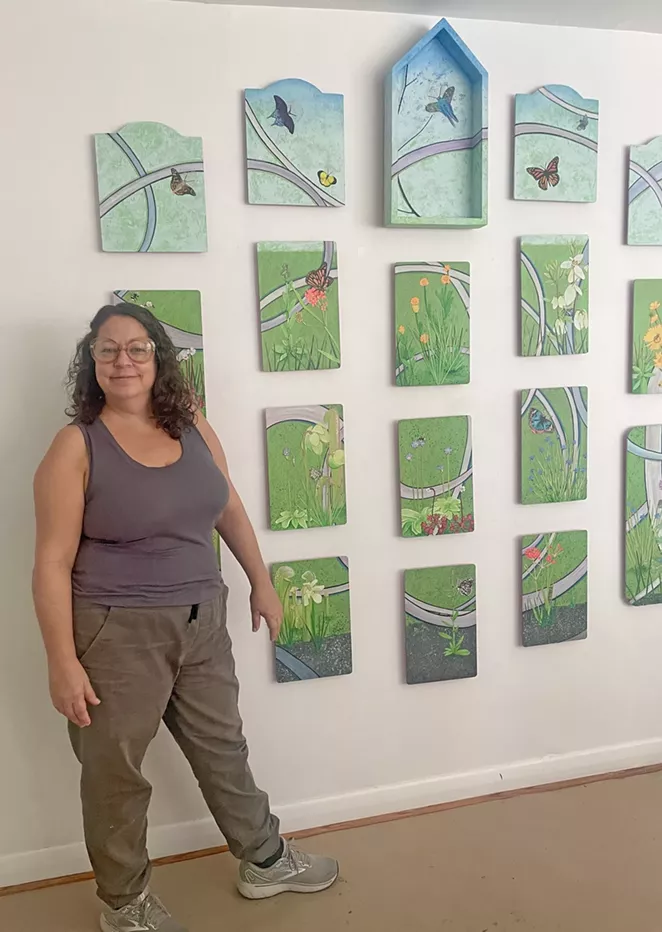 The sound art refers to music especially composed by Eric Chasalow, Graduate Dean at Brandeis University and Director of the Brandeis Electro-Acoustic Music Studio. The two met as artists-in-residence at The Studios of Key West.
"I still can't quite believe it!" Watson says, "I listened to some of his music while I was working and asked him, 'So how does someone like me ask someone like you to compose a piece for this show?' and he said, 'Well, I think you just did.'"
Other elements of Avant Gardener include packets of native seed to attract pollinators, pamphlets with native plant recommendations for our coastal region and lists of invasive plants. Invasive plants, their seeds, and spores, are plants that are not native to our ecosystem and whose introduction causes environmental harm.
Finally, Sulfur Studios' talented Emily Earl has compiled a beautiful catalog, which includes a QR code to access the sound art, made possible through investment by the City of Savannah and partnership with Coastal Discovery Museum. (Interestingly, the latter institution recently removed Chinese tallow trees from its property because of Watson's advocacy.)
"I didn't make this show to sell art," Watson says, though naturally she hopes there will be sales. "I enjoy making the art more than gardening. But the gardening is more important than the art. There are organizations out in the field doing great work. But they need me, as an artist, to help educate the public. I've kind of found my mission now."
Lisa Watson's (American, b. 1967) "Avant Gardener" opens this Friday, September 2 at Sulfur Studios, 2301 Bull Street, and hangs through October 22. There will be a Yaupon tea tasting and lecture on coastal habitats on Saturday, September 17 at 2 pm and a native plant sale in conjunction with October 7's First Friday Sulfur Street Fair.
Watson will give an artist's talk on Saturday, October 15 at 2 pm.
Full details at sulfurstudios.org. Find Watson at art-ldw.com or on Instagram @art.ldw