"Pippin" has been entertaining audiences for 50 years, and now one of the longest running shows on Broadway is coming to Savannah. Savannah College of Art and Design's (SCAD) School of Film and Acting will present the coming-of-age musical at the historic Lucas Theatre May 25-28.
"This Broadway musical delivers the very best of SCAD's faculty, student, a full orchestra, and guest artists' talents on and off stage. It's a night not to be missed," said SCAD performing arts professor Victor Malana Maog, the play's director.
Maog has over 25 years of experience directing projects, programs, and companies including shows at the Disney Company and ABC.
Pippin debuted on Broadway in 1972 with music and lyrics by Stephen Schwartz and book by Roger O. Hirson. Bob Fosse directed the original Broadway production.
"Pippin" is the story of one young man's journey to be extraordinary. Heir to the Frankish throne, the young prince Pippin is in search of the secret to true happiness and fulfillment.
"I was directing things from stage shows to spectaculars and more. What brought me to SCAD was this exciting and magnetic school of film and acting, and it is sort of a boundary blurring place and I thought I'd love to be a part of that," said Maog.Maog has a history with "Pippin" since he has directed it a few times before and knows what it takes to create a show of this magnitude.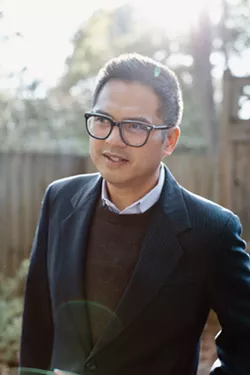 "One of the things that's exciting about the show is that whoever's producing it, whoever's in the show get a chance to put their spin on the production. You've got to bring the song, the dance, the heart, the passion to the show, or else it falls flat," he said.
Making sure this show does not fall flat are over 150 students from SCAD's School of Film and Acting, including performers, production designers, costume designers, and sound designers working on this production.
"Everyone is going full force and trying to execute this show from the set and the costumes that have been designed by a Broadway designer, and we have three-dozen actors on stage ranging from high school to established veterans," said Maog.
SCAD performing arts professor Isaiah Johnson (Leading Player) lends his professional acting experience to the production. Johnson has appeared on Broadway, film, and television. Local young actor Emmett Mills Witchel (Theo) is also part of the cast.
The cast stars freshman Eli Talley (Pippin), graduate student Joseph Gauzza (King Charlemagne the Great), junior Eric Ackerman (Lewis), graduate student Katie Rodgers (Fastrada), graduate student Zora Umeadi (Bertha), junior Caroline Feduccia (Catherine).
"My shoulders are relaxed, because I feel like the future of performing arts is in a good place for these students. These are folks who are smart and disciplined," said Maog.
Umeadi, who plays Bertha, is one of the smart and disciplined students Maog was talking about. In February she was performing in SCAD's "BAM! Black Artists in Music" in Atlanta when Maog, who was in the audience, discovered his Bertha, four weeks after general auditions and some callbacks.
"Maog asked the Dean and Chair, Mark and Andrew, if there was a way to get me into the room to audition. When I got back to Savannah, they gave me the side and the music cut for Bertha," said Umeadi.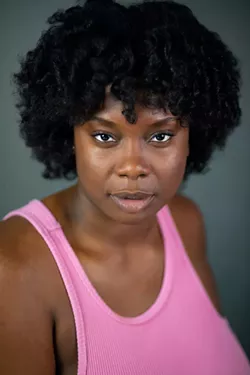 Umeadi didn't have much time either. She recalled getting back in Savannah around 2 p.m. on a Wednesday. During this time, she was also working on her thesis project.
There was rehearsal for the thesis at 8 p.m. but prior to that she used that time to dive into her audition pieces for Bertha, and even after rehearsal was over at 11 p.m. she stayed up until 3 a.m. preparing for the audition which was on Thursday morning.
"I looked at the cast list and saw my name by Bertha and was shocked. I'm grateful because I know it wasn't a thing that everybody took lightly," said Umeadi.
As if her thesis project and landing the role of Bertha were not enough, Umeadi was also cast in another SCAD production and had to work out her schedule with both directors who really wanted her in their productions.
"I told them they can trust my worth. It was more just me saying it. I was going to have to show. I showed up in both rehearsal spaces equally prepared and I think the directors gained a lot of respect for me for that," said Umeadi.
In the musical, Pippin seeks the secret to true happiness and fulfillment in the glories of the battlefield, the temptations of the flesh, and the intrigues of political power (after disposing of his father, King Charlemagne the Great).
"People all over the world can relate to the thought of 'What is the meaning of my life? Why am I on this earth? What do I have to contribute?' I think it's a great time to ask 'what is the way that we want to participate and leave a mark in this world?'" said Maog.
In the end, though, Pippin finds that happiness lies not in extraordinary endeavors, but rather in the unextraordinary moments that happen every day.
"You've got to learn to live in the moment. When Pippin comes and sees Grandma Bertha, he leaves all his cares and worries at the door. Stop worrying about tomorrow and live in moments now," said Umeadi.
Live in the moment and see "Pippin" at the Lucas Theatre. There will be four performances of Pippin from Thurs., May 25 – Sun., May 28. For more information visit lucastheatre.com