The corner of Drayton and York streets has been the focus of Low Country sandwich and sausage enthusiasts' wants and needs for over a decade and a half. Sixteen years ago, Zunzi's opened its doors in the longstanding walk-up location to serve local Savannahians with the very best in award-winning sandwiches and South African-inspired cuisine. Zunzi's took its passion for food and people into everything they did, hosting Zunzifest — an open mic-ish music festival in the parking lot of the York St. location — and other neighborhood good times while serving up the classics that you still see on the menu. The spirit of a party and a full stomach could not be more in swing now, as Zunzi's has opened a new and improved location on Drayton St., only a few short blocks from where it stood for so long. Owner Chris Smith told me, "We have known for 5 years that at some point we were going to have to relocate, and we really wanted to find a location that did Zunzi's justice since it is a local favorite." The new location is gorgeous. Located at 236 Drayton St., right across Perry St. from the Perry Lane Hotel, the restaurant leaves the days of sitting atop the hot asphalt or waiting in line on a sweltering sidewalk in the rear view. In the space where Green Fire Pizza used to be now stands a gorgeous, modern take on sandos and cocktails. Smith told me that the team felt the location was underutilized in its former form, so they built a deck. The build out makes the location more inviting and certainly has more room than Zunzi's old location. Another Savannah restaurateur came to Smith's aid when he was batting around the idea of an expansion into the 236 Drayton St. location. Trey Wilder of Treylor Park and Hitch local fame was excited to come on board to help with the fun.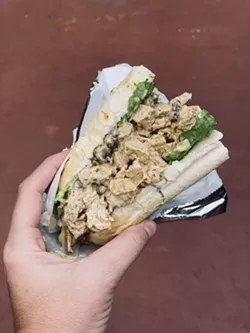 "If you have been to Treylor Park or Hitch, those two concepts kind of 'take that and light it up' and give it a beach feel," Smith said. "You will have that vibe mixed with a little bit of Zunzi's." As always, Zunzi's will be slinging the same Conquistador and Oliver's Lunch that everyone knows and loves. For the uninitiated, the Conquistador lives up to the suggestion of the name. A dominating pile of Zunzi's roasted chicken sits on a bed of tomato and lettuce in the heart of a fresh French bread loaf. The sandwich may seem simple in construction, but it is anything but simple in flavor. Most regulars choose to have a heaping helping of an array of Zunzi's sauces — Zunzi's Dressing, Zunzi's Sauce, Zunzi's VEGAN Saucy Dressing, Mustafa Curry, and HOT-AS-****! Sauce. Any combination of the sauces seem to go well together, and Zunzi's ain't shy about giving the customer what they want — especially if it's a sea of sandwich lube. The Oliver's Lunch is your choice of chicken, smoked sausage, Borewors sausage, salmon, curry chicken salad, Frikkadel VEGAN "Meatballs", and/or grilled veggies atop a bed of mashed potatoes or rice with your choice of two sides and sauces. Zunzi's menu isn't massive, but what it does have, it does right. There really aren't any misses on the menu, and the food is always consistent. Smith brought that consistency into their cocktail menu as well. Alongside the new building and location, the menu is getting a bit of an improvement also. Smith said, "We will be serving beach beers and frozen drinks, cocktails. Then we will have a specific bar menu with Zunzi's wings. We will be rolling wings out here, like we have in our Atlanta location." Having been to the Atlanta location as well, I can attest that the wings are legitimate and not an afterthought of the new bar. And don't fret, your favorites mentioned above aren't going anywhere. "Half is Zunzi's and that is really the traditional quirky Zunzi's that we have. Then we have ZunziBar. I have always thought a sister bar concept would work really well with Zunzi's." Smith was right. The concept works amazingly well. Zunzi's already had the culinary bones of a restaurant that would be perfect for a few drinks. The hummus and pita is a classic Zunzi's snack, as are the ziki spread, avocado spread and curry chicken salad. Now alongside the wings and snacks, patrons are invited to mosey on over to the cocktail menu, and these new cocktails that the bartenders are dishing out look amazing. The Banana Hammock is a frozen drink with a rum base with hints of banana and coconut. The Brain Freeze is another frozen concoction — this time with a vodka base and a watermelon flavor profile.
For those who don't really like the heartiness of a frozen cocktail, Zunzi's has them covered with their on-the-rocks options. The Longboard is a delicious blend of whiskey, lemon, and blackberries, while the Pineapple Express has vodka, peach puree, lemon, almond milk, simple syrup and pineapple. If you're catching on to the vibe of the drink menu, that's how it is designed. All of the drinks encourage an outside, beachy spirit that sometimes gets lost in bars away from the water. Savannah has a lot of restaurants, but so few have a comfortable outside place to sit and relax on a hot day while enjoying a cool drink and some delicious grub. Patrons now have the opportunity to watch the day go by situated underneath the breezy fans and shady sails now installed on the brand-new deck.