Savannah is known as one of the most haunted places in the country, yet the Hostess City has never been the main setting for a haunted house film— until now.
"A Savannah Haunting" is a film based on true events that the writer and director, William Mark McCullough, and his family experienced at their home.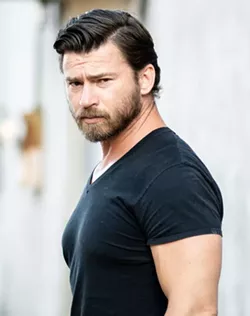 Originally from Savannah, McCullough left for California to pursue his acting career. After several years spent living and working in Los Angeles, McCullough found himself back in Savannah to deal with some family issues. He returned to his childhood home and immediately took notice of the abnormal things happening there.
"We'd always known that the house had very dark things going on, but being there as an adult, it had ramped up so much since I was a kid, and it was terrifying," he explained.
His producing partner Alexis Nelson, the cofounder of their film and TV production company Fort Argyle Films, came to visit McCullough in Savannah to offer moral support for his family situation, and she too had an "utterly terrifying experience" in the house.
"She was staying in the upstairs bedroom, and she goes to sleep that night. She wakes up to the sound of whispering. And then, she said she woke up and she could sense something standing at the foot of the bed. Then, she feels the covers around her feet and legs pressed down so she couldn't move. Then the thing moved to the side of her beside the bed and just screamed in her ear. She said for a second she went frozen. And then she jumped out of bed and ran downstairs," he recounted.
Rather than flee the premises, Nelson encouraged McCullough to write a script to capture the house's strange history and happenings on film. He took her advice, and they began filming "A Savannah Haunting" around the start of the pandemic.
The result is a slow-burning horror film centered around a California family that relocates to Savannah after the drowning death of their daughter. Hoping for a fresh start, the family is instead met with frightening phenomena that leads the mother to believe that she is being haunted by her dead daughter.
"The entire family starts to experience supernatural phenomena that's ripping the family apart. . . It's this family trying to deal with the guilt of their lost child while also dealing with these terrifying things that are going on in the home they moved into," said McCullough.
As the writer, director and also an actor in the film, McCullough says the process of filming the movie was both interesting and challenging.
"We had these really scary things that were happening to our cast and crew while we were filming. Initially, we had two crew members who were staying at the house and both of them left after a week. They said they just couldn't sleep in the house. We even had crew members threaten to quit," he recounted.
While filming the movie, McCullough and his team decided to film a documentary about the history of the haunted house as well. They brought in several professionals including supernatural and paranormal experts, historians and mediums to do some investigative work. And some interesting things came up.
"In my script, I had written that there was a plantation there through the Civil War that had been burned down during the war, and my home had been built on the property after the fact. And that was one aspect of why the house was haunted," he explained.
A historian confirmed that this history that McCullough had imagined for the script had some truth to it.
There were other unexplained events that came about in the course of filming as well. McCullough believes that the house evoked a genuine fear that made the acting all the more convincing.
"It was so palpable, so visceral . . . I think we gave the actors so much to work with because they were really scared. It really brought depth and honesty to their performances. . . We were shooting something that was real. They didn't have to do much imagining to play out the story," he remarked.
"A Savannah Haunting" has been shown at film festivals around the world winning various awards including Best Feature Film at the Atlanta Horror Film Festival, Silver Award Winner at the Independent-Star Filmfest Munich, and Best Thriller Film at the Thrills and Chills Film Awards among many others. It was also the first film made in Savannah to be featured in the SCAD Savannah Film Festival.
The warm reception means a lot to McCullough.
"We wanted to make a horror film that had a great story and phenomenal actors. . . The other thing we wanted to do was capture what it felt like to actually live in a haunted house. . . It's almost like the walls are closing in around you every day, like a claustrophobic feeling, this creeping dread. It starts to invade every moment of your life," he explained. "I wanted to capture that in a really honest, truthful way. . . The awards were nice because it gave a little validation to all of what so many people poured into making the film," he added.
McCullough encourages locals to come out and see "A Savannah Haunting" because it truly is a product of the community.
"So many local Savannah individuals and companies and local establishments came together and gave us a huge amount of support that allowed us to make the movie. . . For us, the film feels like a love letter to Savannah," he said.
"A Savannah Haunting" is coming to Pooler's Royal Cinemas IMAX on Oct. 28. It will also play in select theaters across the country. The film will also be available on all major digital platforms including iTunes, Apple TV and Amazon.
To learn more about the showings here, visit royalcinemaspooler.com