A few months back, when our annual Readers' Poll Issue hit the stands, many in the local music scene were surprised to see Turtle Folk named Best Local Rock Band.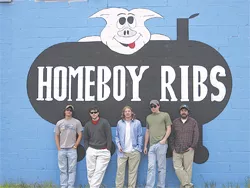 That's not because they're not good at what they do. Far from it. However, the fact of the matter is that to date, the hardworking, dedicated, improv-heavy organic rock quintet has kept a fairly low profile. They play regularly in town, but usually in a stripped-down, quasi-acoustic format (as some of the band's members live several hours away), and although they have released one self-financed record, it is only available at their gigs and at one small record store on the Southside (Silly Mad CDs,which specializes in regional roots-rock and jam music).
Heck, as far as I know, this may be the first substantial article of any sort that's been written about the group.
And yet, despite the fact that they primarily play at only two local venues —the downtown locations of both Loco's and Fiddler's— they walked away with a title most folks assumed would go to a more mainstream act, or at least one with a bit more hype surrounding them.
The fact that they received more votes than any other local artists in that category is a testament both to Turtle Folk's growing, enthusiastic fanbase, and to the notion of grass-roots support in general.
Truth be told, word of their victory took some of the bandmembers themselves by surprise.
"We were shocked and happy, of course," says lead guitarist and backing vocalist Joe Pelliccione.
"There are some great bands here from all different genres. We're honored that we can be considered a major part of the music scene in Savannah."
Fellow lead guitarist and vocalist Jamie Shanks agrees. "We all were pretty excited (to find out we'd won). It is a good feeling to get recognized for something that you love to do. It doesn't happen too often."
Shanks says that recognition of this sort may not have had a tremendous effect on their hometown following, but it is certainly a boost when it comes to securing gigs out of town in markets where the band is not widely known.
"It definitely went on the front page of the press kit," he continues. "We have been getting a lot of gigs at new venues lately, and I would venture to say that the award has something to do with it. We also consider it a great compliment."
For readers unfamiliar with Turtle Folk, a brief history of the band:
The group evolved from the remnants of the now defunct high school project Wassaw Sound. That nascent, local jam-oriented trio featured future Turtle Folk members Shanks and drummer Sean Pelliccione. Eventually, Sean and Shanks began to collaborate with Sean's brother Joe in Atlanta, and started to compose their own original material. With the addition of percussionist Ross Sparks (whom some may remember for his stints in the Greg Williams Band, Voodoo Soup and the S.C. act Red Moon), a solid quartet was formed. Then, during their first official Savannah gig at the now defunct JJ Cagney's nightclub, they were joined onstage by guest vocalist Michael "Turtle" McCormick.
"Something just clicked," says Sean, and by the Summer of 2004, they had added bassist Charlie Murray and brought McCormick on as a full member —adopting his college nickname as part of the band's new handle.
Murray eventually left the group, and was replaced by bassist Zack Vogtner in September of last year. Since then, that five-piece lineup has been diligently working at crafting more original material, and expand the touring radius of the group — despite the fact that Turtle Folk is still essentially a part-time endeavour.
"Currently, we're playing around four to five times a month on weekends and some occasional weekdays," explains Joe.
"But, considering that we're all spread out and that everyone works, that's (actually) a lot. We've played as far away as Tennessee and Alabama. We've also played in South Carolina. We consider ourselves a regional band right now that plays the majority of our gigs in Georgia."
Vogtner is quick to add that even without the benefits of established management or record distribution, the group has already enjoyed a fair amount of success on the road, and is steadily breaking into new markets.
"Some notable venues we've played have been the Pour House in Charleston; Andrew's Upstairs and Smith's Olde Bar in Atlanta; The Mission in Augusta; and on River Street for the St. Patrick's Day celebration."
He also cites the group's appearance with Perpetual Groove frontman Brock Butler at the after party for P-Groove's recent Jolly Foundation charity benefit shows at the Historic Roundhouse as a memorable event in the band's history. 
Loco's on Broughton St. serves as something of a home base for the band — which makes perfect sense, as that restaurant and bar has taken great pains to step up and fill the void left by the closing of Cagney's. These days, the overwhelming majority of blues and boogie-based jam-bands, psychedelic groove acts and rootsy, organic rock groups that pass through Savannah are likely found at Loco's.
Shanks says that having a supportive place for the band to build their local fanbase has played a key role in the evolution of Turtle Folk.
"We are extremely fortunate to play a venue like that where the staff and management enjoy the music that we enjoy playing."
Joe says that this band and the downtown Loco's are a great match for one another.
"We're definitely not ruling out other Savannah venues, and we're always open for new gigs. But Loco's happens to be the most accommodating venue for us right now. We have a great relationship with them. They have a PA that goes well with our setup, they have a good size dance floor and it's a venue that our fans enjoy."
However, the group is ever mindful of not burning themselves out in this market. That's something plenty of local bands have yet to learn — which is why you'll often see the same groups playing several nights a week to pay the bills, feed their egos, or both. Joe Pelliccione says the members have no desire to play often enough that their local fans would become so accustomed to seeing them live that they might begin to take the band for granted.
"We want to play Savannah around one or two times a month at most," he explains.
"This allows us to keep our Savannah shows unique and interesting. We have been consistently playing in other cities and we feel like Savannah is our special 'back home gig,' that it's always nice to come home to."
Currently, the material played during the band's live shows is split roughly evenly between their own compositions and cover versions of tunes by a wide variety of their favorite artists. When pressed for a rundown of some of the musicians whose music Turtle Folk interprets onstage, Joe replies, "We cover stuff by Waylon Jennings, John Prine, Neil Young, David Bowie, Wilco, Pink Floyd, Widespread Panic, The Disco Biscuits, The Black Crowes, The Grateful Dead, Jethro Tull and Tom Petty, as well as a few more."
McCormick adds that the band as a whole feels strongly that there's little point in adding a cover tune to their repertoire unless they can "preserve the integrity of the song while playing it in (our) own style."
That sense of agreement dovetails nicely with the democratic manner in which the members "run" the band.
"There is no one leader," offers Joe. "We all work together and work as a group. We all have unspoken roles and try to communicate all opinions and ideas."
Adds McCormick: "Everyone has input into the songwriting, and that spills over into the way we manage the band."
When asked to describe the group's long-term and short-term goals, several ideas come up among the members — such as tracking and releasing a full-length CD to complement their 5-song debut EP Yard Art (produced by local engineer and musician Shane Baldwin at his home studio), but according to Joe, one goal surpasses all others at the present.
"That's to fully dedicate our time to Turtle Folk. Unfortunately, we have not been able to do this because of everyone's schedules, but we are on the verge of freeing up the other obligations and responsibilities of individual members. When this goal is achieved, then we'll see where we stand as a band." 
Shanks adds, "More and more opportunities keep opening up for us and, thus far, we've luckily been able to take advantage of them. But there comes a point when you have to say, 'this is what we all want to do,' and be willing to make sacrifices."
For now, however, Turtle Folk is concentrating on what they already do well: playing live shows and pleasing themselves and their fans.
Says Joe, "We're all close friends and have been for a long time. We've more or less taught each other how to play music and how to play as a group. This band is completely organic in our eyes and we really appreciate that."
"Even though some of us have 'side projects' and other responsibilities, we have the time of our lives creating music with each other."
Turtle Folk plays 9 pm Wednesday at Fiddler's Crab House on River Street and 10 pm, Friday at Loco's on Broughton Street To sample their music, go to: www.myspace.com/turtlefolkmusic.