Every second Saturday, the Savannah Art Walk brings art lovers together for a leisurely day downtown. The participating galleries open their doors to allow the public to engage with their artists, and they even offer special deals on artwork.
But how does one continue an event like this through the age of social distancing?
For founder and producer Tiffani Taylor, it's simple: with a little creativity, positivity, and hope.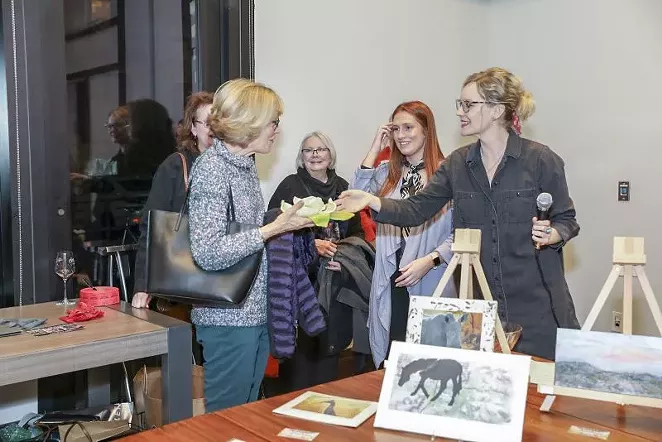 "Savannah Art Walk was created so we could all shine brighter together, and my goal as founder is that we all survive this together," says Taylor, artist, gallerist and source of unending positivity. "First and foremost is to be well, because health is the most important thing; health is wealth. But when all of this is over, I want our community and the nation to be able to enjoy our art scene. In the interim as we navigate this new landscape, for us to support the galleries and the artists so that when we surface, we have magic."
Taylor is moving the Savannah Art Walk forward by focusing on each participating gallery's online presence. This is nothing new for the Savannah Art Walk; for the past six seasons, Taylor says, the gallery page has included clickable links to each gallery's website and social media.
"I want us, as a community and as a nation, to look at the Savannah Art Walk as being an online venue," says Taylor. "Our patrons are national and international, and they can all access and support our individual galleries by looking at the online presence of each gallery, including their social media."
Now more than ever, it's important for us to support local businesses and show them that we're here for them through the crisis.
"Our artists are already vulnerable. We already share our soul with the world, and to be an artist is already the greatest act of faith," says Taylor. "We want to shine a light on our galleries and what their online specials are, what their social media platforms are, so we're engaging wit hem and interacting with them and acting as patrons. We're calling upon our benefactors and patrons of the Savannah Art Walk to support all the galleries during this time."
Taylor herself has created a puzzle line specifically for this time, and other artists and galleries included in the Savannah Art Walk have also dreamed up creative solutions to keep themselves afloat during this time.
"We all know how trying this time is emotionally and financially," says Leslie Lovell, owner of Roots Up Gallery. "I'm staying as positive as I can and am throwing myself into everything I can do for our artists and Roots Up Gallery. Working so diligently on the website gives me hope for everyone we work with and others who are also in need of help."
Lovell's newest initiative is Creatives In Need, a service that's free to artists who are unrepresented by a gallery. For every work of art sold on Roots Up's website, 80% of the sale goes to the artist, and 20% goes to WRUU 107.5 FM. The program is set to run pas the quarantine.
Roots Up's online shoppers will also receive 10% off their entire purchase with coupon code HOPE2020.
City Market artist Laura Barton is also feeling the pandemic blues.
"These are certainly tough times, as my primary clients are tourists who come upon my City Market studio by chance," says Barton. "My biggest opportunity is to now tap into the online market by linking social media posts to my website where my prints are available for direct purchase with free shipping. I am also offering a 10% discount on all original pieces at this time as well as accepting new commissions."
Fellow City Market artist Brian MacGregor has taken a similar tack.
"While my City Market gallery is closed, I am currently working on oil painting commissions from home and taking orders from my website," says MacGregor. "A popular item for those who wish to support my gallery during this time is an Art Deck of Playing Cards I brought out in November called Spirit Animal Playing Cards, also found on my website."
Bohemian Relics and Body Works' owner Judith James is currently working on her website and is offering shipping and delivery of all products in stock.
Capital Bee has worked on adding their artwork online and offers curbside pick-up, local delivery, and shipping to anywhere in the United States.
13 Secrets is doing video calls for private walk-throughs of the store for occasion shopping, like birthdays or anniversaries. They're available online at 13secret.com and offer free shipping within the U.S.
Cork House Gallery will be hosting a livestream of Monica Cioppettini's thesis show, "Semi-Precious," in early May.
Cup to Cup Café is still open six days a week and have expanded their products to offer shelf-stable pantry items from local food producers.
"We want all of our artists to feel supported. When you act as a patron to an artist, you never know when that is the omen they're going to receive to keep going and to persevere," says Taylor. "We do see on a nationwide and global level how important small businesses are to the local economy. With all of our small businesses in Savannah—and galleries are small businesses—the artists are entrepreneurs, and we do create jobs. It is so important when you support local business and the more of us that can survive, the greater good will occur for all of our community."
CS