Lucky Doll Lingerie Show ***
For the 7th Annual installment of this theatrical, risqué fashion revue, local lingerie designer Jeanne Taber Tompkins has planned what must be her largest production to date. Along with scores of elaborately costumed and made-up models showing off her limited edition and one-of-a-kind, burlesque-style undergarments, this circus-themed event features local singing actor Roger Moss as "Ringmaster Jacques Trousseau," eclectic music spun by DJ KZL and a live show by magician David Jowers.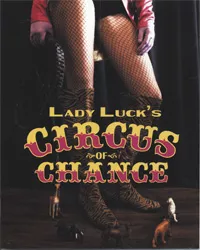 What's more, it'll be held under a (fairly) Big Top — the newly erected tent which covers this eatery's courtyard on MLK, Jr. Blvd. As they're a full-service restaurant, this party is open anyone 18+, although you must be 21+ to imbibe. Learn More: seeluckydoll.com. Fri., 10 pm, Blowin' Smoke BBQ - 18+.
Entropy
This award-winning and crowd-pleasing Athens sextet returns (after what some might consider too long an absence) to "funk up Valentine's Day." Named "Best R&B/Soul/Funk Act" a few years back by the reader's of Atlanta's Creative Loafing newspaper, this solid, dance-oriented combo takes their cue from George Clinton (leader of Parliament-Funkadelic's extended family of interconnected groove machines). Like that icon —who they recently opened for— Entropy throws soul, rap, funk, R&B and dead-heavy instrumental workouts into the stylistic blender — along with abstract, tongue-in-cheek spoken segues and bizarre-yet-positive lyrical conceits.
------------------------------------------
Here's a pro-shot, chank-heavy clip of the band laying it down at the Georgia Theater in Athens a couple of years back:
------------------------------------------
ans of James Brown and Prince may also find much to dig about this group devoted to "remedying the depletion of pure funk on the planet." Listen & Learn: entropyfunk.com. $7 cover (women admitted free). Sat., 10 pm, Live Wire Music Hall.
Brian Fillmore, Bear Like Strong, The Frontier Bros.
This "Anti-Valentines Type Thing" serves as the debut solo performance from a locally-based singer/songwriter who's worked before in full-band formats and cites indie-rock and Americana acts The Used, Maria Taylor and Guided By Voices as current influences. This "fresh start" finds Fillmore on classical guitar accompanied by programmed beats and live-generated sample loops. He and DJ Bear Like Strong (aka Brandon Zellars, spinning pop, country, '80s hair metal, hip-hop and oldies) alternate mini-sets — and all tunes will deal with loneliness, rejection and lovesickness. "We're not bitter," explains Fillmore. "We're just trying to have a little fun." Rising Austin, Tx. glam band The Frontier Brothers closes with a midnight set of baroque, aching chamber pop that's been described as "the love child of Randy Newman and Stephen Malkmus."
------------------------------------------
Here's The Frontier Brothers (sans their usual space suits) playing "The Robot Song" in a Tx. club:
------------------------------------------
Listen & Learn: thefrontierbrothers.com. Fri., 9 pm, Hang Fire.
Footloose
This popular touring musical is based on the cornball '80s film of the same name. You know, the one where uptight preacher man John Lithgow gets all hellfire and brimstone on the daintily rebellious Kevin Bacon's fancy dancey pants? In the neverending search for live theatrical productions with instant name recognition, this basic cable mainstay (and it's soundtrack —featuring dated, overblown tunes like "Holding Out For A Hero," "Almost Paradise," "Let's Hear It For The Boy" and, of course, Kenny Loggins' theme song— was a safe bet. It received mixed reviews initially, but has (not surprisingly) become one of the shows most frequently performed by high school drama departments. This tour celebrates the 10th Anniversary of its Broadway debut. $28.00 - $48.00 at savannahcivic.com or 651-6556. Wed., Feb. 18, 7:30 pm, Johnny Mercer Theater.
Larry Sparks & The Lonesome Ramblers ***
The International Bluegrass Assn.'s Male Vocalist of both 2004 and 2005 has also won Album of The Year and Recorded Event of The Year. Known for rich vocals and awesome acoustic guitar technique, he's a living legend of the genre, and yet another impressive booking for this small, smoke and alcohol-free family-oriented listening room.
------------------------------------------
Here's a vintage Nashville Network clip of Larry from back in the day:
------------------------------------------
Listen & Learn: larrysparks.com. $25 adv. tix at randywoodguitars.com or 748-1930. Fri., 7:30 pm, Randy Wood's Concert Hall (1304 E. Hwy 80, Bloomingdale) - ALL-AGES.
Unknown Hinson
A flat-out AMAZING electric guitarist, this N.C.-based "King of C&W Troubadours" also voices the character of Early Cuyler on the Cartoon Network's Squidbillies series. Onstage, he cuts an imposing, vampirish figure in all black, with stick-on sideburns and faux fangs, and many of his tounge-in-cheek songs are unabashedly misogynistic.
------------------------------------------
Here's a short interview with Unknown in which he dispels the rumors of his vampirism (or even of his interest in Goth culture):
------------------------------------------
Hinson's send-up/mash-up of Golden Age Nashville and the era of self-indulgent rock guitar trios (think Cream or the Jimi Hendrix Experience) is an impressive hoot and something anyone whose sense of humor is not easily offended should take in at least once.
------------------------------------------
Here's a low-budget music video for his early release, "Sweet Pain":
------------------------------------------
His local shows often sell out, so consider advance tickets. Listen & Learn: myspace.com/unknownhinson. $12 adv. / $15 at door. Sat., 10 pm, The Jinx.