A staged reading of the Greek comedy Lysistrata will take place Sat., July 6 at Club One.
The reading is put on by the Lysistrata Project, headed up by casting director Chad Darnell, which he started as a response to HB 481.
"What's funny is, I came up with the idea to do this staged reading," Darnell remembers, "and I reached out to Alyssa Milano and the very next day is when she announced her hashtag Sex Strike. I'm not saying she stole my idea, I'm just saying it's very interesting timing!"
The premise of Lysistrata is simple: women stop having sex with men until their demands are met. Lysistrata is tired of the Peloponnesian War and tries an unconventional tack to end the war.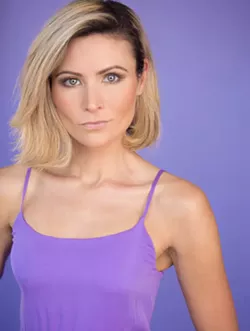 "She comes up with a plan basically gathering all the women together to say, 'Look, we can do this. We have power,'" says Haviland Stillwell, star of the play. "Yes, the story is really funny and silly, but at the heart of the matter, she does what all good leaders do, which is to tell disenfranchised people that, in fact, they do have power and a voice. Through the lens of this being a comedy, it still is about a group of oppressed people, in this case women, who finds their voice."
"The irony is that as this time when women and our bodies are in the political crosshairs, to hear this play and what Lysistrata is saying and proposing, this sex strike is that they use their bodies, the very thing that's being threatened, as a weapon," says Andrea Frankle, director of the reading.
The project stars mostly local actors, a conscious choice.
"The whole project is a collaborative of artists and theatre people, but also businesses," says Darnell. "We wanted to make sure the cast was made up of people from Savannah, so it's the local Savannah theatre and film community."
Stillwell and Darnell go way back—he used to babysit her—and reconnected in Los Angeles.
"He feels like family to me," Stillwell says. "We're similarly aligned as far as our morals and values, so that works out. We're kind of on the same team, as it were, as much as I hate to do a sports metaphor about human rights, but that's where we're at."
Actress and acting teacher Andrea Frankle directs the production.
"When projects like this come up, obviously I can't say no," Frankle says. "I was humbled and honored to be able to take up the task. One of the points of this project is to provide a venue and a way to rally all these progressive voices that feel really silenced right now."
Proceeds benefit equally the ACLU and Planned Parenthood Southeast, an important fundraiser for them at this moment. Last Friday, the two organizations along with SisterSong filed a lawsuit against Governor Brian Kemp and others in an effort to block the law from taking effect.
HB 481 has proven especially damaging for Georgia's growing film industry. When the bill was signed into law, high-profile figures like Milano urged for a boycott of the state by the film industry, a fact that Darnell takes issue with.
"Alyssa Milano has been very polarizing in this whole debate," he says. "But the fact that she called for a boycott of our industry while she was currently shooting a TV show in Georgia didn't sit well. It's really a slap in the face, as an artist, to have people who you call friends saying, 'Boycott Georgia—but sorry you're out of a job, but this is the greater good.' I don't believe this is the greater good. I absolutely believe in stay and fight. I believe this is unconstitutional, I believe this is unhealthy and unsafe for women, and that's where I stand."
Darnell explains that Los Angeles just doesn't have the room for all the productions that need to film thanks to the expansion of programs offered on streaming services, so filming in Georgia is necessary. Frankle agrees.
"Taking away the jobs is not going to solve the problem of political power," says Frankle. "Just leaving and taking away the jobs is only going to hurt us. It doesn't take a rocket scientist to figure that out. There's 92,000 of us that are employed in the industry [in Georgia]. That's billions of dollars. That's why I really appreciate when Netflix and Disney came out and said, 'You know what, we agree this is troubling, and we're going to reevaluate come January, but right now we're going to stick it out.'"
Stillwell hopes this reading inspires others to take action as well.
"I think we're living through such an exciting time as a species, to be honest," says Stillwell. "We're witnessing and experiencing such a massive wakeup call. We all need to be doing things and going to where we're moved to go, as far as organizations or causes. I think there's a massive network of organizers and organizations that are already on the ball. For all the great people who are passionate and saying, 'I want to do something,' there are so many opportunities to jump into a river that's already flowing. You don't have to make the water from nothing; you can jump into the flow and we're all in the water together."
CS