Maggie Evans is one busy lady.
This semester, in addition to serving as a part-time Professor of Foundation Studies at SCAD, she was appointed as a Joan C. Edwards Distinguished Professor in the Arts at Marshall University, Huntington, VA.
Then there is her rigorous training for her newfound passion for competitive cycling (she clocked over 9,000 miles last year) and, of course, her regular performances and recording sessions as a professional jazz singer and bass guitarist. Readers may have seen her and husband Jackson Evans play at private events with such acclaimed local musicians as Howard Paul, with John Brackett at Hilton Head's Redfish Restaurant, or with Jody Espina at Savannah's Rancho Alegre Cuban Restaurant.
Somehow, in addition to all of this, Evans steadfastly carves out time to paint and, as she explains it, "to examine human social structures and the internal struggle between the need for individuality and the need for inclusion."
She has had 16 solo shows, several artist residencies, and a full fellowship to the Vermont Studio Center, all the while deepening and developing her starkly lonely, mostly monochromatic, and beautifully constructed paintings and installations.
I wonder how such a vivacious and outgoing young woman can create such somber, dystopian work!
To find out, I met with Evans in her home studio, located in a small, well-lit building behind her Gordonston home.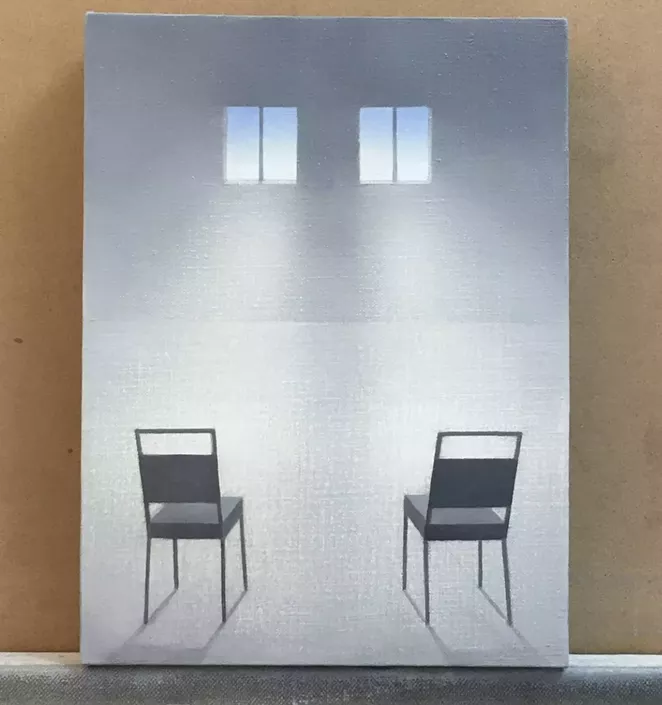 Growing up in the mountains of Utah as the daughter of accomplished musicians, Evans performed and competed as a classical pianist. She also played French horn in high school and discovered a talent for electric bass playing in her brother's grunge band.
Yet, when it came time for college, Evans heeded her father's advice. He told her to choose her most favorite thing to do.
"If you make that your career," he said, "It's the secret to happiness." So even though she didn't consider herself a particularly good artist in high school, she enrolled for a degree in Illustration.
"It was more fun than music and I felt compelled to make stuff. My grandfather was a painting professor and head of the department at Utah State University. He was such a deep influence. In undergrad school. I was in his studio all the time, showing him what I was working on and getting his feedback."
The push and pull between art and music continued after college. Evans was accepted to SCAD to study for an MFA in Painting.
"As we were getting ready to move to Savannah I knew I'd have to focus solely on art. I remember having the thought that I'd better appreciate this last gig in Utah. When we arrived here, Jackson found work teaching guitar lessons at Portman's. We were in our early twenties and pretty broke. But then I played a gig with a blues band, and it turned into five-nights-a-week all through grad school. At some point, I realized I can do both. I told myself, 'This is who you are. You are a Gemini with a side that wants to be by yourself in your studio all day, and a side that needs to be expressed outwardly on the stage.' I think I would feel very unbalanced if I couldn't do both."
It was while playing with the blues band in City Market that Evans first started painting in her signature, detached style.
From the stage, she observed patrons coming and going and began making gestural, smoky drawings of them in charcoal. Then, she started drawing the club after the patrons had left…the way the chairs were arranged in the empty space.
"The story that was left behind" is what interested her, and her work gradually transformed into the "psychological interiors" for which she is known – the social interactions without humans. She even made over 300 little chairs to set up and photograph in various detached configurations.
It was a year-long postgraduate school residency in China that really solidified Evans' newfound style. Everyone, including her husband, thought "I was totally crazy" to accept the Chinese Government Scholarship. But it was a life-changing experience.
Jackson, encouraged by their friend Jody Espina, relented, and joined his wife for the adventure. Serendipitously, there was a jazz club across the street from the art school (the China Academy of Art in Hangzhou) and soon they were both playing six nights a week. In fact, they were so happy, they agreed to be flown back and housed by a "nicer" jazz club (J Z Hangzhou) for a further six months after her residency ended.
That second visit to China was the inspiration for bringing buildings into Evans' work. She sketched from the window of her apartment.
"The buildings were such a different way for me to look at human society and the fabricated world we've created."
She shows me a piece called "Status" which explores how buildings reflect one's perceived station in life.
"Especially there, where the Communist system has society so rigidly stratified," she says. (In further proof that her time in China was "meant to be," she and Jackson became good friends with a Swedish bassist, brought him and his pianist to America for a tour, introduced him to her sister, and gained a brother-in-law!)
Why does this vibrant risk-taker have such subdued paintings?
"I find color so distracting," Evans tells me. "I've never felt compelled to have color in my work. (And I'm teaching color theory to my students right now!) I've always been drawn to neutral things and to drawings in particular. That feels honest and raw. There's nothing between me and the canvas – it makes it very immediate."
Even though her work has changed over the years, becoming lighter and lighter in value, she says she's never changed her color palette.
"I love yellow ochre, ivory black, ultramarine and titanium white. I use linseed oil as the medium and paint in very thin layers. Then I'll take sandpaper and sand the paint away. It's like using an eraser on charcoal. I'll go back over it again and again until the surface glows the way I want it to."
Her paintings can take months to complete, and she has several in process at a time.
Some of the work for her upcoming summer show in New Orleans have hints of staircases: "Just another way to move through the space," she says. "I'm curious about this surreal aspect. The stairs are compelling. And then experimenting with leaving faint traces of the chairs to evoke the different people who have come in and out of our lives – very subtle – because we're comprised of layers of experiences. I'm just letting the chairs evolve. I think when I'm done with them, I'll know."
I left my studio visit inspired and impressed…. the dichotomy between the rigid uniformity of Evans' painting and the spontaneity of her jazz continues to intrigue…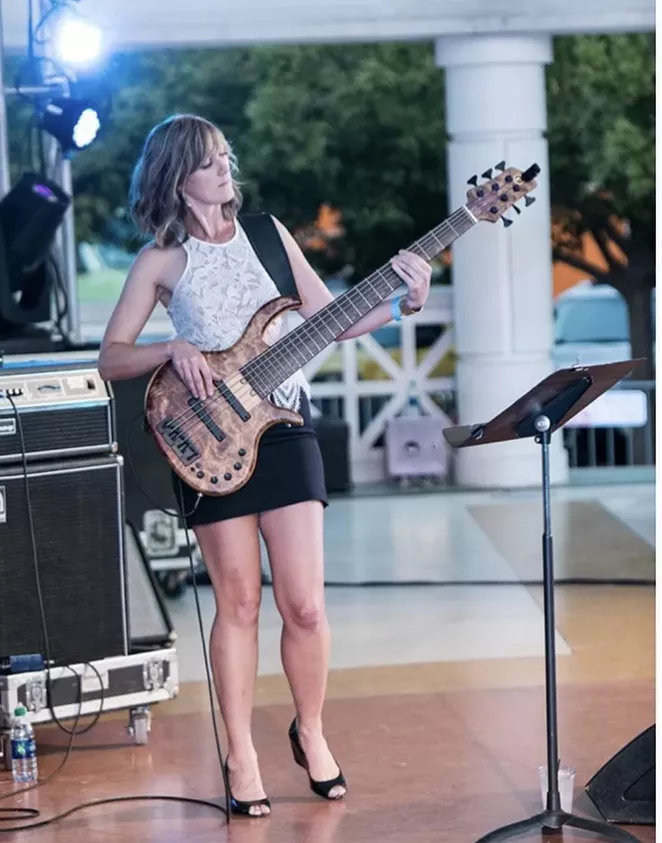 Catch Maggie and husband Jackson perform every Wednesday at the Red Fish Restaurant on Hilton Head and every Friday and Saturday at Rancho Alegre Cuban Restaurant in Savannah.
Find her work at the J. Costello Gallery on Hilton Head (jcostellogallery.com), at the Jonathan Ferrara Gallery in New Orleans (jonathanferraragallery.com), and at maggieevansarts.com and Instagram.com/maggieevansart