WHEN most people think of a "typical" marathon runner, they probably think of someone very thin. And very white.
Mirna Valerio is neither, but is in a sense a more "typical" runner than most. She runs simply because she loves running.
She spreads that simple message in 'The Mirnavator,' one of the many excellent films screening at this year's Mountainfilm On Tour Savannah.
At about 250 pounds, Valerio routinely runs — and completes — marathons and ultramarathons, and does quite well. She has authored a book, A Beautiful Work in Progress, and a blog, Fat Girl Running, about her struggles and successes as a runner outside the usual cultural norm.
"Everyone, no matter what size or shape they are, should have the opportunity to do something that makes them feel good about themselves," she writes. "Running definitely does that for me. It helps me to face any obstacles I might encounter with confidence, strength, and self-assuredness."
Unlike many runners, however, Valerio didn't discover the joy of running later in life.
"I was an athlete in high school. I competed in field hockey and lacrosse. For me, running was how I got in shape, and stayed in shape in the off season. And that love stayed with me," Valerio tells Connect.
She also, like many other runners, enjoys the endorphin release.
"Oh, that's a real thing, believe me," she laughs.
As an African American woman in a predominantly white pursuit — and a woman with a less-accepted body type — Valerio has faced some obstacles as difficult as some of the hills she's traversed.
One particularly compelling segment of the film details one of the attacks she has received, in this case from someone who emailed to call her a "liar and a fraud" and who wants to "further fat acceptance and people to kill themselves in your perverse idea of beauty."
Valerio says thankfully that isn't the usual response she gets.
"I was shocked that someone would take the time and energy to respond in that vicious a manner. While I do occasionally get messages like that, the vast, overwhelming response to me and to what I do has been hugely positive," she says.
"But there are always one or two assholes in every group," she laughs.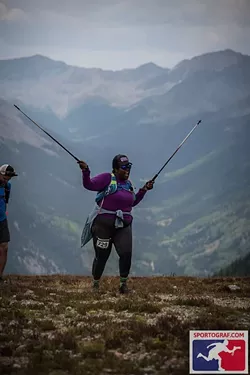 Valerio says that while it's often assumed that she faces a lot of outright racism, according to her that isn't quite the case.
"You may have seen that in the National Geographic story," she says, referring to a recent profile which said she was a frequent victim of racism. "But that's not really accurate — I have very rarely personally experienced any individual racism while I've been doing this."
She does, however, say that the sport as a whole does have issues to contend with.
"For me, the issue much more comes down to the fact that almost everyone making decisions in the sport of running is male, and the sport itself is overwhelmingly white – from the participants to virtually all of the media covering it," she says. "And that would be closer to what we would call a form of institutional racism."
Valerio is all about encouragement, and she says that runners run for all kinds of different reasons. But one piece of advice she would give is:
"Find your tribe. Find a group of people who will support you. Whether it's a Facebook group, or any other way to meet people who will make it fun, and make it a positive experience."
cs