BE IT in a fluted glass or a red Solo cup, partaking in adult beverages is undoubtedly one of Savannah's favorite official pastimes. But it wasn't always so.
In fact, the very first act of alcohol prohibition in America was decreed right here on the cobblestones by General Oglethorpe himself in 1735, who asked King George II to issue orders that "NO Rum or Brandy nor any other kind of Spirits or Strong Waters" shall be brought to the city.
All forms of alcohol were banned in the colony of Georgia—along with slavery and lawyers—for a time, anyway. But nothing could dampen Savannah's relationship with "strong waters." (Just ask Shia LaBeouf.)
Despite renewed efforts to ban booze throughout the centuries, bootleggers, barkeeps and moonshiners made sure the city's cup runneth over.
"It was called the 'spigot of the South,'" explains Kayla Black, the general manager of the new American Prohibition Museum in City Market.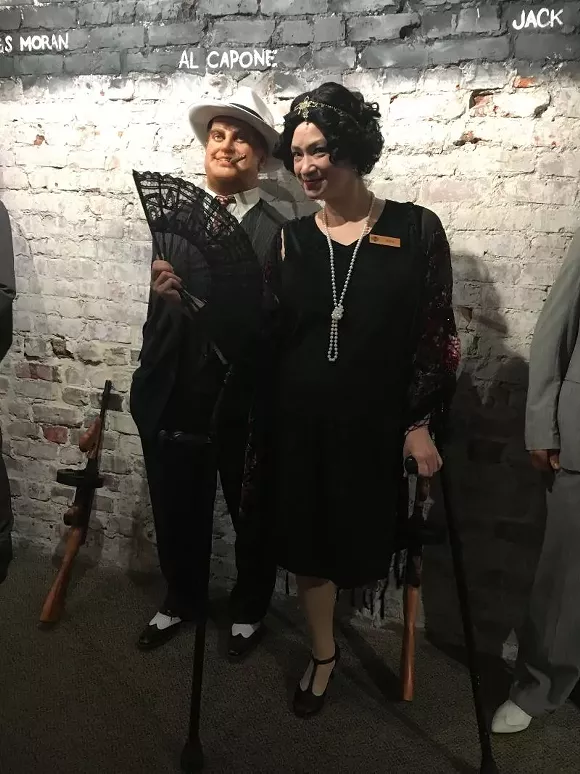 "When Georgia went dry in 1908, Savannah threatened to secede and form the 'State of Chatham.'"
Savannah figures prominently in the Temperance Movement that led to the 18th Amendment, chronicled through the museum's two-floor exhibition of fascinating memorabilia and hi-tech multimedia.
Black says the 5500 sq.-foot attraction has been a hit since it opened its doors on Memorial Day weekend, often doubling its projected two hundred visitors a day. (It might have something to do with the fact that's it's the only museum in town with a full bar, but more on that later.)
Visitors are greeted by expressive, life-size wax figures created by the folks at Potter's Wax Museum in St. Augustine, and both share a parent company with the wildly popular Boston's Tea Party Museum and Key West's Shipwreck Museum.
The American Prohibition Museum is run by Old Town Trolley Tours, who along with the Georgia Historical Society helped source authentic local artifacts and thread Savannah history into the museum's narrative, making it a fascinating stop for locals and tourists.
Vintage bottles and a cooktop moonshine still recovered from a local home are on display, as well as remnants of alcohol-free items sold during Prohibition by big brands, like Coors Malted Milk and Yuengling ice cream (the beer company recently revived its foray into the dairy business and released its "Butterbeer" flavor this summer.)
The interactive installations—including talking portraits of America's beer forefathers and a whiskey gutter that recreates where children used to fill buckets for their parents off the street—are educational and entertaining for all ages.
Famous teetotaler Carrie Nation, known for wielding a hatchet that she used to tear up illegal bars, gets her own corner, and aspiring flappers can don a cloche hat and practice their Charleston in a full-length mirror.
But it is actual humans that bring the exhibits to life: Local actors in period dress serve as informed docents and captivating storytellers, riffing on their characters.
"If anyone has any illegal booze, I make sure they bribe me," says Justin Kent with a wink, dressed as an Eliot Ness-style federal agent. Depending on the day, the Odd Lot improv vet also plays a gangster in service of Al Capone, another important historical figure in the Prohibition era.
Capone's legend is recounted by beloved theater pro JinHi Soucy Rand, who emulates the Roaring 20s in a drop-waisted dress and feather headpiece.
"Everyone has a Capone story," says Rand of one of the most popular rooms in the museum. "Half the time, visitors here are telling me about their connections."
The docents also work to put Prohibition in context with other facets of American culture, including the rise of the KKK, NASCAR, the federal penal system and women's rights.
"It's no accident that the 18th Amendment and the 19th Amendment, which granted women the right to vote, passed at almost the same time," reminds Rand of the suffragettes.
Adds Black, "Women led the Temperance Movement because their home lives were stymied by public drunkenness. They also led the movement to repeal Prohibition when they realized the speakeasy culture was claiming their daughters."
Speaking of speakeasys, a plain door with a suspicious pair of eyes peeking through a slot leads to a finely-appointed barroom, known only by its descriptor, Congress Street Up. Those who purchase an $8 drink ticket with admission can offer it up here for a Prohibition-era beer or signature craft cocktail, including a swill of Chatham Artillery Punch made from the original 18th-century recipe. "It's not the jungle juice version," assures Black.
Underage visitors have their own section, and everyone passes through Capone's chop shop to exit through the gift shop.
Once the museum closes at 5, however, the party is just getting started. Those 21 and over enter through the red door at 220 West Congress for an expanded drink menu with special treats like a Brandy Alexander float made with Leopold's ice cream. Proper attire is required; "dress to impress" like you would for an upscale dining experience, implores the website.
"We take mixology very seriously," says bartender Amelia Thompson. "We want to serve the best craft cocktails in Savannah."
The American Prohibition Museum is open every day except St. Patrick's Day, when all of Savannah celebrates its freedom to imbibe.
But if you're looking to liquor up at the speakeasy, don't go on a Sunday, when a throwback to local blue laws means that the museum doesn't serve booze at all.
"See? There's a little bit of Prohibition still with us," says Black with a grin.
cs