With radiant charisma and a rivetingly engaging performance, pianist John Burke is smashing expectations with each strike of an ivory key. The Atlanta native has spent his life exploring different arenas of piano music—classical, ragtime, rock 'n' roll, and more—in order to craft a truly unique style of his own.
Burke's original compositions possess an inherent grace and magnetic knack for melody; live, the songs come to life with Burke's fiery passion for playing.
We spoke with Burke about his new album, Orogen, merging his varied influences, and finding musical inspiration in the wonders of nature.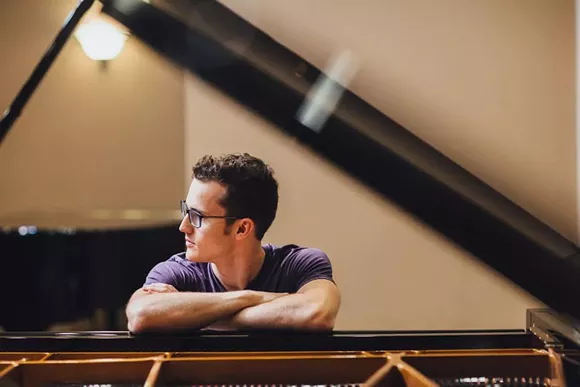 Growing up, was your household a very musical one?
My dad was a musician. I was surrounded by music—he played piano—but a lot of it was '60s and '70s music. My dad grew my sister and I up on the Beatles, Rolling Stones, Crosby, Stills and Nash, a whole list. I grew up with a lot of emphasis on melody. My dad really liked jingles, so I guess that crafted my love for a good melody in a song.
How did you develop your style?
My dad started me on chords and scales. I took a few lessons and learned classical music, but as I got older, I played in a blues and Southern Rock band. I learned blues licks and chords and got into ragtime a little bit—I love high entertainment music.
As I've gotten older, I fell in love with George Winston, who plays folk piano on the opposite spectrum, and I fell in love with The Doors, keyboard music and organ, fusing those together. Now, my music is a mix of ambient, new age music that's active, energetic, and kind of funky!
What was it like going from playing in a band to performing solo?
I was in [John King Band] and loved it so much. It was so fun to play with guys and we all got along, played all over the place.
Going solo was a lot different from a marketing perspective. I had to learn how to show the world that me—and just me—is important. It's difficult as a solo artist. You get a lot of freedom, because you don't have to run it by anyone else, and in that regard I liked going solo. Musically, though, you're the only instrument. I have this notion where I need to fill in gaps and make a very full sound. When I play alone, I like the challenge of what I can do to manipulate my hands to add a full sound.
You're coming to town with a new album. Can you tell us a little about it?
This album was a new progression in my sound. It did this play on melody. Melody is really important to me, and I have an underlying melody that grows throughout the album under main themes of the album—you have to listen hard to find it. That took a lot of work, molding that melody and introducing it into each different song and trying to not make it sound out of place. The research took much longer than writing the music itself.
What kind of research do you do to prepare to write an album?
I like looking at the natural sciences for inspiration. This last album's about orogeny, the birth of mountains. I make sure to steer clear of phony articles—I look at science reports, I look at journals, I'm very careful where I look at my sources. And also if I have someone who is somewhat familiar with this field, I go to them.
The name of the album is Orogen, which is the region of the earth's crust where mountains are formed. There's tectonic plates pushing, shoving, causing deformations and forming what we know as mountains. I liked the idea of making each song represent a tectonic force—big one, small one, one within each piece. You hear this kind of out-of-place melody that grows bigger and bigger. The first song, you hear a little, whether you catch it or not. You'll hear it on the next song, but maybe in a different key or rhythm. I take that melody, put it in there, and then, with a third song, you hear more of that and at the end of the album, you hear the entire melody.
The album is making a mountain—that's what each piece is: a tectonic force pushing a melody mountain. Musically, I wanted to have songs that were strong, difficult, and in-your-face. I don't like writing background music. Piano music is often conceived as background stuff, and that's great, but I wanted to write music that requires active listening. A lot of the songs are strong and out there, but all have something underneath and brewing, whether that's a slower moving song, a sweeter song, or a crazy, in-your-face, active, fun song.
CS