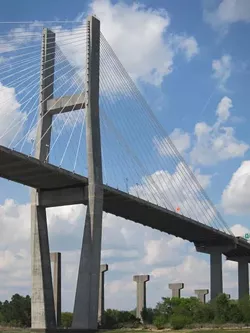 IT'S ALWAYS a relief when it appears in our windshield.
The double-H piers poke into view as we barrel east down the two-lane anxiety attack of Highway 17, past the shabby strip clubs and cavernous fireworks warehouses, and we know we're almost home.
The green river sparkles on either side of the car as we approach the incline, a stretch of road so close to the water it feels like we're hydroplaning.
Then we're lifted above the world for a brief moment, taking in the expansive view of where we live, from the church spires and the port cranes to the gold ribbons of marsh and the ominous blue tanks of Elba Island.
A few seconds later, the Talmadge Memorial Bridge drops us into Savannah and safely across the state line, where we ignore the homeless camp inside the cloverleaf and do our best to believe that life is more civilized on this side of the border.
But as we shake our heads and snicker about those rednecks in South Cackalacky clutching their Confederate flags to their tobacco-stained Duck Dynasty T-shirts, let's remind ourselves once again exactly who is memorialized on this shiny, cable-stayed gateway to our fair city.
Obsequiously referred to as one of Georgia's most "colorful and controversial" politicians, three-term governor Eugene Talmadge was a straight up KKK racist who, during the Depression, told President Roosevelt to take his New Deal and stick it where the sun don't shine. He ran his 1946 campaign on a platform of white supremacy, and recently uncovered files reveal that he openly advocated the lynching of black citizens. He was, agree many historians and other modern thinkers, a tremendous asshole.
Yet voters (those who weren't intimidated away from the polls, anyway) kept on electing him, and when the State Highway Board built the Interstate over the river in 1953, they gave it his name. You'd think there would have been an opportunity to correct this embarrassing affront when the original bridge was torn down for the more modern truss in 1991. Instead, the Georgia Assembly passed a resolution to carry on the Talmadge name—and by proxy, his nefarious legacy.
Yup, it's 2016, and Savannah's most recognizable modern icon is still named after Georgia's most recognizable racist (#sorrynotsorry Lester Maddox). Honey Boo Boo might as well be twerking on the steps of City Hall for the backwards message it sends to visitors and citizens alike.
"We cannot, on the one hand, celebrate the racism of yesteryear and then on the other scratch our heads claiming confusion over the absence of black-owned businesses on Broughton Street, or over the higher-than-national-average level of poverty in the city," admonishes legendary local poet/activist Aberjhani, who wrote a lengthy essay about this ironic injustice at writingjunkie.net and kindly updated his thoughts in a recent email.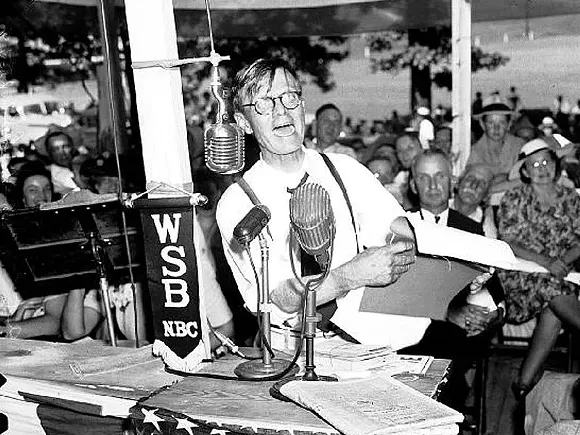 Whoa whoa whoa with the political correctness, say the reactionaries. We've got monuments to all kinds of racist historical figures around here. What's one more?
As Aberjhani puts it, "there is a big difference between maintaining a Confederate statue that marks an authentic historic site of the Civil War and declaring a major public thoroughfare and landmark as a memorial to someone who openly advocated racial oppression."
Plus, "the wild man from Sugar Creek" ain't from anywhere around here anyway. Eugene Talmadge's kinfolk hail from the Atlanta area, so he's about as locally significant as Jane Fonda in a Falcons jersey.
Yet efforts over the years to change the name of our bridge—to Oglethorpe, to Tomochichi, to anything else—have always fizzled.
The most recent one came three years ago, when an op-ed by the Georgia Historical Society's Stan Deaton sparked a new cycle of outrage—and this time, local legislators got on board. Supported by a vocal grassroots campaign, House Reps. Ron Stephens (R-Savannah) and Craig Gordon (D-Savannah) led a bipartisan, racially-diverse delegation to the state assembly to submit a bill that would scrub the bridge clean of its bigoted associations.
Guess what happened? Nothing. The GA closed its session without hearing from the delegates—some of whom reported they were browbeaten in the halls by the current generation of the still political and extremely territorial Talmadge family. (Eugene's son Herman succeeded him in the governor's mansion after the Three Governor's Controversy of 1947, and his grandson was a longtime U.S. Senator.)
"One of the gentlemen...was essentially pushing us up against the wall," Stephens was quoted in an April 14, 2013 Savannah Morning News article. "How did he put it? He said, 'I'll raise $100,000 just to beat ya'."
Those dynastic intimidations clearly worked, though democracy has a funny way of rearing its beautiful head.
"I am still a proponent of changing the name. It's what's best for tourism and the city. It's worth going through the process," vows Gordon, adding that many local African Americans refer to the contentious causeway as "The Savannah Bridge."
Political and social capital are being rebuilt once again with the vision of multimedia artist Lisa D. Watson, who recently launched Span the Gap, a community action project and a celebration of the new bridge's 25th anniversary.
A self-proclaimed "infrastructure nerd," Watson portrayed seven local bridges in a plethora of materials for last year's "City Traversed," her stunning one-woman show in the City Hall rotunda. She's been vexed ever since that the moniker of the old cantilevered Talmadge bridge carried over to our current marvel of modern engineering.
"I believe this bridge deserves its own identity," she says, noting that the similarly-shaped Jekyll Island connector is named after poet Sidney Lanier, which perhaps paves the way for Savannah's own man of letters, Conrad Aiken.
"But let's do this in a positive and unbiased way—let the people fill out a neutral survey."
The Span the Gap questionnaire went live at Survey Monkey last week and has already garnered several hundred responses. Watson hopes to meet the 5000 mark and show local politicians there is still momentum behind the movement to rebrand the bridge, though Talmadge supporters are also free to fill out the survey.
Watson's aesthetic appreciation of the bridge itself lies at the heart of the matter, and she is curating an exhibit of 25 artists' interpretations of the Savannah span, opening at Oglethorpe Gallery in June. Recognizing that family loyalties die hard, she also proposes a memorial to Eugene Talmadge as part of the project—on the remains of the original bridge where it belongs.
"I get that there are people who think we're trying to 'change history.' This makes no sense to me," shrugs the artist.
"Why can't we be a part of history, too?"
Well, thus far it seems because the will of Savannah's citizenry has been thwarted by the intimidation ploys of a few bullies—tactics familiar to Eugene Talmadge, who used them to oppress and abuse anyone he didn't like. That's what we're memorializing unless we support our elected officials in getting this done already—not next session, not next election cycle.
"It should not be necessary in 2016 to stage marches across the bridge or have sit-ins on it to disrupt the illusion, or delusion, of normalcy in order to bring about a crucial intelligent change," counsels Aberjhani.
It shouldn't be necessary, but maybe that's what it will take. It actually sounds pretty awesome: To climb to the apex of that two-mile marvel with our neighbors and friends as the giant ships sail beneath, hand in hand as we stand up in the name of connecting Savannah with the right side of history.
cs