Sulfur Studios has been illuminating the Starland District with a slew of all-ages shows; now, two beloved acts are coming through Savannah for a rare performance in the gallery/studio space.
Folk-pop/punk band Nana Grizol, rooted in Athens, Georgia, has emerged from a bit of a slumber to dust off material from its two acclaimed full-lengths, break out some new tunes, and bring its jovial, politically-charged spirit across America.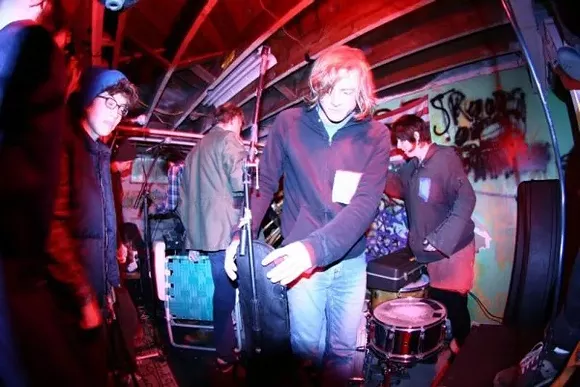 Toby Foster of Indiana queer-positive pop-punk band High Dive is in on the fun, too, playing a solo set.
The brainchild of Theo Hilton (a member of beloved folk punk band Defiance, Ohio), Nana Grizol crafts gentle, deeply human songs about growing up, exploring friendships and romances, savoring the little things, getting freaked out by the big picture, and looking for love in everything. It's kind of a perfect show for the holiday season.
After the lauded release of their sophomore LP, Ruth, Hilton moved away from Athens and shifted his focus toward his education.
"I finished college, and then right now I'm working on a master's degree in Urban Studies, which is a way to take enough social sciences so I can teach college," he says.
The reemergence of Nana Grizol is quite organic, much like the nature of the project as a whole. Hilton often plays a solo set with friend Madeline while home in Athens for Christmas; this year, the holiday reunion has grown into a cross-country tour for Hilton and his bandmates, and fans are thrilled to see their return.
On lead vocals and guitar, Hilton is surrounded by excellent company: Laura Carter (a member of both Neutral Milk Hotel and Elf Power) on trumpet, clarinet, and drums, Robee Cucchiaro (Neutral Milk Hotel member Julian Koster's project The Music Tapes) on trumpet, euphonium, and vocals, Matte Cathcart (of Landlord) on drums, and Jared Gandy (of Zumm Zumm) on bass, guitar and vocals.
While it's been a minute since a full-band Nana Grizol show, Hilton doesn't really think of this tour as a reunion.
"We're all around and like to hang out, and this is the easiest way to do it!" he says with a laugh.
As the year wraps up and we find ourselves longing for positive thinking and words of encouragement to start 2016 off right, get a jumpstart with the lyrics of Nana Grizol. Some of our favorites are below; give 'em a spin, and perhaps you'll have them down in time to sing along at Sunday's show!
"And we settle and it's so strange the way that people in situations change you got caught up in some crazy current now it seems as though we speak a completely different language but you'll always be as beautiful as the moment that we met."
"Blackbox," Ruth
"It should be unlawful to live where you can't see the stars."
"Circles 'Round the Moon," Love It Love It
"Cynicism isn't wisdom
It's a lazy way to say that you've been burned."
"Cynicism," Ruth
"But when I'm 9 hours on a bus, I look at photographs of us and I truly do believe it's what we need: To go back to Portland or Even anywhere in France, And find that shiver for your spine To keep you growing like a vine, And baby never stick too close to your plans. And the best books of our lives are Being written all the time, but Not even one of them is anywhere close to finished yet."
"Everything You Ever Hoped Or Worked For," Love It Love It
"So you remember to eat dinner, remember to feel better, remember your friends, they'll think that you forgot them if you only write secret letters. Remember not to focus on those feelings that you lack; You just might give yourself a heart attack."
"Stop and Smell Thee Roses," Love It Love It
"And a song well sung is a sung well song so sing. If nothing else, you must remember that you're still breathing."
"Tambourine-N-Thyme," Love It Love It