BY THE TIME you read this, we'll be right in the middle of National Library Week.
From April 7 through 13, we celebrate our libraries and the services they provide our communities.
One of the services Live Oak Public Libraries offers our community is programs like Stories and Sketches, the fun, free program led by children's book author and illustrator José Lucio.
For the rest of the month, Lucio will visit libraries in the area on a rotating basis for an hour-long program full of drawing and reading.
Lucio's latest book, "Morty and the Moon," is his third.
"Primarily, I'm an illustrator, so I use the term 'author' very loosely," laughs Lucio. "People are like, 'Oh, you're an author!' And I'm like, well, as long as I'm writing for five year olds!"
Through the process of writing three books, Lucio has honed the art of writing to children.
"Honestly, kids are going to let you know. If your book sucks, they'll let you know," he shares. "They don't pull any punches! I do bump into other people at festivals and I think, in a general sort of way, people have this mindset of, 'Oh, I'm older than kids, I know more than they do, so therefore, of course I can write to them. It's not just that. It's psychology, it's tactic, it's engagement. You have to think about how it's going to hit them and how they'll react to it. I got lucky with my first book. It has all those elements locked into it, like the kids really get into it. There's a lot of call and response opportunity—I got lucky there. I'm becoming more aware of being in this world, existing in this children's book world and thinking about these things, 'Okay, why did that work? Will that still work or was that just a passing fad?'
For Stories and Sketches, Lucio will read two books and have a drawing project focused on the basics of drawing.
"I don't want them to just draw a thing. I want them to understand, to look at things and figure them out for themselves," says Lucio. "The core of that is just drawing with shapes. There's always the kid—or multiple kids—who are like, 'I can't do it! I'm not good enough.' So I'm, like, 'Can you draw a circle? Can you draw a triangle? Can you draw a square?' And they can, by that point. Then I tell them it's like using Legos. You have to start with one piece. You can make this magical, fantastical castle in the end, but you have to start with one block."
Depending on the crowd at each event, Lucio will tailor the program for different ages.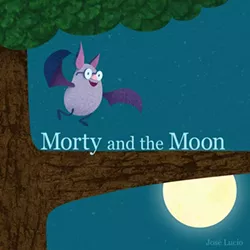 "With the little kids, we juts focused on reading and drawing, but I think there'll be a broader age range," he says. "So kids up to 12, we'll try to open it up to more about me as a professional and how they can attain their goals. This is very accessible, just the way this drawing is, even though it may seem difficult."
Libraries are important to Lucio, so taking part in events like brings it all back full circle.
"I think it's important that libraries do these kinds of programs because I know there are kids that can get left out of that, unless the library is reaching out to them," says Lucio. "I'm from a working class town, and my mom was always working. We weren't taken regularly to the library for those things, so much later, when I was older and discovered the library, I was like, 'There's so much cool stuff in here!' But without that prompt from someone to say, 'Hey, come check this out,' and then not to just be like, 'You're in the library—shh!'"
cs