Savannah's storied history is world-renowned. Travelers venture here to enjoy seeing the carefully restored homes and cobblestone streets, and think about glorious days of the past. Yet while Savannah is undoubtedly the grand Hostess City of the South, there is more to its story than is visible on its beautiful surface. The city's dark secrets of its oft-brutal history have been swept clean away to usher in the glamour and gentrification of the city's modern-day scene, but Savannah's untold horrors still lie just below its cobblestoned streets – and they are ready to be retold in a new and fascinating light. Making its official debut in March, The Savannah Underground is the city's only interactive theatrical horror performance bringing several stories of Savannah's scariest history to life. By welcoming audience members into a 360-degree set, the production becomes a fully immersive haunted experience that fans of the macabre won't want to miss. According to Kewaan K. Drayton – a co-founder of Red Eye Film Productions, the company that created The Savannah Underground – while the goal of the show is to scare people, they also want to share Savannah's dark history, and hope audiences leave wanting to learn more. Drayton said The Savannah Underground experience is more than a haunted house, and more than a historical reenactment. Attendees will interact with the actors and experience the story as they progress through the different scenes.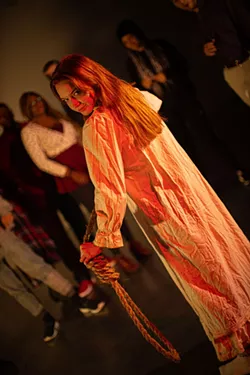 By combining historical characters and horror fantasy, Drayton and his acting troupe have created a truly terrifying experience. After staging a few preview shows at The Clyde Venue, The Savannah Underground is gearing up to perform regularly with a grand opening on March 3. While preparing for this premiere, Drayton offered a sneak peek into the production with a Connect Savannah interview.
CS: Please explain what The Savannah Underground is, and what attendees can expect. KD:
The Savannah Underground is a new immersive experience that allows both locals and tourists to experience and interact with Savannah's terrifying past. Our team has summed it all up by calling it "One Scary History Lesson."
CS: How did you and your team take it from the idea to a fully functional venture? KD:
We knew a city as haunted as Savannah needed an experience like this. During quarantine, our writer and director John Taylor Timmons carefully picked three true Savannah-based tales that each bring three different elements of horror into one experience. One of those elements is true crime horror [Alice Riley], another is unnerving and atmospheric [Hag], and the last one is just plain violent and scary [Demon House]. After the script was developed, we went to work assembling the A-team. Kristen Noel Osborne, our casting director and stage manager, cast the incredible local actors that bring each story to life. We hired the brilliant Elliot Szabo as our technical director, and SCAD students Shelby Lutz as our set designer and Mickey Green as our costume designer. … The beauty of how The Savannah Underground was built was that it was/is constructed, funded, and put on solely by Savannahians. It's a testament to how determined and creative Savannah locals can be.
CS: Please talk about your background. KD:
Red Eye Film Productions is a team of filmmakers, thespians, writers, and designers all with one goal: "To Disrupt The Predictable." … Our company is founded on many values, but number one is originality. Nothing we do is what everyone else does. Enter The Savannah Underground. Another goal of Red Eye Film Productions is to grow with the city of Savannah, and aid in that growth also.
CS: Can you share some behind-the-scenes scenarios for the audience? KD:
Behind the scenes, we spend a lot of time exploring new ideas on how to enhance the experience by adding more horrifying and interactive elements to the show. We love getting feedback from our team by creating an environment where everyone is free to contribute creatively. At the start of the first week of rehearsals, all of our actors were off book and ready to jump right into it. John Taylor worked with each actor individually to explore how everyone visualized their character, and worked that into his vision. He's a very collaborative director, and rehearses each scene with an open mind, while still keeping on track with how he wants the story to play out. Another interesting behind-the-scenes information is that we worked with a company based in Los Angeles to create the creature costumes out of 100% silicone. No hokey creature effects here … these creatures are the real deal.
CS: What do you hope people will enjoy from their experience at the interaction? KD:
We hope to scare the heck out of each guest, while at the same time giving them a deeper understanding of Savannah's dark history. We hope each guest leaves googling "Gullah Geechee culture Savannah" and "Alice Riley Wright Square Savannah."
CS: Please pick one or two actors and provide a brief overview of them and the character they play. KD:
Madison Rae Abernathy graduated from SCAD School of Performing Arts class of 2020. Along with fellow The Savannah Underground co-actor Patrick Saxon, who won Best Actor, Madison won Best Actress in the Savannah 48 Hour Film Festival. Madison plays Mary in the third and final story, "Demon House," which tells the story of the only confirmed exorcism to happen in Savannah, Georgia. … In order to exorcise the demon who possesses her, prepare to interact in the experience.
Khalief Kelly is a Savannah native who portrays the Hag in The Savannah Underground. His favorite part of playing the Hag is being able to use his body movements to scare people. He did lots of animal-movement work when training for his performance, and you can probably guess which animals he used when you see the show.
CS: What measures are in place for pandemic safety? KD:
To stay safe, we are requiring that audience members wear a mask at all times, while at the same time encouraging social distancing. Realistically, each show can hold up to 50 audience members, but we are capping it at 30 audience members to be extra safe. We are also exploring the option of checking temperatures before entering the venue.
CS: When does it launch? Schedule? Cost? Will this be ongoing or temporary? KD:
We officially launch on March 3, 2021, and we will hold three shows per day every Wednesday, Thursday, Friday and some Saturdays in March. The tickets are priced at $28.99 plus taxes/service fees. The overall goal is to keep things going, but that depends solely on the success of our March shows.
CS: Do you have anything else you would like to add? KD:
Yes! We'd like to encourage everyone to subscribe to our website to stay up to date on what we will be doing in the future. We would also like for everyone to follow us on Instagram and Facebook. cs
Visit thesavannahunderground.com for venue details, a calendar of performance times and ticketing.