What is it that they say about necessity being the mother of invention? It's a pretty simple concept: find a void in the marketplace and attempt to fill it. If you were right and execute properly, then you are rewarded. It's business 101.
Tonya Rintye and her husband Nick are counting on being right.
To this point, they have been. They are owners of the very popular Hipster Hound Pet Boarding and Groomers in Savannah. With 2 locations, they have successfully carved out a niche.Q
Now they are taking huge step in a different direction.
On to Broughton St. Right in the heart of downtown Savannah. And going after the tourist market.
The space is called "Locally Made Savannah." It's being created as a 'one stop shop' to buy anything (well, almost anything) that is made in and around Savannah: clothing, mugs and cups, souvenirs and obviously a few things that are edible.
"We used to make the rounds at the farmers markets selling our dog treats." Tonya says. "We regularly saw how many artisans there are in this area that were making quality items."
Then one day on a stroll downtown, Tonya and Nick realized that there was not one spot downtown where you could go to see everything made in the area for purchase. Of course you can buy this or that here or there, but one spot that carried ONLY local items didn't exist.
The wheels began to spin. The couple began to give the idea serious thought. Then came the 2020 shutdown. The idea went on the shelf.
Now it is not only back, but open to the public in the 200 block of West Broughton St. near Jefferson. They opened March 16 to a steady flurry of customers.
Tonya tells me putting this together was easier than you would think because they already knew what merchandise was out there because of their time invested on the market circuit.
"We got to know everyone" she says. "We went from thinking our space was too big and we wouldn't have enough merchandise to fill it to now telling each other we need more space."
She estimates they are working with about 150 different local artisans, with more calling on them every day. Certainly a good problem to have.
My reason for wanting to share this story is obviously food related.
Yes, there are a number of locally made products that you can buy there. There are cheese straws, local salsas and jams and other jarred goods. You can also find Savannah Square Pops, Hunter Cattle's assortment of jerkys and much more.
The back of the room, though, will be dominated by a soda and milkshake bar.
I got a peek earlier this week at their operation. There will be a good amount of variety, but I suspect their "Monster Milk Shakes" will be very popular.
You know the ones, complete with goodie coated cups and assorted monstrosities coming out of the top?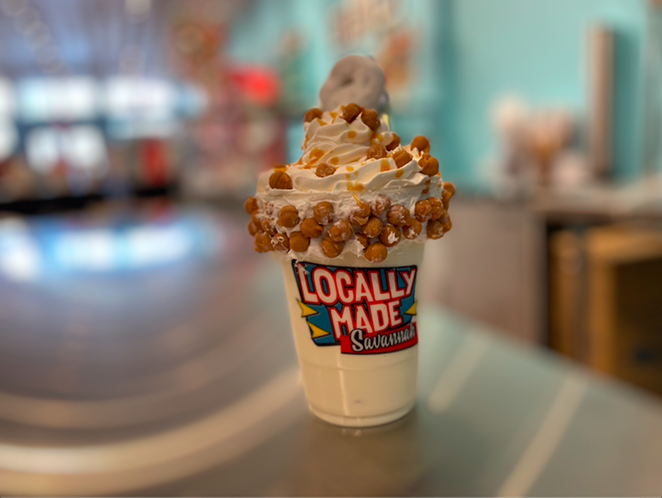 The most popular spot to offer these shakes a few years back was on Wilmington Island.
They closed during the shutdown and never returned.
I tried two of them at Locally Made Savannah.
They were delicious. As rich as you would think. Sugar intake for the week? Secured.
It's not all milkshakes though. They are going to offer a treat made with a Savannah Square Pop and local sweet tea.
"We are planning an iced tea and lemonade bar as well." she says.
Later this week, they will begin selling baked goods from Auspicious Baking Company, Two Smart Cookies and Savannah Rum Runners Bakery.
There will clearly be something for everyone. The milkshakes? Those are the eye candy they are hoping will draw some kids in, parents in tow. Boom, built in audience.
Business has been good since they opened. But business is good for everyone during St Patrick's Day weekend around here.
Still, Tonya and Nick are counting on locals looking for that one stop shop to purchase gifts for out of towners. They've had several already. Word of mouth has been making the rounds.
I think the idea is solid. The shop is a nice fit for West end of Broughton St. Down the other way you've obviously got Leopold's Ice Cream as well as Ben and Jerry's but nothing up their way.
Nick and Tonya realized that. They are now planning to be in the right place at the right time.