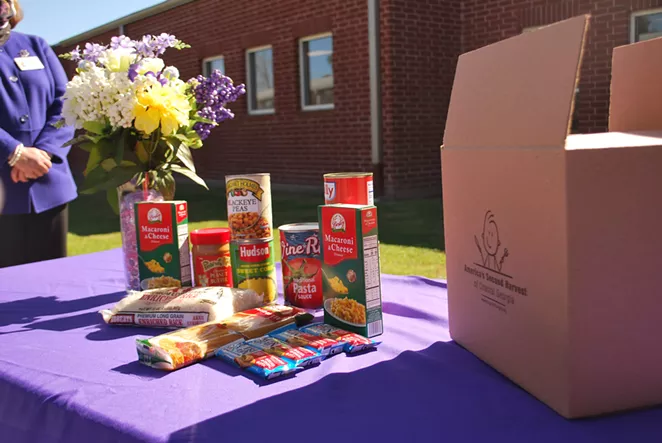 Those in need around Chatham County will have access to new food pantries based at more than 20 area schools, thanks to a partnership announced by Savannah-Chatham County Public School System and the Second Harvest Food Bank. The initiative's first food pantry opened and received its first shipment at Andrea B. Williams Elementary School on Feb. 16. "It's a historic day for us," said SCCPSS Superintendent Ann Levett.
The pantries will be stocked with basic food items – staples and non-perishable items – to be replenished and maintained by Second Harvest Food Bank. "It makes my heart glad that we are able to announce a partnership like this today," said Stacy Jennings, director of communications for SCCPSS. The food in the pantry will be available to school-age children and their families, as well as community members unassociated with the schools to help meet their daily nutritional needs. Giveaway boxes will contain three meals per family. "Because of this new partnership with Second Harvest, our 502 families will have access to this wonderful food pantry that is such a needed resource and will be so valuable to our school community," said Susan Ambrose, principal at Andrea B. Williams Elementary School.
Levett said the pantry and partnership offers the school system an opportunity to address food-insecurity issues that are prevalent across the community, and especially as the pandemic continues to create economic uncertainty. "We would not be able to do all of the things that we are able to do with our students, for our families without strong partnerships," Levett said, while recognizing Second Harvest and their executive director, Mary Jane Crouch. Crouch pointed out how quickly the school system and Second Harvest came together to meet this need, saying the opening of the first food pantry started with a conversation in January. "We are really excited to make sure these 23 schools will have access to food for their children in their schools, with the hope that we'll be able to add all the schools in Savannah-Chatham and make sure all children have access to food," Crouch said. America's Second Harvest of Coastal Georgia was established in 1981 in Savannah, and is a volunteer-driven nonprofit food bank and community partnering organization. In 2020, Second Harvest food bank provided more than 21.3 million meals – more than 25.5 million pounds of food – to those in need.
"What I can tell you, in the Savannah-Chatham County Public Schools, and in this community, people care about children," Levett said. "I'm happy that we are going to be able to serve our children; I'm happy that we'll be able to serve our families, and I'm happy that we're also going to be able to serve our neighbors."