If you are a connoisseur of these types of things, then you know that smash burgers have always been a thing. They didn't necessarily have a trendy name or even a category on the food landscape, but they most certainly existed. I mean really, there have been smash burgers around ever since there have been greasy spoons, right?
For those that aren't familiar, a quick run through the glossary. We would agree that burgers come in all kinds of shapes and sizes. Some people prefer thicker handmade patties on an open flame. The art of that burger is, a lot of times, something to behold. If you can get a proper crust on them but keep a nice juicy center, then there are few things better in my book.
On the other end of the rainbow is the not at all thick, generally in the 4 ounce neighborhood, burger patty dropped on the highest heat griddle you can find. That patty is then smashed flat to maximize contact on said griddle. What you generally get is a burger that is equal parts crispy edges and juicy goodness.
When you find a good one, they can easily become addictive.
We have a new one on Savannah's food scene that you should give a spin. It's a new food truck called Smashed Savannah Burgers.
"We spent a lot of time trying to get this right" says Chris Firth, Chef and Owner of Smashed Savannah."About 4 or 5 months, really."
That's a long time to invest in a single menu item, but when that menu item is going on the side of the truck, well then you had better get it right. Fortunately, Chris had been tinkering with the idea for a lot longer than that.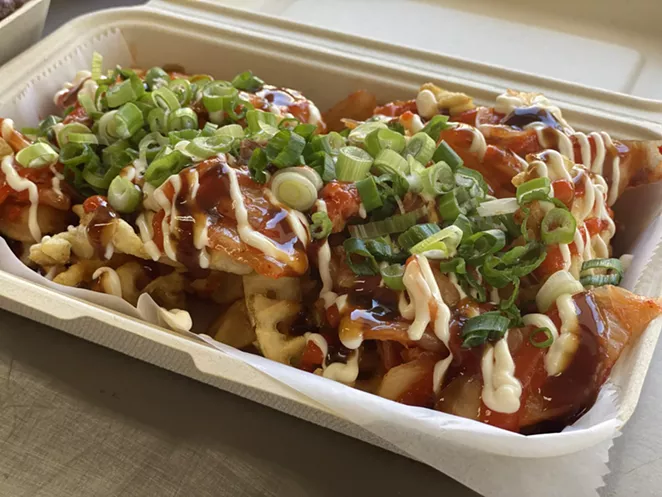 Chris is a Michigan guy. He wound up in Savannah via Austrailia. He'd been working there as a chef. When it was time to come back to the USA, he landed here because while he was gone, his parents had relocated to Savannah. Like so many others before him, once he got here, he discovered enough reasons to stay and enter the food truck game. He's chef'd (is that a word?) at a couple of spots you are familiar with but has ultimately decided to do his own thing.
He can't tell me how many burgers he made before he arrived at something he thought was perfect, but it was a ton. Everything from the fat content in the beef, to toppings, to the actual construction of that burger were taken into account.
"We wanted to keep it simple and let the burger speak for itself." Chris says, fully understanding that if you start throwing a ton of stuff on your patties, then you are kind of defeating the purpose of the smash burger.
The best smash burgers in my book are drippy affairs with melty cheese, a special sauce and maybe condiments. Pickles? Sure. Bacon and a fried egg at most. To that end, Chris has created The Farm Burger. His burger topped with a griddled smoked sausage link and that fried egg. I haven't tried it yet, but it looks amazing.
It's not all burgers. He has a delicious chicken sandwich with a house made ranch. The loaded fries feature Kimchi, Kewpie, Tonkatsu sauce, Sriracha and Bacon. They are wonderful and a meal unto themselves. Really, it's all good. A welcome addition to the Savannah Food Truck convoy.
In the big picture, there are a lot of 'new burgers' on our food scene and we are planning to make our way through them over the course of the year. In the short term, track down Smashed Savannah Burgers on Instagram or Facebook. That's about the only way to know where Chris will be parked...for now.
You will Eat It and Like It.