Over the past several years, Canada-born and Brooklyn-based indie rock group TEEN has developed a reputation for angular melodies and stellar song craft.
Their latest album, Good Fruit, turns any preconceived notion about what a TEEN record should sound like on its head in the best way possible. It's still everything fans have come to love about the band, but the synths are bolder and the whole thing is much more experimental.
Perhaps that's due in part to the group self-producing the album - a first for the trio of sisters, who first joined together in 2010 and have gone through a few lineup shifts since with various other members.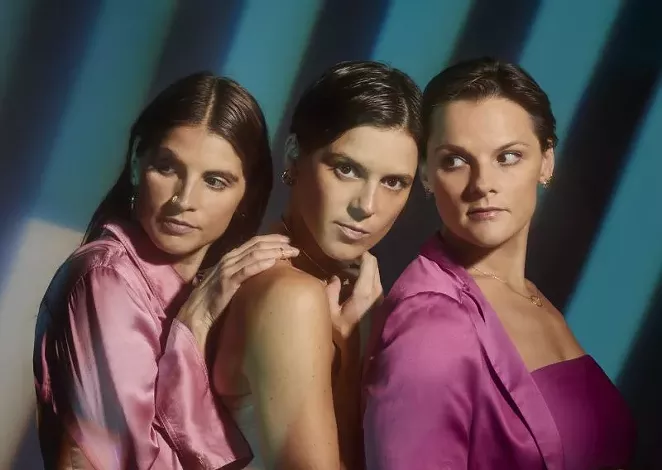 The latest release is truly a standout this year, and isn't one to sleep on. Neither is their live show, which comes to Savannah Stopover Music Festival on March 7. Ahead of their Stopover set, we spoke to Lizzie Lieberson about all things TEEN.
Being in a sibling band myself, I'm curious - how did you all end up in a band together?
Lieberson: Teeny wrote Little Doods back in 2010 - she was just writing a lot of music, and she basically just wanted to start a band. She always says that she wanted good singers, so she said, "I'll just ask my sisters." At that time we had, like, five or six people in the band. It changed around a bunch, but that was the origin. She was making this music and it felt like a natural thing.
We got more serious about it after we made In Limbo and started touring a lot.
It seems like the last couple of records in particular might be a bit sleeker, for lack of a better term, than maybe the first few. Was that a gradual evolution of things, or did you really try and pinpoint certain things that you wanted to start incorporating? How did that progression happen?
Liberson: I think we just were growing as musicians and as a band. The longer we play with each other and the longer we write music, it's just kind of a natural progression. We don't stick to the same formula every time we write a record. I feel like it's constantly moving and growing, and is just the natural progression of things.
When you start writing, do you sort of get in a room and throw ideas around? How does the process work for y'all?
Lieberson: I mean, that changes too. We've tried many different versions of writing. Especially on the first couple records, Teeny would come in with just a basic structure of a song or maybe a vocal melody, and we'd flesh it out as a band. I started writing more slowly throughout the years, and on this record I'm singing more songs than [before]. For this record, we really took our time with it. There was many different periods of time where we were, say, going to Montreal to record at a friend's studio and trying what you just said - sitting down in a room and just starting from scratch. I think we only kept maybe one or two songs from that session.
The next time, Teeny and I would come in with more basic song structures. It switches around, but we've tried everything. But everybody adds their own voice or personality through their playing.
If you could sum up the vibe or sound of the new record, how would you do that?
Lieberson: This is the first record that we've self-produced, so that's kind of a shift for us. Initially it was something that I was nervous about, not because I didn't think we were capable of doing it, but because sometimes an outsider can act as a mediator or an extra person in the room. Which can be nice, especially if you're family [laughs].
It ended up being kind of the best thing ever though, and very easy. I dunno, it just worked. It made sense. We really took our time with this record - you feel differently about the songs, because you spend more time with them. Not that we didn't before. We're very thoughtful about what we do. But in the past it's always been kind of a fast process, because we just write a record and tour, and then stop touring and make another record. It just sounds different because we took our time with it.
cs