For the first time since joining the FBS in 2014, Georgia Southern beat a team from a Power 5 conference last Saturday night on national television.
Georgia Southern (2-0) knocked off Nebraska (1-2) in spectacular fashion, 45-42, taking the lead for good on Kyle Vantrease's eight yard touchdown run with 36 seconds left in the game and sending the GS fanbase into an immediate frenzy from Statesboro to Lincoln, Nebraska.
On a wild and wacky college football Saturday which saw two other Sun Belt Conference teams win versus P5 opponents, Southern's upset win was actually the most unexpected. Marshall beat No. 8 Notre Dame as a 21-point underdog and Appalachian State took care of No. 5 Texas A&M as a 20-point underdog.
The Eagles were a 23-point underdog at the Las Vegas sportsbook when their game began Saturday night. By the time the clock hit zero, GS was 2-0, the talk of the college football world, and Nebraska's head coach Scott Frost was fired in the hours afterward.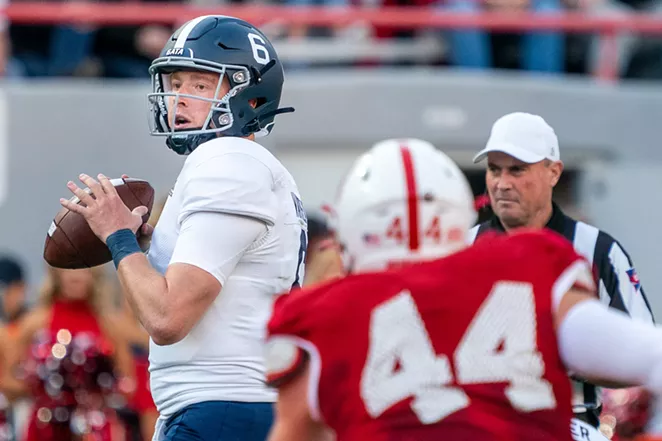 So far, so good for GS head coach Clay Helton. Helton was the first FBS coach to be fired in 2021 after his Southern Cal team started slow. His 2022 Eagles were largely responsible for Frost being the first FBS coach fired this season.
Tasked with bringing Southern into the 21st century of college football with the transition from option offense to an outright air raid scheme, Helton and offensive coordinator Bryan Ellis couldn't have imagined a better start.
Sure, GS beat Florida in the swamp in 2013, but that squad was in its final season as an FCS team. That was a big win, yes. But the win over Nebraska was just so much bigger. The win over UF marked the end of an era, this win marks the beginning of one. Regardless of what happens for the remainder of this season, including this week at UAB, Georgia Southern's upset at Nebraska was an undeniable validation of the transition in scheme.
This ain't your daddy's Georgia Southern. And yeah, your daddy's Georgia Southern won six FCS National Championships from 1985-2000. So there's no shame in that game. This version of the Eagles is capable of scoring 40+ points every time out, and that was never the case in the option's hey-day in Statesboro.
Vantrease threw for 21 first downs against Nebraska – the most ever for a GS team in a single game. He tallied 409 passing yards and became the first Eagle ever to throw for 300-plus yards in consecutive games. He was named the Walter Camp National Player of Week for his efforts, the first GS player to ever earn that award.
In a game that had five ties, five lead changes and 1,217 yards of combined total offense (most ever for a GS game), Southern (642 yards) was not only able to keep up with the Cornhuskers, the Eagles were the ones setting the tone. Instead of the methodical, calculated pace of the option-offense Eagles, this team moves at high speeds (88 plays vs. Nebraska) and bites off yardage in giant chunks (eight passes of 25+ yards & five runs of 10+ yards).
It's hard not to be excited about the potential of this Georgia Southern season now. Most people, including yours truly, expected the Helton transition to take some time. This was supposed to be a rebuilding year, remember? Forget about all that now.
The Eagles are 2-0 for the first time since 2018, which just so happened to be Chad Lunsford's first season as the full-time head coach in Statesboro. That year was historic for the program, as they finished with 10 wins including a Camellia Bowl victory to cap it off. For Southern faithful, expectations for 2022 are now much loftier than a mid-December bowl win. This team has made history over its first two games, imagine what they could do over the next two months.
SPORTS NOTES
Elsewhere in this state in terms of college football …
Georgia (2-0) has strolled through its first two games of the season. The defending National Champions moved up to No. 1 in this week's AP Top-25 poll, for whatever that's worth. UGA's biggest obstacle to winning the SEC East this season might be boredom. Prayers up for South Carolina this weekend as they welcome Kirby Smart's team to Columbia.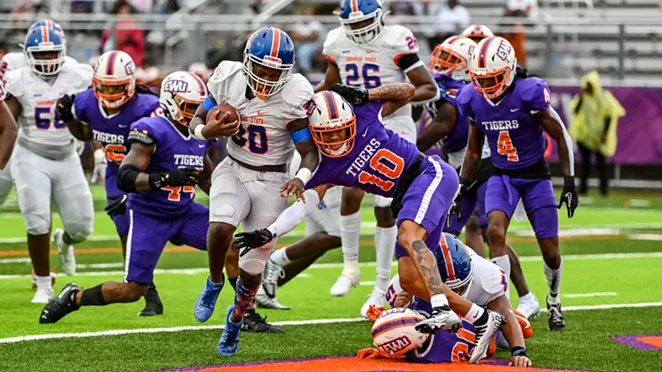 Savannah State (1-1) lost 34-14 at home to NAIA Southeastern in an ugly week one performance. But head coach Aaron Kelton's team got in the win column last Saturday on the road at Edward Waters University, 31-28. A win is a win, but Ed Waters was picked to finish at the bottom of the SIAC in preseason polls, so a three point win over them won't do much to inspire confidence in the 2022 SSU squad. When the school chose Kelton over then interim Russell DeMasi back in the spring, they officially moved on from the program's most successful three-year run ever. They thought the grass was greener, I guess. So anything less than a winning record this season would be considered a disappointment, at least in my book.
FOLLOW Travis Jaudon on Twitter/Instagram @JaudonSports. Email him at travisLjaudon@gmail.com. Listen to him on Hot Grits Podcast, Savannah's No. 1 sports podcast. New episodes are released each Tuesday.