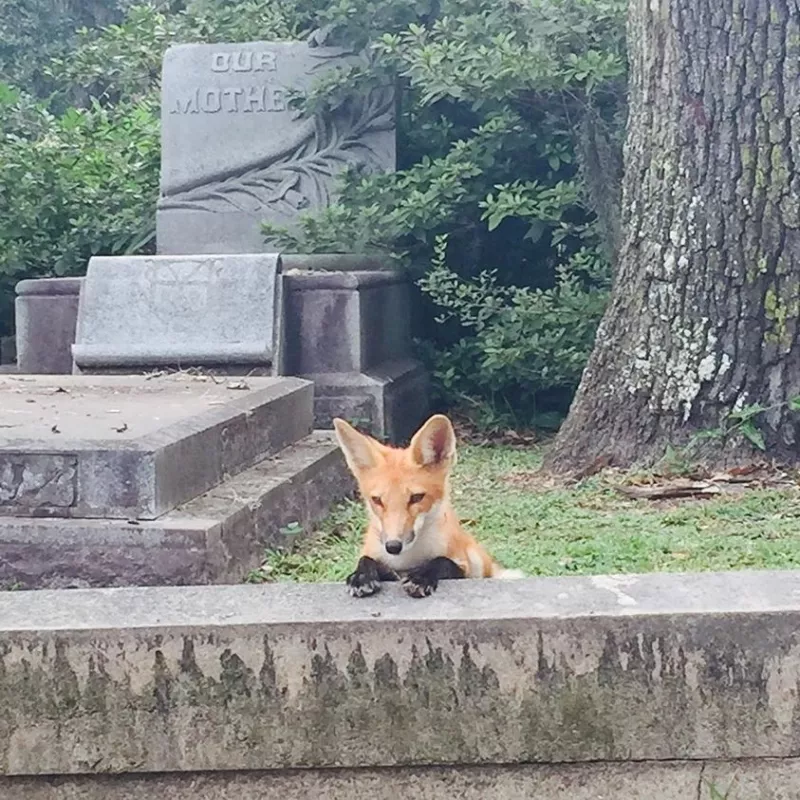 WHILE a piece of chocolate cake can do wonders for a lagging spirit, it's probably best not to overindulge your sweet tooth or your thoughts about death.
Unless you're Don Teuton, in which case, you think about the latter like it's your job, since it is.
The Savannah native spends almost every day amongst Savannah's most prominent dead people in Bonaventure Cemetery, giving tours for the living, for a living. But unlike some of us, the nature of his obsession is more pragmatic than philosophical.
"I've always been fascinated by this place, how people are memorialized after they're gone," muses the middle-aged dad who goes by his guide name, Bonaventure Don. "These monuments and headstones tell the city's history."
True enough, around every marble corner is a Tattnall, a Telfair, a Jones or another famous local figure—some who were exhumed from elsewhere and brought here posthumously in the 1840s at the behest of then-Evergreen Cemetery entrepreneur Peter Wiltberger to drum up business.
That macabre marketing ploy worked, and the former rice plantation is now the final resting place of notable local characters from all over the centuries, from settlers and soldiers to songbird Johnny Mercer to local fashion designer and Chanel licensee Sophie Meldrim Shonnard, who sewed the pink bouclé suit Jacquelyn Kennedy Onassis was wearing the day of her husband's assassination.
This is the garden of cadavers and crypts that put Savannah on the tourism map, but Don, who is also on the board of the Bonaventure Historical Society, is adamant that it offers only a partial history.
The city's African American narrative, told through the hand-carved headstones of nameless slaves and the monument to civil rights activist W.W. Law, can be found on the west end of town in Laurel Grove South, segregated by I-16 from its northern counterpart.
Though an avowed lover of local lore, I'm embarrassed to admit that I've only visited Bonaventure once, for an actual funeral, and did not tarry to enjoy the moss-draped ambience. I've never been a big fan of cemeteries, all that fussy formality and somber granite, and my neurotic notions don't need any encouragement.
Anyway, in spite of my morbid meditations, I haven't given much thought at all about what's to be done with my meat puppet once I've vacated it for the next dimension. Maybe I'd like to be cremated, my ashes sprinkled via hot air balloon over a snowy mountaintop, like toppings on a sundae. Or wrap me in a cotton sheet, bury me in the backyard and plant a cherry tree on top. In any case, I'm going out how I lived, with dessert on my mind.
The only reason I'd called up Bonaventure Don at all is because I'd heard reports of a fox scampering around the headstones during his tours. In addition to sweets, I'm a huge sucker for friendly wild things.
I pulled along my colleague Anna for a fox finding field trip, since we'd had so much fun stalking the owls of Skidaway Island earlier this year.
"Don't worry, I won't dig up any bones this time," she whispered as we traipsed along the grounds.
Don led us down Mullryne Way towards the bluff where the fox had been seen the day before, pointing out the intricate Gothic flourishes and serene marble angels that watch over the dead. We passed the graves of Little Gracie Watkins, whose eerie, life-like statue inspires visitors to leave candy and toys on the steps, and the original slut-shamed diva Eleanor Whitaker, aka Hard-Hearted Hannah, the Vamp of Savannah.
Spurred by low blood sugar, I mostly pondered the thousands of forgotten names that time's relentless maw swallowed long ago, their only legacies a set of dates and a pithy epitaph. Our favorite was Martha Kirksey's, who died in1889: "She did what she could." Sounds like poor Martha could have used more chocolate.
Some graves had piled rocks on top of the headstones, a worldwide Jewish practice that has been curiously adopted by Bonaventure visitors for any of its permanent residents, regardless of religion. Perhaps it's a testament that we all meet each other in the end anyway.
Listening to the wind whistle through the 250-year old oaks, I began to appreciate hanging out with the dead, how contemplating eternity in this lovely place can help time slow down enough for a person to catch her breath in this insane world.
We had just strolled past poet Conrad Aiken's final resting place (oy, that guy's story) when I saw a flash of copper fur out of the corner of my eye. I turned just in time to see a black-tipped tail disappear past a stone cherub.
"There he is!" I gasped. Anna and I hopped around the headstones, trying to catch a glimpse of our vulpine crush without treading on anyone's sacred ground.
We searched for over an hour, but the fox stayed shy. Our wildlife quest did yield soaring ospreys, egrets and several butterflies as big as my hand.
A red-tailed hawk alighted on a marble slab a few feet away, then took off again with a blue-tailed skink in its talons.
All this life finally distracted me from the grim heft of the last week. The horrific murders of two journalists at the hand of yet another sociopath with a gun. The fatal shooting of yet another young person, a college student. Too many beautiful friends fighting for their lives against the demon cancer and other disease. My dear, infirm mother-in-law still resisting the end with every shallow breath.
The existential angst of it all is bad enough, and sometimes the visceral loss can be too much to bear. The fact that the only death that we won't have to live with is our own provides little solace.
It's comforting to find that chilling with the dead is a decent way to cope. Maybe even more effective than a cream-stuffed éclair.
I've visited Bonaventure several more times since, telling myself I was going back to look for the elusive Mr. (or Ms.) Fox. But I kept lingering, walking further among the paths, greeting the now familiar etched names like old friends.
I haven't see the fox, only a set of tiny footprints that could just as well have been made by someone's Chihuahua.
But I did wander across a grassy open space in the Jewish section, where the dates are more recent. My mother-in-law will lie here sooner than later, and apparently there are a couple of spots in the plot for both my husband and I, thanks to the foresight of family. (Despite its fame, Bonaventure still has plenty of room for you and yours, too: Only about half of the 60,000 individual sites are occupied.)
I guess it's a bit weird that hanging out in a graveyard has been an antidote for ruminating too much on my own mortality.
Yet sitting on the damp ground, the Wilmington River rushing by and the sparrows chirping in the marsh, I felt a little less averse to the idea of a headstone with my name on it.
I don't expect it to be a stop on Don's or anybody else's tour, but should you happen upon it, some day in the far, far future, just leave a few rocks and maybe a piece of cherry pie.
cs